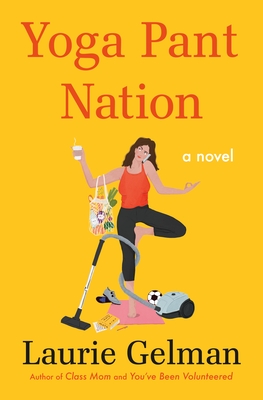 Yoga Pant Nation
A Novel (Class Mom #3)
Hardcover

* Individual store prices may vary.
Description
From the author of Class Mom and You've Been Volunteered comes a new book on one mom's challenges through parenting and life, keeping her on her toes and perpetually in yoga pants.

Jen Dixon of Overland Park, Kansas—fearless mother of a fifth-grade boy and two thirty-something daughters—is used to juggling a lot, from her mission to become a spin instructor, to stepping in as the most acerbic class mom ever (again), to taking care of her two-year-old granddaughter. But when the PTA president throws her a mandate to raise $10,000 for the fifth-grade class, even unflappable Jen is going to need more than her regular spin class to get her through this final year at William Taft Elementary School.

In the midst of new complications—organizing the class overnight to Topeka, an unexpected spin class fan in the form of her husband's crazy ex-wife, and trying to navigate her parents' sudden descent into apparent delusions—Jen hardly has the patience to listen to yet another half-baked idea (come on, ladies, another wrapping paper sale?) from WeFUKCT (We Fundraise Until Kingdom Come Team), her fundraising committee. But if anyone can get elementary parents to pull off the impossible, it's Jen Dixon.

With her always irreverent and laugh-out-loud humor—boldly holding forth on those things you're thinking, but would never dare say out loud—Laurie Gelman shines a light on the indignities and hilarities of modern parenting.
Praise For Yoga Pant Nation: A Novel (Class Mom #3)…
"Another home run for Laurie Gelman! Yoga Pant Nation is hilarious and warm, with sharp observations and unforgettable characters. When I wasn't laughing, I was cheering, rooting for a chaotic yet loving family that somehow manages to figure it all out."
—Byron Lane, author of A Star Is Bored

"By page three, I had already laughed out loud five times. Jen Dixon, everyone's favorite class mom, is back and better than ever. Gelman's razor sharp wit never falters in this page-turner. PTA-philes and phobes alike will revel in this hysterical romp, which packs big feelings and genuine emotion while delivering a chuckle a minute."
—Elyssa Friedland, author of Last Summer at the Golden Hotel

"Hilarious mom, daughter, wife, and grandma…not to mention room mom and overachieving fundraiser—Jen Dixon is the friend we all need in the journey of life!"
—Julie Chan, host of Beyond the Book with Julie

"I started laughing (and crying) from the first page. Laurie Gelman's Yoga Pant Nation took me right back to my life navigating the treacherous world of overzealous parenting, negotiating with teachers, handling high-stakes snacks, and literally spinning. Let's just hope the kids are all in camp this summer, so we can enjoy the perfect beach read. Bravo, Laurie Gelman!"
—Jane Ubell-Meyer, founder of Bedside Reading

"Jen Dixon is now a caregiving grandma, a classroom parent, a PTA fundraiser, and a spin instructor—Stay in the saddle, riders!…[T]he irresistibly snarky Jen…can still do jokes about spelt-spirulina pretzels and gluten-free cookies."
—Kirkus Reviews
Henry Holt and Co., 9781250777577, 256pp.
Publication Date: July 13, 2021
About the Author
Laurie Gelman was born and raised in the Great White North. She spent twenty-five years as a broadcaster in both Canada and the United States before trying her hand at writing novels. The author of Class Mom and You've Been Volunteered, Laurie has appeared on Live with Kelly and Ryan, Watch What Happens Live, and The Talk, among others. She lives in New York City with her husband, Michael Gelman, and their two teenage daughters.