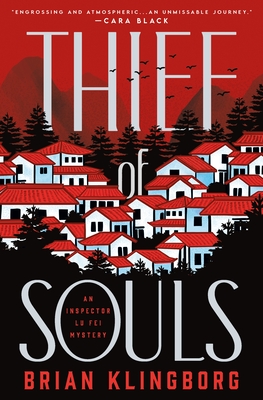 Thief of Souls
An Inspector Lu Fei Mystery (Inspector Lu Fei Series #1)
Hardcover

* Individual store prices may vary.
Other Editions of This Title:
Digital Audiobook (5/3/2021)
MP3 CD (5/4/2021)
Compact Disc (5/4/2021)
Paperback (5/17/2022)
Description
In Brian Klingborg's Thief of Souls, the brutal murder of a young woman in a rural village in Northern China sends shockwaves all the way to Beijing—but seemingly only Inspector Lu Fei, living in exile in the small town, is interested in justice for the victim.

Lu Fei is a graduate of China's top police college but he's been assigned to a sleepy backwater town in northern China, where almost nothing happens and the theft of a few chickens represents a major crime wave. That is until a young woman is found dead, her organs removed, and joss paper stuffed in her mouth. The CID in Beijing—headed by a rising political star—is on the case but in an increasingly authoritarian China, prosperity and political stability are far more important than solving the murder of an insignificant village girl. As such, the CID head is interested in pinning the crime on the first available suspect rather than wading into uncomfortable truths, leaving Lu Fei on his own.

As Lu digs deeper into the gruesome murder, he finds himself facing old enemies and creating new ones in the form of local Communist Party bosses and corrupt business interests. Despite these rising obstacles, Lu remains determined to find the real killer, especially after he links the murder to other unsolved homicides. But the closer he gets to the heart of the mystery, the more he puts himself and his loved ones in danger.
Praise For Thief of Souls: An Inspector Lu Fei Mystery (Inspector Lu Fei Series #1)…
"Klingborg's crisp prose keeps the narrative on the boil all the way to a climax." --The Toronto Star

"Riveting." --Booklist

"This auspicious mystery begs for a sequel. Please let it be soon." --BookPage

"Engrossing and atmospheric, Thief of Souls, takes us through the dirty snow of a Chinese province in a hunt for a serial killer. Police investigator Lu Fei, quotes Confucius, understands the power of the past, and navigates corruption and back-handing among Chairman Mao's descendents. An unmissable journey with a Confucian knight errant for the 21st century." --Cara Black

"A gruesome crime; a rural cop with a keen mind and a sense of his place in modern-day China—Thief of Souls is written with humor and insight, supplying from page one a plot that rolls steadily down the runway, constantly gaining speed the whole way until with a final burst of takeoff velocity, it takes you to a place you never thought you'd be." -- James Church, author of the Inspector O series

"Like Martin Cruz Smith's Arkady Renko or Donna Leon's Commissario Guido Brunetti, Klingborg's Inspector Lu Fei is a determined investigator as well as a wonderful guide to a country and culture unfamiliar to most readers. Thief of Souls is a thrilling mystery and a delightful novel from beginning to end." --Barbara Nickless, author of the Sydney Parnell series

"With a compelling story, a rich, well-realized setting, and a thoroughly engaging protagonist, Thief of Souls delivers everything one could want in a crime novel - insight, thrills, and entertainment. This is not one to miss!" -- Robert K. Tanenbaum, New York Times bestselling author of Without Fear or Favor

"Brian Klingborg's Thief of Souls offers a wonderful view into the life of a rural town in the orbit of one of China's huge but secondary cities. Klingborg truly understands how Chinese bureaucracies work; at the same time he's a wizard at believable characters, compelling situations, and a propulsive plot. I'm already looking forward to the second book in this series." -- SJ Rozan, Edgar Award winner and best-selling author of Paper Son

"With a great protagonist, a unique setting, and a fast-paced story, Thief of Souls is everything a reader could want in a novel." -- Jack Du Brul, New York Times bestselling co-author of The Titanic Secret and author of The Lightning Stones
Minotaur Books, 9781250779052, 288pp.
Publication Date: May 4, 2021
About the Author
BRIAN KLINGBORG has both a B.A. (University of California, Davis) and an M.A. (Harvard) in East Asian Studies and spent years living and working in Asia. He currently works in early childhood educational publishing and lives in New York City. Klingborg is also the author of Kill Devil Falls.