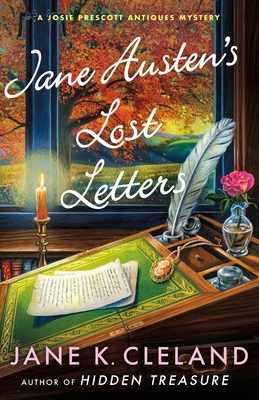 Jane Austen's Lost Letters
A Josie Prescott Antiques Mystery (Josie Prescott Antiques Mysteries #14)
Hardcover

* Individual store prices may vary.
Description
Jane K. Cleland returns with Jane Austen's Lost Letters, the fourteenth installment in the beloved Josie Prescott Antiques series, set on the rugged New Hampshire coast.

Antiques appraiser Josie Prescott is in the midst of filming a segment for her new television show, Josie's Antiques, when the assistant director interrupts to let her know she has a visitor. Josie reluctantly pauses production and goes outside, where she finds an elegant older woman waiting to see her.

Veronica Sutton introduces herself as an old friend of Josie's father, who had died twenty years earlier. Veronica seems fidgety, and after only a few minutes, hands Josie a brown paper-wrapped package, about the size of a shoebox, and leaves.

Mystified, Josie opens the package, and gasps when she sees what's inside: a notecard bearing her name—in her father's handwriting—and a green leather box. Inside the box are two letters in transparent plastic sleeves. The first bears the salutation, "My dear Cassandra," the latter, "Dearest Fanny." Both are signed "Jane Austen." Could her father have really accidentally found two previously unknown letters by one of the world's most beloved authors—Jane Austen? Reeling, Josie tries to track down Veronica, but the woman has vanished without a trace.

Josie sets off on the quest of a lifetime to learn what Veronica knows about her father and to discover whether the Jane Austen letters are real. As she draws close to the truth, she finds herself in danger, and learns that some people will do anything to keep a secret—even kill.
Praise For Jane Austen's Lost Letters: A Josie Prescott Antiques Mystery (Josie Prescott Antiques Mysteries #14)…
"Beguiling...Cleland maintains tension from the opening pages right up to the surprise conclusion. Miss Austen would approve." —Publishers Weekly

"Both mystery fans and antiques lovers will enjoy the erudite heroine's informative, entertaining new adventure." —Kirkus Reviews

"Framed with fascinating details of Jane Austen's life, along with the process of authenticating letters and books, this satisfying entry in the long-running series will appeal." —Booklist

"Enthralling....Cleland's knowledge of and admiration for Jane Austen shine through this well-plotted, suspenseful narrative where long-term fans—and new ones—will eagerly invest in this exciting series full of surprises." —Shelf Awareness

"Hard to put down...a tightly plotted, sophisticated story ripe with secrets and lies. This 14th entry in the series is as freshe as the first." —MysteryScene Mag

"A blast of a read....A great mix of character delineation, antiques expertise, and a truly golden age style hand with plot. This is a stand out series, reliably excellent." —Aunt Agatha's

"Absolutely charming and completely entertaining! Jane Cleland is a brilliant storyteller—and her expertise shines though in this sophisticated and smart mystery, full of tantalizing secrets. With seamless plotting, perfect characterizations and Cleland's signature authenticity—plus twisty motives, heartbreaking emotions and a raft of red herrings—Jane Austen's Lost Letters will have her legions of fans cheering and have new fans turning the pages as fast as they can. I loved every word!" —Hank Phillippi Ryan, USA Today bestselling author of Her Perfect Life

"With a tightly woven plot, gorgeous prose, and an ending to make even Miss Austen gasp, Jane Austen's Lost Letters is a must-read for died-in-the-wool Jane Cleland fans as well as those new to the series. This may be my favorite Josie Prescott so far!" —Connie Berry, USA Today bestselling author of The Art of Betrayal

"Delightful....Full of red herrings, the twisty plot builds to a satisfying conclusion, and descriptions of each authentication process are a bonus." —Publishers Weekly on Hidden Treasure

"As fascinating as its predecessors with plenty of details that capture the excitement of the hunt....Also appealing are the engaging and sympathetic characters who bring warmth to this cozy mystery." —Library Journal (starred review) on Antique Blues

"A lovely series." —Oline H. Cogdill, MysteryScene Mag

"Suspects and motives abound...Cleland has created an appealing character in Josie, who has grown and prospered in a most satisfying way." —Publishers Weekly on Antique Blues

"A cozy replete with antiques lore, likable characters, and a more complex mystery than usual." —Kirkus Reviews on Glow of Death

"Series fans and newcomers alike will enjoy Cleland's [Lethal Treasure]…Ample antique lore and credible characters bolster an intriguing plot." —Publishers Weekly
Minotaur Books, 9781250779380, 304pp.
Publication Date: December 14, 2021
About the Author
JANE K. CLELAND once owned a New Hampshire-based antiques and rare books business. She is the author of nearly twenty novels and short stories in the beloved Josie Prescott Antiques mystery series, is the winner of two David Awards for Best Novel, and has been a finalist for the Agatha, Macavity, and Anthony Awards. Jane is the former president of the New York chapter of the Mystery Writers of America and chairs the Wolfe Pack's Black Orchid Novella Award in partnership with Alfred Hitchcock Mystery Magazine. She won the Agatha Award for both of her books on the craft of writing, Mastering Suspense, Structure and Plot and Mastering Plot Twists. She is part of the fulltime English faculty at Lehman College, a contributing editor for Writer's Digest magazine, and lives in New York City.