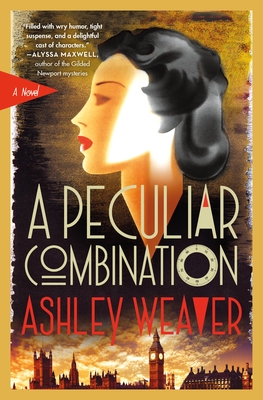 A Peculiar Combination
An Electra McDonnell Novel (Electra McDonnell Series #1)
Hardcover

* Individual store prices may vary.
Other Editions of This Title:
Digital Audiobook (6/2/2021)
Paperback (5/10/2022)
MP3 CD (7/20/2021)
Compact Disc (7/20/2021)
Description
The first in the Electra McDonnell series from Edgar-nominated author Ashley Weaver, set in England during World War II, A Peculiar Combination is a delightful mystery filled with spies, murder, romance, and the author's signature wit.

"Filled with wry humor, tight suspense, and a delightful cast of characters."—Alyssa Maxwell, author of the Gilded Newport mysteries

FIRST RULE: DON'T LOSE YOUR CONCENTRATION.

Electra McDonnell and her family earn their living outside the law. Breaking into the homes of the rich and picking the locks on their safes may not be condoned by British law enforcement, but with World War II in full swing, Uncle Mick's locksmith business just can't pay the bills anymore.

SECOND RULE: DON'T MAKE MISTAKES.
So when Uncle Mick receives a tip about a safe full of jewels in an empty house, he and Ellie can't resist. All is going as planned—until the pair is caught red-handed. But instead of arresting them, government official Major Ramsey has an offer: either Ellie agrees to help him break into a safe and retrieve blueprints crucial to the British war effort, or he turns her over to the police.

THIRD RULE: DON'T GET CAUGHT.
Ellie doesn't care for the major's imperious manner, but she has no choice. However, when they break into the house, they find the safe open and empty, and a German spy dead on the floor. Soon, Ellie and Major Ramsey are forced to put aside their differences to unmask the double agent, and stop Allied plans from falling into enemy hands.
Praise For A Peculiar Combination: An Electra McDonnell Novel (Electra McDonnell Series #1)…
A Publishers Weekly Pick of the Week!
One of BuzzFeed's "21 Upcoming Historical Fiction Books You're Going to Love"

"A thorny relationship between Ellie and Ramsey, a cast of colorful characters, a brisk pace, and an ironic message about the identity of true patriots enthrall. Readers will look forward to the next mission for the smart, feisty Ellie and her circle."—Publishers Weekly (Starred)

"Exciting . . . Brave Ellie and her aristocratic love should appeal to fans of Susan Elia MacNeal and Tessa Arlen."—Kirkus Reviews

"Louisiana librarian Weaver (Murder at Brightwell) launches an engaging new series that sparkles. Infused with witty romantic conflict, this historical mystery with convincing period details concludes with enticing story threads for future entries. For fans of Susan Elia MacNeal and Allison Montclair"—Library Journal

"This is a well-constructed historical spy story with plenty of romance, intriguing period details, and fascinating insights into the nitty gritties of safecracking."—Booklist

" It's a lighter read than many a mystery with the same setting, but A Peculiar Combination delivers the requisite suspense and misdirection that will keep the hard-boiled crowd on board as well"—BookPage

"A Peculiar Combination has the sparky feel of a 60s caper film . . . This book might make a nice aperitif for fans of Jacqueline Winspear's venerable Maisie Dobbs series. [This] promises to be a charming series."—Air Mail "Murder, They Wrote"

"A Peculiar Combination has real snap to it. I loved the characters, especially Ellie, and I loved the twists that Weaver provides. It is a very welcome addition to the historical mystery field."—Mystery Scene Magazine

"An exciting yarn filled with narrow escapes, revised strategies and a snapshot of London in August 1940, a month before the Blitz began."—Fredericksburg Free Lance-Star

"Filled with vivid historical details, late nights under a London blackout and characters from all classes who aren't quite what they seem, A Peculiar Combination is a sparkling addition to Weaver's oeuvre and a highly enjoyable start to a new series. A whip-smart safecracking heroine and satisfyingly tricky plot."—Shelf Awareness

"This is an engaging and addictive historical thriller with a touch of romance... Fans of historical thrillers and strong female characters are going to love this World War II spy adventure. Highly recommended."—Historical Novel Society

"Red herrings abound, and there are plenty of twists and turns to keep readers guessing. Throw in a dash of romance, and the result is a fun, fast read. I can easily envision this series becoming addictive for some."—BookBrowse

"An exciting first book in what promises to be a thrilling new series! Weaver has given us another delightful pair of sleuths who couldn't be more different, except for their desire to save their country. While Major Ramsey follows the rules, Ellie breaks them, all against a background of London during the Blitz. What could be more delightful? I read it in one sitting because I couldn't put it down!"—Victoria Thompson, USA Today bestselling author of Murder on Wall Street

"A cracking good mystery! A Peculiar Combination, the first in a new series, proves that Weaver's writing chops are as strong as ever. She introduces readers to a smart and gutsy new heroine, and takes them on an adventure filled with clever twists, flourishes of romance, and her signature sparkling wit."—Anna Lee Huber, bestselling author of the Lady Darby Mysteries

"Deftly plotted with twists and turns that ultimately unlock a thrilling conclusion, Weaver's gripping mystery is set against the World War II Blitz in London, making it all the more compelling. A Peculiar Combination introduces a sparkling new series featuring a feisty heroine and her dashing counterpart, with just the right amount of wit and romantic nuance to round out the story's high stakes drama."—Jess Montgomery, author of The Stills

"Ashley Weaver brings her gift for crafting absorbing historical atmosphere and compelling characters to 1940's London in this riveting new series. Ellie McDonnell, a scrappy Irish safecracker used to being on the wrong side of the law, turns her talents to helping the government defeat a ring of Nazi spies. True to form, Weaver's characters are complex and utterly believable, and the plot twists drop like bombs during the Blitz—fast and unexpected. The next installment can't come soon enough."—Erica Ruth Neubauer, author of Murder at the Mena House

"Featuring a bold and clever heroine, A Peculiar Combination is a rollicking adventure full of danger, intrigue, and a heady dose of romance. Fun!"—Nancy Herriman, author of the Bess Ellyott Mysteries

"Set against the tense, atmospheric backdrop of World War II London, Ashley Weaver introduces my new favorite hero, Ellie McDonnell. Despite the doubts and fears that make her all too human, Ellie is lovely, clever, and courageous. From page one, Ashley Weaver sends Ellie, and us, on a fast-paced, wild ride that I didn't want to end! I can't wait to see what Ellie gets up to next."—Clara McKenna, author of the Stella and Lyndy mysteries

"In London during the Blitz, an unlikely group of people are brought together to thwart the plans of a dangerous double-agent. Ellie is a safecracker who turns out to have good reasons for what she does. But she's not the only one who must come to terms with tragedies of the past, even while facing down possible disasters of the future. This is a wonderful start to an intriguing new series. I was absorbed from the first page."—Jennifer Delamere, author of Line By Line

"The Electra McDonnell series is fun, smart, and intriguing. Fans of the Maggie Hope series will love the setting and Ellie's unique contributions to the Cause. I can't wait for the next book!"—Colleen Gleason, New York Times bestselling author of the Lincoln's White House Mystery series

"I love Ashley Weaver's Amory Ames Mystery series, and now I'm thrilled she's taken her considerable talents to a whole new arena with this spy thriller. A reluctant and unlikely heroine, Electra "Ellie" McDonnell proves that valor and love of one's country will set even the most dubious life back on a straight and determined path. I loved watching the transformation from cynical thief to courageous and sophisticated government agent. Filled with wry humor, tight suspense, a delightful cast of characters, and a bit of budding romance, this is a fabulous introduction to this new series!"—Alyssa Maxwell, author of The Gilded Newport Mysteries and A Lady & Lady's Maid Mysteries

"A wonderfully unique take, A Peculiar Combination is a standout in the historical fiction genre with its dash of romance and adventure, its winsome narrator in the irrepressible Ellie and the marvellously detailed rendering of London during the Blitz. Destined to stand-out in a sea of World War II era fiction, Weaver's intelligent banter and pitch-perfect research make for an utterly immersive story certain to thrill fans of Kate Quinn and Susan Elia MacNeil."—Rachel McMillan, author of The London Restoration and The Mozart Code
Minotaur Books, 9781250780485, 304pp.
Publication Date: May 25, 2021
About the Author
ASHLEY WEAVER is the Technical Services Coordinator at the Allen Parish Libraries in Oberlin, Louisiana. Weaver has worked in libraries since she was 14; she was a page and then a clerk before obtaining her MLIS from Louisiana State University. She is the author of Murder at the Brightwell, Death Wears a Mask, and A Most Novel Revenge. Weaver lives in Oakdale, Louisiana.