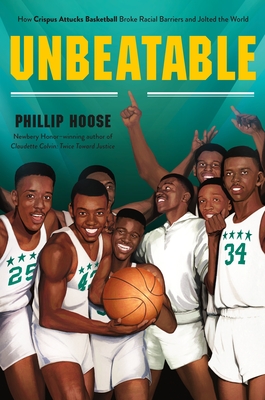 Unbeatable
How Crispus Attucks Basketball Broke Racial Barriers and Jolted the World
Paperback

* Individual store prices may vary.
Other Editions of This Title:
Digital Audiobook (10/22/2018)
Hardcover (10/23/2018)
CD-Audio (10/30/2018)
Description
One city. One team. One victory for racial justice that the history books forgot.

1955, Indianapolis—a northern American city, a hotbed of Jim Crow laws, and a national high school basketball epicenter. Crispus Attucks High School, an all-Black school founded thirty years earlier by the Ku Klux Klan–infected school board in the name of segregation, has not been lucky in the state tournament. The odds have been stacked against them, with no gym of their own, a weak schedule, and racially biased referees. But in 1955, they've finally assembled a powerhouse squad of ten Black boys, each one a migrant raised in poverty in the South, born to families who came North to escape Jim Crow in the South and were shocked by the city they found.

Led by superstar Oscar Robertson, the 1955 Tigers may be unbeatable. As they advance through the state tournament, they seem poised to win. And a largely white city is forced to decide: Can they accept a team of Black champions? Indeed, the Tigers' road to victory is paved with injustice going back decades—and their hard-earned success will shatter the myth of their inferiority.

From Newbery Honor and National Book Award–winning author Phillip Hoose comes this true story of the first all-Black team in U.S. history to win a racially open championship tournament—a new classic in the civil rights canon about resilience, teamwork, and the struggle to overcome impossible systemic odds, one game at a time.

An ALA Notable Book of 2019
NYPL Best Book for Teens of 2018
A 2018 Booklist Youth Editors' Choice
A Center for the Study of Multicultural Children's Literature Best Book of 2018
A Kirkus Reviews Best YA Nonfiction Book of 2018
An ALSC Notable Children's Book of 2019
A YALSA Excellence in Nonfiction Award Nominee
Praise For Unbeatable: How Crispus Attucks Basketball Broke Racial Barriers and Jolted the World…
"Hoose does a brilliant job of portraying the surrounding historical context, exploring the migration of black families from the South to Indiana, showing how Jim Crow practices were just as present in the North as in the South, and describing the deep groundswell of support for basketball in Indiana. . ..Attucks! doesn't pretend that we've outlived the racism of the American past, all the while showing readers how being grounded in one's self-worth and committed to the pursuit of excellence can have a lasting impact on a community. A powerful, awe-inspiring basketball-driven history." —Kirkus Reviews, starred review

"Excessively readable, this should appeal to sports fans and those looking for a good book about the civil rights era. Exemplary notes and sources will push readers—adults included—to learn even more." —Booklist, starred review

"The evolving fast-break style of play, the local rivalries, and the sheer prowess of individual players guarantee a compelling read, but the story of how a mini dynasty of high school players turned the tables on segregationists extends interest beyond sports fans. . .When kids think they've reached the end of their civil rights era education, hand them this." —The Bulletin of the Center for Children's Books, starred review

"Hoose balances this exposé of basketball's racist history with thrilling game accounts, character insight, and great sympathy." —Publishers Weekly, starred review

"With sharp insight and an engaging writing style, the author relates how high school basketball engulfed the way of life in different Indiana communities and was instrumental in dismantling parts of segregation. Numerous black-and-white photos and newspaper articles supplement this exceedingly engaging work. . .A great purchase for YA nonfiction collections." —School Library Journal

"Hoose demonstrates how young people can affect history. . .[A] thought-provoking volume." —The Horn Book

"A fresh, revelatory look at a familiar story that is central to understanding Indianapolis." —The Indianapolis Star

"I'd always been a fan of Oscar Robertson, arguably the best basketball player of the twentieth century, but until I read Attucks!—the thrilling, moving, enlightening story of his roots in deeply segregated Indianapolis—I had no idea of how important a life he had led." —Robert Lipsyte, author of SportsWorld: An American Dreamland
Square Fish, 9781250780706, 224pp.
Publication Date: February 22, 2022
About the Author
Phillip Hoose is an award-winning author of books, essays, stories, songs and articles. Although he first wrote for adults, he turned his attention to children and young adults in part to keep up with his own daughters. His book Claudette Colvin won a National Book Award and was dubbed a Publisher's Weekly Best Book of 2009. He is also the author of Hey, Little Ant, co-authored by his daughter, Hannah; It's Our World, Too!; The Race to Save the Lord God Bird; The Boys Who Challenged Hitler; and We Were There, Too!, a National Book Award finalist. He has received a Jane Addams Children's Book Award, a Christopher Award, a Boston Globe-Horn Book Award, and multiple Robert F. Sibert Honor Awards, among numerous honors. He was born in South Bend, Indiana, and grew up in the towns of South Bend, Angola, and Speedway, Indiana. He was educated at Indiana University and the Yale School of Forestry. He lives in Portland, Maine. philliphoose.com