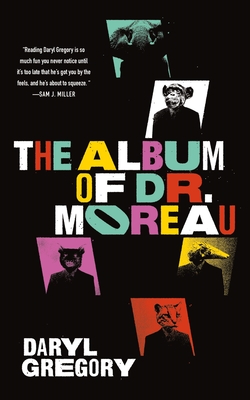 The Album of Dr. Moreau
Paperback

* Individual store prices may vary.
Other Editions of This Title:
Digital Audiobook (5/17/2021)
Description
A 2022 Sturgeon Award Nominee!
A 2022 Edgar Award Nominee!

Daryl Gregory's The Album of Dr. Moreau combines the science fiction premise of the famous novel by H. G. Wells with the panache of a classic murder mystery and the spectacle of a beloved boy band.

It's 2001, and the WyldBoyZ are the world's hottest boy band, and definitely the world's only genetically engineered human-animal hybrid vocal group. When their producer, Dr. M, is found murdered in his hotel room, the "boyz" become the prime suspects. Was it Bobby the ocelot ("the cute one"), Matt the megabat ("the funny one"), Tim the Pangolin ("the shy one"), Devin the bonobo ("the romantic one"), or Tusk the elephant ("the smart one")?

Las Vegas Detective Luce Delgado has only twenty-four hours to solve a case that goes all the way back to the secret science barge where the WyldBoyZ' journey first began—a place they used to call home.
Praise For The Album of Dr. Moreau…
"[Daryl Gregory] constructs a clever mash-up of H.G. Wells's The Island of Doctor Moreau, a locked room mystery, and the boy band phenomenon in this zippy but complex tale... [A] quirky and entertaining twist on a classic." – Publisher's Weekly

"Gregory deliberately and imaginatively breaks every one of T. S. Eliot's "Rules of Detective Fiction," with which he has prefaced this luminous novella." - Booklist, starred review

"Both unexpected and yet completely satisfying." – Mystery & Suspense Magazine

"A stunning detective story full of all-too-human animals. Reading Daryl Gregory is so much fun you never notice until it's too late that he's got you by the feels, and he's about to squeeze. I loved this hilarious, touching, ridiculous ride." - Sam J. Miller, Nebula Award-winning author of The Art of Starving and Blackfish City

"This book has everything: a genetically engineered boy band, a great detective, a Zima-soaked tour party full of suspects, and a clever locked-room mystery. Funny, smart, and completely satisfying. I devoured it like a delicious grub snack." - Sarah Pinsker, author of A Song For A New Day and We Are Satellites

"Daryl Gregory is terrific, and The Album of Dr Moreau continues his high-roller, high-stakes streak of awesome. I laughed on page one, was horrified by page thirteen, and was delighted till the very end." – Lavie Tidhar

"Meticulous, cunning, and clever." – Elizabeth Bear
Tordotcom, 9781250782106, 176pp.
Publication Date: May 18, 2021
About the Author
Daryl Gregory won the IAFA William L. Crawford Fantasy Award for his first novel, Pandemonium. His second novel, The Devil's Alphabet, was nominated for the Philip K. Dick Award and was one of Publishers Weekly's best books of 2009. His novelette "Nine Last Days on Planet Earth" was a Hugo finalist. His short fiction has appeared in The Magazine of Fantasy and Science Fiction, Asimov's Science Fiction Magazine, and The Year's Best SF. He has also written comics for BOOM! Studios and IDW. Daryl lives in Oakland, CA.