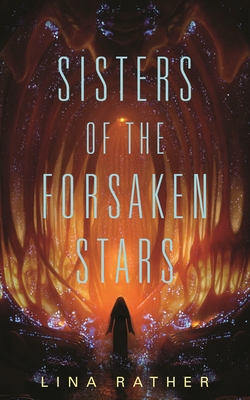 Sisters of the Forsaken Stars (Our Lady of Endless Worlds #2)
Paperback

* Individual store prices may vary.
Other Editions of This Title:
Digital Audiobook (4/4/2022)
MP3 CD (3/29/2022)
Description
The sisters of the Order of Saint Rita navigate the far reaches of space and challenges of faith in Sisters of the Forsaken Stars, the follow-up to Lina Rather's Sisters of the Vast Black, winner of the Golden Crown Literary Society Award.

"We lit the spark, maybe we should be here for the flames."

Not long ago, Earth's colonies and space stations threw off the yoke of planet Earth's tyrannical rule. Decades later, trouble is brewing in the Four Systems, and Old Earth is flexing its power in a bid to regain control over its lost territories.

The Order of Saint Rita—whose mission is to provide aid and mercy to those in need—bore witness to and defied Central Governance's atrocities on the remote planet Phyosonga III. The sisters have been running ever since, staying under the radar while still trying to honor their calling.

Despite the sisters' secrecy, the story of their defiance is spreading like wildfire, spearheaded by a growing anti-Earth religious movement calling for revolution. Faced with staying silent or speaking up, the Order of Saint Rita must decide the role they will play—and what hand they will have—in reshaping the galaxy.
Praise For Sisters of the Forsaken Stars (Our Lady of Endless Worlds #2)…
"Lina Rather cements her reputation as one of our boldest and most thoughtful new voices with a tale of faith and doubt, sisterhood and politics…and some of the coolest living spaceships you'll ever meet."—Tim Pratt

"Deeply felt and utterly genuine [...] a story about love for humanity tangled up in the trauma of what it means to be human."—Karen Osborne

"A richly imaginative and thoughtful adventure, Sisters of the Forsaken Stars is a delight!"—Megan O'Keefe

"[A] deeply honest and empathic parable for our times."—Booklist

"Rather tenderly explores the nuances of moral obligation and faith against a backdrop of government conspiracy. [...] This is a worthy sequel."—Publishers Weekly

"Both the combined and individual storylines weave a solid braid of strength and vulnerability as Rather's follow-up to Sisters of the Vast Black continues the path to a galaxy-wide revolution."—Library Journal

Praise for Sisters of the Vast Black

"Lina Rather embraces the complex relationships between faith, imperialism, love, and humanity while somehow managing to make the pitiless void of space feel intimate."—Sarah Gailey
Tordotcom, 9781250782144, 192pp.
Publication Date: February 22, 2022
About the Author
Lina Rather is a speculative fiction author from Michigan iving in Washington, D.C. Her short fiction has appeared n venues including Lightspeed, Fireside Fiction, and Shimmer. Her books include Sisters of the Vast Black (winner of the Golden Crown Literary Society Goldie Award and shortlisted for the Theodore Sturgeon Memorial Award) and Sisters of the Forsaken Stars. When Lina isn't writing, she likes to cook overly elaborate recipes, read history, and collect cool rocks. Find out more at linarather.com or on Twitter @LinaRather.