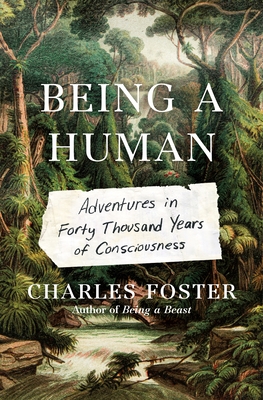 Being a Human
Adventures in Forty Thousand Years of Consciousness
Hardcover

* Individual store prices may vary.
Other Editions of This Title:
Digital Audiobook (8/30/2021)
Paperback (8/9/2022)
Description
NAMED A BEST BOOK OF THE YEAR BY THE ATLANTIC, KIRKUS REVIEWS, AND NEW STATESMAN

A radically immersive exploration of three pivotal moments in the evolution of human consciousness, asking what kinds of creatures humans were, are, and might yet be

How did humans come to be who we are? In his marvelous, eccentric, and widely lauded book Being a Beast, legal scholar, veterinary surgeon, and naturalist extraordinaire Charles Foster set out to understand the consciousness of animal species by living as a badger, otter, fox, deer, and swift. Now, he inhabits three crucial periods of human development to understand the consciousness of perhaps the strangest animal of all—the human being.

To experience the Upper Paleolithic era—a turning point when humans became behaviorally modern, painting caves and telling stories, Foster learns what it feels like to be a Cro-Magnon hunter-gatherer by living in makeshift shelters without amenities in the rural woods of England. He tests his five impoverished senses to forage for berries and roadkill and he undertakes shamanic journeys to explore the connection of wakeful dreaming to religion. For the Neolithic period, when humans stayed in one place and domesticated plants and animals, forever altering our connection to the natural world, he moves to a reconstructed Neolithic settlement. Finally, to explore the Enlightenment—the age of reason and the end of the soul—Foster inspects Oxford colleges, dissecting rooms, cafes, and art galleries. He finds his world and himself bizarre and disembodied, and he rues the atrophy of our senses, the cause for much of what ails us.

Drawing on psychology, neuroscience, natural history, agriculture, medical law and ethics, Being a Human is one man's audacious attempt to feel a connection with 45,000 years of human history. This glorious, fiercely imaginative journey from our origins to a possible future ultimately shows how we might best live on earth—and thrive.
Praise For Being a Human: Adventures in Forty Thousand Years of Consciousness…
"Dazzling and eccentric . . . Foster is a beautiful writer and an engaging companion throughout this strange, occasionally maddening book. The argument—that we as a species have lost something in our move from wandering animism to settled civilisation—is a powerful one, amply supported by learned quotations and dense footnotes . . . A wonderfully fun if entirely bonkers read."
—The Guardian

"Being a Human, like Being a Beast, the (also extraordinary) book that preceded it, is both a learned treatise and a kind of visionary journalism; it reports back from the edges of our cramped consciousness . . . In search of who we are, pursuing his own brand of gonzo neurobiology, Foster flings himself physically into various inhospitable corners of the English countryside, depriving himself of everyday comforts that his perceptions may be cleansed. And so they are."
—The Atlantic

"Foster is a writer of extraordinary ability. His descriptions of nature dazzle . . . Being a Human [is] a lesson in what to watch for in nature. It's a discourse on the sentience we may have had as early humans and that, over millennia, we've somehow roasted into a crisp. It's funny. It's moving. It's mind-expanding. It's a collection of thoughts to read again and again."
—Forbes

"A truly wonderful book . . . in the literal sense of the phrase. A book of wonders, so many of them to be seen living simultaneously in the present and the past, that you constantly find the now in the then and the then in the now."
—Lewis H. Lapham, The World in Time podcast (Lapham's Quarterly)

"A magpie book full of intriguing anthropological sketches . . . that fits neatly into the growing library of modern British natural history writing, alongside the best of Nan Shepherd, Robert Macfarlane, and Roger Deakin. A splendid assessment of the many ways there are to be a person, for good and ill."
—Kirkus Reviews (starred)

"A wondrous and moving examination . . . To get back in touch with the 'constant ecstatic contact' [with nature] he argues humans need, Charles Foster witnesses shimmering visions, eats roadkill, contemplates birdsong and language, and hypothesizes that consciousness exists beyond humans. Foster is a wonderful prose stylist, and knows how to build a case and support it with plentiful detail. This powerful account is a remarkable achievement."
—Publishers Weekly (starred)

"Being Human is a startling reset on our understanding of the journey of human thought. Approaching the question from a totally new perspective of lived experience, Charles Foster shows us how we came to be the people we are, with the values we exert in the world. Not only are the revelations startling, but the metaphoric power of Foster's language is frequently astonishing. I wish I'd written this book."
—Carl Safina, author of Becoming Wild

"What a mad, brilliant, mind-expanding book. Being a Human offers a thrilling deep dive through our evolutionary past, and a witty and learned commentary on why we are the way we are—and what wisdom we've lost along the way. Foster is a true modern polymath who writes with wit, humor and heart."
—Cal Flyn, author of Islands of Abandonment

"Hugely moving, filled with intelligence, Being a Human scurries between centuries with us between its teeth. Charles Foster has invoked a living presence in these pages, a contract with the uncanny. To know a thing about the future we need to retrace our steps into our old mind. We could start here."
—Martin Shaw, author of Smoke Hole

"Charles Foster's writing is matchless. No one else could tackle the whole of human evolution, the history and implications of our 'inadequate mutations,' with such wit and elegance. Brace yourselves for a thrilling encounter with the other, with the marvelous, terrifying spectacle of the self."
—Helen Mort, author of Never Leave the Dog Behind

"Being a Human is a work of shaggy genius. Its subject is gargantuan in scale; its humor has a reckless panache; its argument is brilliantly original; and above all it is written with a matchless audacity of soul. It is one of the most important books I have ever read."
—Jay Griffiths, author of Why Rebel?

"A daredevil read. Once again, Charles Foster has journeyed to places most of us wouldn't dare and emerged with a book that is passionate and kind, deeply intelligent and uproariously funny."
—Helen Jukes, author of A Honeybee Heart Has Five Openings

"A brilliant, inventive, and unsettling exploration of our glorious and broken nature, Foster's work shakes us out of dozy estrangement from our own humanity and welcomes us into the mysteries of belonging. Its richness demands careful reading."
—David George Haskell, author of The Forest Unseen

"This is the most wonderful book—deftly written, highly imaginative, and a delight to read—and its message is such that its importance simply cannot be overstated. It gives a devastatingly clear portrait of humanity as we have become, and of what we once had—and still could have—but instead are in the process of throwing away, perhaps forever."
—Iain McGilchrist, author of The Master and His Emissary

"Being a Human is one of the most original inquiries into the who, what, and why or human existence to appear in recent years. Charles Foster writes with inspiring brilliance, originality, and simplicity. I love this book. It should be widely read, for the benefit of all us humans."
—Larry Dossey, author of One Mind

"Fascinating . . . When you read the book, it'll make you think."
—The Circle of Insight podcast
Metropolitan Books, 9781250783714, 400pp.
Publication Date: August 31, 2021
About the Author
Charles Foster is the author of Being a Beast, which won the 2016 Ig Nobel Award for biology and was a finalist for the Baillie Gifford Prize. He teaches medical law and ethics at the University of Oxford and his writing has been published in National Geographic, the Guardian, Nautilus, Slate, the Journal of Medical Ethics and many other venues. He lives in Oxford, England.
or
Not Currently Available for Direct Purchase