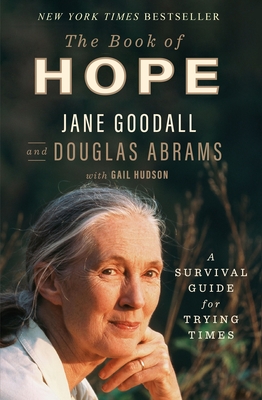 The Book of Hope
A Survival Guide for Trying Times (Global Icons Series)
Hardcover

* Individual store prices may vary.
Other Editions of This Title:
Digital Audiobook (10/18/2021)
Library Binding, Large Print (2/23/2022)
CD-Audio (10/19/2021)
Description
**THE INSTANT NEW YORK TIMES BESTSELLER**

In a world that seems so troubled, how do we hold on to hope?

Looking at the headlines—the worsening climate crisis, a global pandemic, loss of biodiversity, political upheaval—it can be hard to feel optimistic. And yet hope has never been more desperately needed.

In this urgent book, Jane Goodall, the world's most famous living naturalist, and Douglas Abrams, the internationally bestselling co-author of The Book of Joy, explore through intimate and thought-provoking dialogue one of the most sought after and least understood elements of human nature: hope. In The Book of Hope, Jane focuses on her "Four Reasons for Hope": The Amazing Human Intellect, The Resilience of Nature, The Power of Young People, and The Indomitable Human Spirit.

Drawing on decades of work that has helped expand our understanding of what it means to be human and what we all need to do to help build a better world, The Book of Hope touches on vital questions, including: How do we stay hopeful when everything seems hopeless? How do we cultivate hope in our children? What is the relationship between hope and action? Filled with moving and inspirational stories and photographs from Jane's remarkable career, The Book of Hope is a deeply personal conversation with one of the most beloved figures in the world today.

While discussing the experiences that shaped her discoveries and beliefs, Jane tells the story of how she became a messenger of hope, from living through World War II to her years in Gombe to realizing she had to leave the forest to travel the world in her role as an advocate for environmental justice. And for the first time, she shares her profound revelations about her next, and perhaps final, adventure.

The second book in the Global Icons Series—which launched with the instant classic The Book of Joy with His Holiness the Dalai Lama and Archbishop Desmond Tutu—The Book of Hope is a rare and intimate look not only at the nature of hope but also into the heart and mind of a woman who revolutionized how we view the world around us and has spent a lifetime fighting for our future.

There is still hope, and this book will help guide us to it.
Praise For The Book of Hope: A Survival Guide for Trying Times (Global Icons Series)…
**As seen in TIME, CBS Sunday Morning, The New York Times, The New Yorker, The Washington Post, Parade, AARP, and Guideposts**

"I don't feel there could have been a more timely moment for this book to be coming into our lives... it's the book we've been waiting for. It's the book we've been hoping for."
—Jay Shetty, On Purpose Purpose

"Despite the many issues of our collective culture, The Book of Hope is a perfect example of how we can still dream and create a better world. It's an amazing book that takes you on an extraordinary journey, and once you read it, you too will experience the many profound reasons for hope."
—Deepak Chopra

"...An informative road map of ideas for ways in which every person may help bring about positive change in the world."
—NPR Books

Goodall's "infectious optimism and stirring call to action make this necessary reading for those concerned about the planet's future... [Her] rousing testament will resonate widely."
—Publisher's Weekly, starred review

"Goodall's words and wisdom will resonate in your heart and soul, inspiring action, change, and, yes, hope."
—Business Insider

"Goodall's eloquent reflections prove strikingly persuasive and often profoundly moving."
—Christian Science Monitor

"Vibrant with wry humor, scientific fact, grassroots advances, compassion, and spiritual depth, this compelling and enlightening dialogue of hope amplifies Goodall's mantra: 'Together we can. Together we will.'"
—Booklist, starred review

"Ultimately, this is less a self-help book than the personal testament of a traditional idealist with the belief that we are put on Earth for a purpose...An estimable researcher and activist tells stories and delivers uplifting advice."
—Kirkus Reviews

"A lifetime of experience and wisdom combines with much-needed optimism in this guide to the climate crisis and what we can do about it."
—The Guardian
Celadon Books, 9781250784094, 272pp.
Publication Date: October 19, 2021
About the Author
Dr. Jane Goodall DBE is an ethologist and environmentalist. From infancy she was fascinated by animal behavior, and in 1957 at 23 years old, she met the famous paleoanthropologist Dr. Louis Leakey while she was visiting a friend in Kenya. Impressed by her passion for animals, he offered her the chance to be the first person to study chimpanzees, our closest living relatives, in the wild. And so three years later Jane travelled from England to what is now Tanzania and, equipped with only a notebook, binoculars and determination to succeed, ventured into the then unknown world of wild chimpanzees.

Jane Goodall's research at Gombe national park has given us an in-depth understanding of chimpanzee behavior. The research continues, but in 1986, realizing the threat to chimpanzees throughout Africa, Jane travelled to six study sites. She learned first-hand not only about the problems facing chimpanzees, but also about those facing so many Africans living in poverty. She realized that only by helping local communities find ways of making a living without destroying the environment could chimpanzees be saved. Since then Jane has travelled the world raising awareness and learning about the threats we all face today, especially climate change and loss of biodiversity. Author of many books for adults and children and featured in countless documentaries and articles, Jane has reached millions around the world with her lectures, podcasts and writings. She was appointed as a UN Messenger of Peace, is a Dame of the British Empire and has received countless honors from around the world.
Douglas Abrams is the
New York Times
bestselling co-author of
The Book of Joy: Lasting Happiness in a Changing World
with His Holiness the Dalai Lama and Archbishop Desmond Tutu, the first book in the Global Icons Series. Douglas is also the founder and president of Idea Architects, a literary agency and media development company helping visionaries to create a wiser, healthier, and more just world. He lives in Santa Cruz, California.