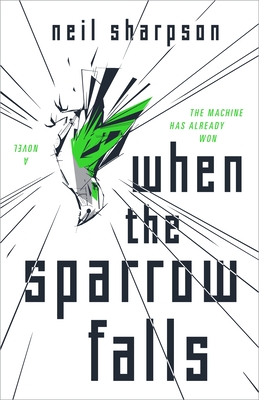 When the Sparrow Falls
Hardcover

* Individual store prices may vary.
Other Editions of This Title:
Digital Audiobook (6/28/2021)
Paperback (5/10/2022)
Description
Life in the Caspian Republic has taught Agent Nikolai South two rules. Trust No One. And work just hard enough not to make enemies.

Here, in the last sanctuary for the dying embers of the human race in a world run by artificial intelligence, if you stray from the path—your life is forfeit. But when a Party propagandist is killed—and is discovered as a "machine"—he's given a new mission: chaperone the widow, Lily, who has arrived to claim her husband's remains.

But when South sees that she, the first "machine" ever allowed into the country, bears an uncanny resemblance to his late wife, he's thrown into a maelstrom of betrayal, murder, and conspiracy that may bring down the Republic for good.

WHEN THE SPARROW FALLS illuminates authoritarianism, complicity, and identity in the digital age, in a page turning, darkly-funny, frightening and touching story that recalls Philip K. Dick, John le Carré and Kurt Vonnegut in equal measure.
Praise For When the Sparrow Falls…
"The novel is taut and intense, with hints seeded so stealthily that the big reveals (and, with the twists, there are a few) give a feeling of both surprise and inevitability."—Den of Geek

"A brilliant mirror to our reality packaged in a fast-paced sci-fi plot..... A slow-burn novel that takes threads we didn't even know we were holding and pulls them together as we careen towards a shocking end. This is a novel fans will want to read again, picking up the subtle clues overlooked the first time…. This world and the characters struggling to survive within it will stay with you for a long time."—The Nerd Daily

"Insomnia-inducing plots that will leave you looking over your shoulder long after the stories conclude.... Well written and suitably grim, this picture of one dystopian holdout in a utopian world should please many sf readers interested in visions of a post-AI future."—BookPage

"Sharpson pushes the narrative beyond South's present and into an increasingly messy future, he showcases the untenable nature of the Caspian Republic and its corrupt framework. The result is a thoughtful sci-fi thriller that skillfully blends a retro spy aesthetic with future technology."—Publishers Weekly

"Sharpson's fluid prose reads like a lullaby, albeit one that keeps you awake.... More than another AI novel that questions what it means to be human. "—The Geekiary

"An intense, mysterious, rich tale of a land where defending humanity means surrendering the humane, where the human soul can be captured in a chip and uploaded to a server in orbit, and where the bodies of buried plotters and their victims stir in their graves."—Cory Doctorow, author of Little Brother

"A gripping and intriguing debut."—Amelia Mellor, author of The Grandest Bookshop in the World

"The world of the Caspian Republic is drawn with precision worthy of Philip K. Dick and the plot, with its gripping twists and turns, is worthy of comparison with Le Carré at his best. Rarely does such an exciting and innovative new voice emerge, both refreshing the genre and reminding the reader of what made them fall in love with it in the first place."—Jessica Traynor, essayist and poet

"A strong debut novel that readers of Philip K. Dick, George Orwell, and John LeCarre will find right up their dark alley. Highly Recommended."—Amazing Stories

"An absolute home run of a book that succeeds on every possible metric...Its poetic writing and sharp observations will make you think, while its thrilling nature and great characters will keep you engrossed."—The Quill to Live

"When the Sparrow Falls is the kind of dystopian novel I've been searching for.... The world was so immersive, the history so fascinating, that I couldn't wait to pick it up again."—The Lily Cafe
Tor Books, 9781250784216, 336pp.
Publication Date: June 29, 2021
About the Author
Neil Sharpson lives in Dublin with his wife and their two children. Having written for theater since his teens, Neil transitioned to writing novels in 2017, adapting his play The Caspian Sea into When The Sparrow Falls.

A huge fan of animation, Neil writes Unshaved Mouse, a comedic review blog mostly focusing on animated film and comic book movies.
or
Not Currently Available for Direct Purchase