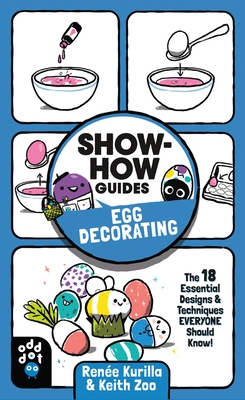 Show-How Guides
Egg Decorating: The 18 Essential Designs & Techniques Everyone Should Know!
Paperback

* Individual store prices may vary.
Description
SHOW-HOW GUIDES: EGG DECORATING is a primer for curious minds with a clear, fun graphic style that invites any kid to get started designing and decorating eggs.

This pocket-sized 101 includes a curated collection of 18 essential dying and decorating techniques. Every step is illustrated, allowing kids to easily master the basics, regardless of how they learn.

Readers will learn to dye, dip, and paint dazzling eggs with natural dyes, food coloring, glitter, glue, and other glitz, cut-paper crafts, and more.

SHOW-HOW GUIDES is a collectible, visual, step-by-step series that teaches the skills every kid should know, at a shockingly affordable price. They're the perfect stocking stuffer, birthday gift, or impulse buy.
Odd Dot, 9781250784360, 48pp.
Publication Date: January 4, 2022
About the Author
Renée Kurilla has illustrated many books for children, including Margarita Engle's Orangutanka; the Ada Lace chapter books; and her own graphic novel, The Flower Garden. She, her husband, and their fluffy cat, Timmy, can be found in Boston, Massachusetts, approximately 9,410 miles from the Borneo rain forest.

Keith Zoo is an illustrator living near Boston, MA. For the past decade, he's been the Lead Artist at FableVision Studios, working on a full range of things, from character design to animation layout, interactives and design. When he's not there, he loves spending his time drawing monsters, goblins and other silly things. To check out more of Keith's work, head on over to his website.