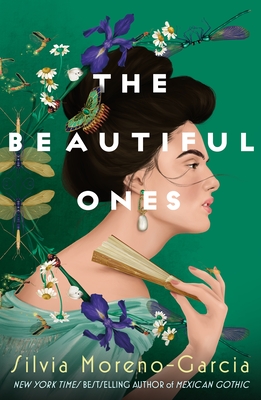 The Beautiful Ones
A Novel
Paperback

* Individual store prices may vary.
Other Editions of This Title:
Digital Audiobook (4/26/2021)
Description
From the New York Times bestselling author of Mexican Gothic comes a sweeping romance with a dash of magic.

They are the Beautiful Ones, Loisail's most notable socialites, and this spring is Nina's chance to join their ranks, courtesy of her well-connected cousin and his calculating wife. But the Grand Season has just begun, and already Nina's debut has gone disastrously awry. She has always struggled to control her telekinesis—neighbors call her the Witch of Oldhouse—and the haphazard manifestations of her powers make her the subject of malicious gossip.

When entertainer Hector Auvray arrives to town, Nina is dazzled. A telekinetic like her, he has traveled the world performing his talents for admiring audiences. He sees Nina not as a witch, but ripe with potential to master her power under his tutelage. With Hector's help, Nina's talent blossoms, as does her love for him.

But great romances are for fairytales, and Hector is hiding a truth from Nina — and himself—that threatens to end their courtship before it truly begins.

Silvia Moreno-Garcia's The Beautiful Ones is a charming tale of love and betrayal, and the struggle between conformity and passion, set in a world where scandal is a razor-sharp weapon.
Praise For The Beautiful Ones: A Novel…
"I seriously loved everything about this from the gorgeous, lush prose, to the tiny intimate moments of heartbreak." —Mary Robinette Kowal, Hugo Award-winning author of the Glamourist Histories series

"Straddling several genres with elegant intelligence, The Beautiful Ones is both an easy read and a fulfilling one." –Locus

"It's a slow-burn, stately novel about the magic of what it means to love, and love truly." –Tor.com

"Truly one of the most beautiful books I've read in a long time. This sweeping tale of love lost and found is told with old-world elegance and grace with just the right touch of magic." –M.J. Rose, New York Times bestselling author

"Moreno-Garcia fills her fantastic novel of manners with sumptuous language and plausible romantic complications in a setting that appears to be based on 19th-century France and is lightly garnished with minor magic…Readers who enjoyed Mary Robinette Kowal's Glamourist Histories magical Regency series will be particularly enthralled by the genuine emotions evoked in the course of the unsustainable love triangle." –Publishers Weekly

"This elegant tale of hidden desires and misplaced amour will appeal to fans of historical fantasy." –Booklist

"The talented author of Certain Dark Things and Signal to Noise returns with a novel that is light on fantasy but overflowing with delicious melodrama … a great fit for fans of the 18th-century French classic Les Liaisons Dangereuses." –Library Journal
Tor Books, 9781250785565, 304pp.
Publication Date: April 27, 2021
About the Author
Silvia Moreno-Garcia is the New York Times bestselling author of the novels Mexican Gothic, Gods of Jade and Shadow, Untamed Shore, and many other books. She has also edited several anthologies, including the World Fantasy Award-winning She Walks in Shadows (a.k.a. Cthulhu's Daughters).
1. When we first meet Hector, he feels completely out of place at the De Villiers' party, but he is determined to see the woman who captured his heart years ago. What first impressions of Valérie did you create, as seen through Hector's eyes? How does Valérie compare to his memories of her?
2. As she watches Hector perform in Chapter 6, how does Nina change her understanding of her own special powers? What social distinctions become clear in Chapter 7 when Nina is criticized for doing levitation tricks? What would you try to achieve if you had Hector and Nina's supernatural ability?
3. In chapter 2, we learn that Nina's sister, Madelena, had married a "respectable physician" she'd known since they were children. The marriage pleases the family but appears devoid of romance. How is Nina able to believe so strongly in romantic love, despite society's emphasis on practical matters and status?
4. The gathering at Oldhouse includes Camille, Nina's mother; elder sister Madalena, visibly pregnant; and Nina's twin great aunts, Lise and Linette. What does Nina learn about womanhood as she grows up, and who does she learn these lessons from?
5. Would Valérie and Hector's marriage have been a happy one? What is the root of her cruelty: Regret? Materialism? Or is it simply part of her true temperament?
6. Discuss the customs of the novel's time period—including the clothing styles—and the architectural features that make Loisail unique. What would you enjoy the most about living in this time and place? Which aspects would be the most difficult for you?
7. How is wealth gained and lost in the novel? What does it take for a woman to be deemed valuable in Loisail's social circles? Would you ever be tempted to marry for money, or out of impatience?
8. Four men are particularly central to the plot: Hector, Luc, Gaetan, and Étienne. What traits do they value in women? What does it take for them to gain the admiration of their peers? How does gender affect privilege in Loisail?
9. What is meaningful about Hector's beetles? What do they say about the way he and Nina see the world?
10. Gossipy Agnes has a beautiful wardrobe but lacks Valérie's younger complexion, while those with generations of wealth look down on the New People, described in the opening scene as "the barons of barely minted empires of telegraph wires and fresh steel." Who are the Beautiful Ones, and how is that beauty defined? In the end, what is revealed about true beauty?
11. How were you predicting that the duel would end?
12. Though Nina and Hector can propel inanimate objects into motion, what does it take to reverse the dynamics of unrequited love? What does the novel say about the limitations of human power when it comes to matters of the heart?
13. How does The Beautiful Ones enhance your experience of other novels by Silvia Moreno-Garcia? What is unique about her approach to the magic of love?
Guide written by Amy Root Clements