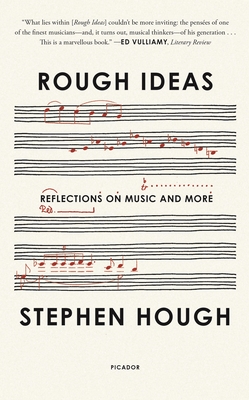 Rough Ideas
Reflections on Music and More
Paperback

* Individual store prices may vary.
Other Editions of This Title:
Hardcover (2/4/2020)
Description
A collection of essays on music and life by the famed classical pianist and composer

Stephen Hough is one of the world's leading pianists, winning global acclaim and numerous awards, both for his concerts and his recordings. He is also a writer, composer, and painter, and has been described by The Economist as one of "Twenty Living Polymaths."

Hough writes informally and engagingly about music and the life of a musician, from the broader aspects of what it is to walk out onto a stage or to make a recording, to specialist tips from deep inside the practice room: how to trill, how to pedal, how to practice. He also writes vividly about people he's known, places he's traveled to, books he's read, paintings he's seen; and he touches on more controversial subjects, such as assisted suicide and abortion. Even religion is there—the possibility of the existence of God, problems with some biblical texts, and the challenges involved in being a gay Catholic.

Rough Ideas is an illuminating, constantly surprising introduction to the life and mind of one of our great cultural figures.
Praise For Rough Ideas: Reflections on Music and More…
A Financial Times Book of the Year 2019

"Hough's writings on music are endlessly knowledgeable, illuminating, and accessible . . . Music lovers, from professional musicians to casual listeners, will find the book a delight to browse through." — Publishers Weekly

"[Rough Ideas is] highly episodic, with entries ranging from a few dozen words to a few hundred. Many of them begin with questions — the sort of things he's repeatedly asked, one guesses, by adoring audiences and sponsors over post-concert drinks and nibbles before packing his bag to move on to the next venue . . . But if the questions are sometimes routine, the answers are like Hough's playing: original, fresh, deeply considered, personal. And sometimes quirky or contrarian. We know the 10,000-hour rule to prepare for genius. But Hough shows it helps to have genius as well." — Alan Rusbridger, The Spectator

"Stephen Hough's brilliance isn't limited to the concert stage or recording studio. The classical pianist, as his fans already know, is something of a polymath. This lively collection of writings gathers dozens of unfailingly perceptive, often charming, and occasionally moving reflections on the musician's craft, the symbiosis between performer and audience, Rilke, Simone Weil, Lou Reed, and the importance of practice—which allows "'the time to make mistakes and the leisure to correct them.'" —Commonweal
Picador, 9781250785732, 464pp.
Publication Date: February 2, 2021
About the Author
Stephen Hough, one of the most distinctive artists of his generation, performs with the world's major orchestras and in recital at the most prestigious concert halls. He has made more than sixty CD recordings and has composed works ranging from solo piano to orchestral. As an author, he has written articles for The Guardian and The Times (London), and he wrote a blog for The Telegraph for seven years. His first novel, The Final Retreat, was published in 2018.