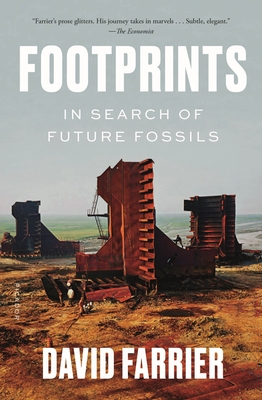 Footprints
In Search of Future Fossils
Paperback

* Individual store prices may vary.
Other Editions of This Title:
Hardcover (3/3/2020)
MP3 CD (4/21/2020)
Compact Disc (4/21/2020)
Compact Disc (4/21/2020)
MP3 CD (4/21/2020)
Description
A profound meditation on climate change and the Anthropocene and an urgent search for the fossils—industrial, chemical, geological—that humans are leaving behind

What will the world look like in ten thousand years—or ten million? What kinds of stories will be told about us?

In Footprints: In Search of Future Fossils, the award-winning author David Farrier explores the traces we will leave for the very distant future. Modern civilization has created objects and landscapes with the potential to endure through deep time, whether it is plastic polluting the oceans and nuclear waste sealed within the earth or the 30 million miles of roads spanning the planet. Our carbon could linger in the atmosphere for 100,000 years, and the remains of our cities will still exist millions of years from now as a layer in the rock. These future fossils have the potential to reveal much about how we lived in the twenty-first century.

Crossing the boundaries of literature, art, and science, Footprints invites us to think about how we will be remembered in the myths and stories of our distant descendants. Traveling from the Baltic Sea to the Great Barrier Reef, and from an ice-core laboratory in Tasmania to Shanghai, one of the world's biggest cities, Farrier describes a world that is changing rapidly, with consequences beyond the scope of human understanding. As much a message of hope as a warning, Footprints will not only alter how you think about the future; it will change how you see the world today.
Praise For Footprints: In Search of Future Fossils…
Smithsonian Magazine, Favorite Books of 2020
Geographical, Best Books of 2020
The Telegraph, 50 Best Books of 2020
The Times, Best Philosophy and Ideas Books of 2020

"This is the kind of book that stays with you . . . It's a thought-provoking and elegiac book that asks us to think about the generations to come, and what they might think of us if we don't mend our wasteful ways." —John Schwartz, The New York Times' Climate Fwd: newsletter

"Footprints is a brilliant, unsettling book; a deep-time delving into our future fossils—an examination of what humans have inherited, and what we might leave as our long-term legacies upon—within—the Earth. Subtly thought and beautifully written, it compels its readers to undertake a troubling, urgent thought-experiment: what will survive of us?" —Robert Macfarlane, author of Underland

"Fascinating peek into the deep future! Our distant ancestors left beautiful stone objects. What will we leave? Surprising answers!" —Margaret Atwood, via Twitter

"Using the tools of the poet, Farrier wants us to think more like scientists, to look at our relative insignificance and fragility straight on . . . Neither clarion call nor elegy . . . Footprints is what comes after elegy: a bracing but ultimately therapeutic meditation on the truth that, in the grand scheme of things, nature will always overwhelm us . . . Footprints gives us the resources to plot both political victories and failures in a story that lasts much longer than an election cycle, a pandemic, or even the short history of humanity itself." —Max Norman, Los Angeles Review of Books

"Despite its sobering theme, Mr Farrier's prose glitters. His journey takes in marvels . . . Wonder rather than anger is his default response in contemplating humanity's legacy . . . His central idea, that language and storytelling might be the most enduring of human traces, is beautifully expressed . . . 'The challenge is to learn . . . to examine our present,' he writes, 'by the eerie light cast by the onrushing future.' His subtle, elegant book rises to that challenge." —The Economist

"Farrier's terrific writing matches hard fact with metaphors pulled from mythology, Ben Okri's parable of a famished road, and even Italo Calvino's many permutations of a city. Eerie as it is to contemplate a world without us, Farrier's foretelling is well worth the time." —Nick Pyenson, Smithsonian Magazine

"There is a way of writing about the natural world in which intensity of description stands in for perception. Everything has the same gleam and tang, as if glazed in aspic . . . The more radical and vital writing comes from those who can more easily imagine their own diminishment. Farrier is not of the school of aspic." —Lavinia Greenlaw, London Review of Books

"A haunting study of the fossils that twenty-first-century life will leave behind." —Richard Lea, Times Literary Supplement

"Radical and refreshing . . . [Farrier] invites everyone to join the conversation as part of a collective humanity . . . Farrier's writing is engaging and multi-dimensional, leaving space to interpret, think, and feel—the power of narrative. His book makes the important argument that if we are unable to see, fathom, or make meaning of the long-term future, we risk ignoring our lasting impact as active characters, as shapers of this large, human story." —Rachel Rueckert, Columbia Journal

"In what endures after thousands of years, we can see something of the unspoken values of a people. And that's precisely what Footprints reveals to us . . . [Farrier's] science is clear and well-written . . . A powerful and fascinating approach to the great crisis of our time." —Theodore Richard, The New York Journal of Books

"[Footprints] asks what our civilisation will leave behind in the future fossil record. It is an oddly hopeful exploration of deep time and a world doing just fine without us." —New Scientist

"Footprints aches with every wound of our environmental and human-induced climate change issues, but neither scolds nor plans. It reflects on what is, a profound, scientifically informed meditation on the evidence of our having entered the Anthropocene Epoch . . . What I take most from Footprints is a greater desire to hold in front of me the deep time of both past and future while attending to the present—what it may reveal." —James McKenzie, Notre Dame Magazine

"This gorgeously written, utterly entrancing book about the traces we leave in deep time has a unique transformative power, rendering the reader capable of seeing the ordinary stuff of life with the eyes of eternity. An extraordinary accomplishment." —Steve Silberman, author of NeuroTribes: The Legacy of Autism and the Future of Neurodiversity

"[A] literary work of quiet grace . . . A moving work, and a call to think beyond our own lives to the persistence of the damage we are doing today . . . Maybe those future generations will somehow find a copy of this book, preserved against all odds when our bridges have fallen but the plastic from our soda bottles still mars the seas. If so, and if they can read it, they will know: Some of us wanted to try to be better." —John Schwartz, Undark

"Deeply moving." —John R. Platt, The Revelator

"[Farrier's] in-the-moment descriptions are precise and vital, but he renders them uniquely evocative and haunting by paralleling current dilemmas with ancient myths, Greek tragedies, literature, and art . . . Farrier sees Earth as a vast library, and encourages us to recognize and think deeply about the indelible stories of destruction and catastrophic loss we're adding to the planet's archive." —Donna Seaman, Booklist (starred review)

"Blending science, literature, and art, this work leads readers to imagine time, backward and forward; writing in a remarkably fluid style, Farrier is as adept at retelling ancient myth as he is at explaining little-known science . . . Compelling . . . Sometimes unsettling in its findings but always cleverly conceived and beautifully expressed." —Robert Eagan, Library Journal (starred review)

"Elegiac views of the Anthropocene...the author captures a moment that finds us standing on the brink." —Kirkus

"In Footprints, David Farrier depicts two truly larger-than-life concepts—the 'deep time' of Earth's prehuman past and the 'far future' that's in store for our planet—on the same narrative line, allowing the reader to see and feel them together. What a dark marvel it is to be able to hold the facts of prehistoric cyanobacteria next to the projected fate of a long-lived plastic bottle. How fascinating to see the elaborately buried Chernobyl victims the way a future human might—with all the mysteries we currently attach to ancient Egyptian sarcophagi. This book is a riveting mix of science and storytelling that changed the way I process my everyday surroundings; now, I see a 'future fossil' at nearly every turn." —Elena Passarello, author of Animals Strike Curious Poses

"Footprints by David Farrier has changed the way I navigate the world. It tells the remarkable story of how we will be remembered in the very deep future, encouraging us to act now. This is transformative reading for the 21st century." —Katie Paterson, artist and creator of the Future Library project

"As we hurtle into the Anthropocene, blindly at the helm of this inconstant planet, Farrier gives us our bearings within the landscape of deep time. Eons buckle under his pen: the world before us made vivid; the paradox of our permanence and impermanence visceral. Stunning." —Gaia Vince, author of Transcendence: How Humans Evolved through Fire, Language, Beauty, and Time

"A dazzling guide to the imperishable monuments of a time to come. David Farrier's Footprints unearths a future few have adequately imagined, though its flagstones are laid down, even now, all around us. Literary, luminous, and deeply humane." —Rebecca Giggs, author of Fathoms: The World in the Whale

"Darkly, exquisitely, oh-so-carefully, David Farrier lays out the future we can see from here: the ice singing its own dissolution, the plastic without a memory that will last for eternity, the deepest ocean and the highest air which will remember our carbon traces millions of years to come. Farrier is an exacting dissector of human culture and natural history; his book is a brilliant and surprising beautiful requiem for what we have lost, but also, crucially, what we might save from the wreckage." —Philip Hoare, author of Risingtidefallingstar

"What have we done, what are we doing, and in what sort of state are we leaving our home? David Farrier's natural history of the junkyard Anthropocene is devastating in its answers to these questions. Since the prognosis is not good, this deep-time almanac reads as a precocious elegy. It is a mind-bender that will make you cry like any new born baby. Farrier has terrifyingly and superbly mapped the darkness." —Tim Dee, author of A Year on the Wing

"A signal book, and a profoundly significant one, of warnings and prophecies, of explorations and discoveries. With wry, persuasive intelligence it surveys the landscapes and cityscapes, the art and the literature, of this pivotal moment in the Anthropocene. From ocean to icecap, outfalls to landfill, it seeks answers to the defining question of our times: 'How can we be better ancestors?'" —Gavin Francis, author of Shapeshifters: A Journey Through the Changing Human Body

"Footprints draws the reader on an intrepid journey around the globe, into the mysteries of deep time and outer space. David Farrier is a wonderful travelling companion whose writing is rich and intricate as the geological strata he examines. Fossils are buried relics of the past, but this book pulses with life, and is shot through with radiant observations of the present—from levees to ice cores, skyscrapers to subways—and formidable glimpses of possible planetary futures. Simultaneously grave and yet full of redemptive beauty, both elegy and awakening, it will be enjoyed by all readers who live on Earth's lithosphere." —Nancy Campbell, author of The Library of Ice

"Footprints bears witness to the hastening catastrophe of the Anthropocene, illustrating not just the permanence of the traces humans leave behind, but also the impermanence of the human. Profound, urgent, transformative, it is a remarkable book." —James Bradley, author of Ghost Species
Picador, 9781250785831, 320pp.
Publication Date: March 2, 2021
About the Author
David Farrier teaches at the University of Edinburgh. In 2017, Footprints won the Royal Society of Literature's Giles St Aubyn Award for Non-Fiction. He lives in Edinburgh, Scotland.