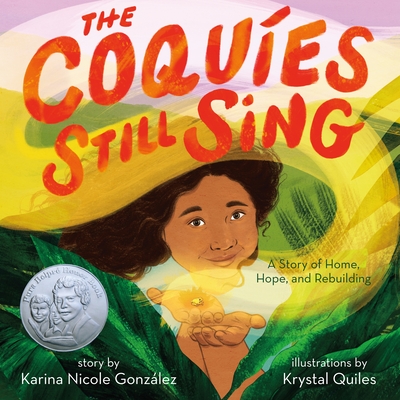 The Coquíes Still Sing
A Story of Home, Hope, and Rebuilding
Hardcover

* Individual store prices may vary.
Description
"This book is more than beautiful." - Yuyi Morales, Caldecott Honoree and New York Times bestselling creator of Dreamers

A powerful story about home, community, and hope, inspired by the rebuilding of Puerto Rico following Hurricane Maria in 2017, written by debut author Karina González and illustrated by Krystal Quiles.
Co-quí, co-quí! The coquí frogs sing to Elena from her family's beloved mango tree—their calls so familiar that they might as well be singing, "You are home, you are safe." But home is suddenly not safe when a hurricane threatens to destroy everything that Elena knows.

As time passes, Elena, alongside her community, begins to rebuild their home, planting seeds of hope along the way. When the sounds of the coquíes gradually return, they reflect the resilience and strength of Elena, her family, and her fellow Puerto Ricans.

The Coquies Still Sing is also available in Spanish.

Pura Belpré Honor Book for Children's Text
Pura Belpré Honor Book for Children's Illustration
A Chicago Public Library Best Picture Books of 2022 selection
Praise For The Coquíes Still Sing: A Story of Home, Hope, and Rebuilding…
"What a story of resilience and community! The Coquies Still Sing gives the reader the opportunity to recognize the things that we can do together to rebuild our lives and take care of our beloved communities. This book is more than beautiful." - Yuyi Morales, Caldecott Honoree and New York Times bestselling creator of Dreamers

"González's melodic text sings, like Elena's beloved coquíes, while Quiles' gouache and acrylic artwork pops with vibrant hues and textures. . . A heartfelt reminder that even in the most difficult times, dreaming of a better tomorrow strengthens family and community." - Kirkus, starred review

"One family's resilience amid disaster is the soaring note in this full-throated tribute to Puerto Rico's survival following Hurricane María. . . Quiles communicates abundance, joy, and loss through expressive brushwork: the jewel-toned gouache and acrylics, finished digitally, produce detailed, almost-pluckable mangoes, while rough strokes depict the coming-apart of the fabric of daily life." - Publishers Weekly, starred review

"A hopeful yellow permeates Quiles's textured gouache and acrylic...illustrations, visible in the flesh of a mango, candlelight during the storm, glowing seeds of "gold," and finally the returning coquíes. González's sensory text captures Elena's complex feelings, the lingering damage in the aftermath of the hurricane, and the ways she finds optimism and strength in her community and nature." - Horn Book Magazine
Roaring Brook Press, 9781250787187, 40pp.
Publication Date: August 23, 2022
About the Author
Karina Nicole González spent her childhood between New Jersey and Puerto Rico. She is an educator and speech-language pathologist for NYC public schools, where Karina uses storytelling as a tool for language development with her elementary school students. Karina lives in Brooklyn with her partner, Aaron. She is the author of The Coquies Still Sing, illustrated by Krystal Quiles.

Karina Nicole González pasó su niñez entre Nueva Jersey y Puerto Rico. Karina ha organizado actividades para recaudar fondos en apoyo a organizaciones comunitarias y escuelas basadas en Puerto Rico luego del paso de Huracán María en el 2017. Es educadora y patóloga del habla y lenguaje en escuelas públicas de Nueva York, donde Karina utiliza la narración como herramienta para el desarrollo del lenguaje para sus estudiantes de escuela elemental. Ella vive en Brooklyn con su pareja, Aaron. Karina es la autora de "Los coquíes aún cantan".
Krystal Quiles has been drawing in her room since she could hold a pencil. She studied illustration and fine arts at Pratt Institute, and holds a BFA in Communication Design. Originally from the Bronx, Krystal works as a Freelance Illustrator in Brooklyn, where she creates pieces that are lively, fun, and dimensional while embracing what it is to be a girl. She is the illustrator of The Coquies Still Sing, written by Karina Nicole Gonzales.

Krystal Quiles captura a espectadores con elementos que le brindan felicidad, y ha estado ocupada haciendo dibujos en su cuarto desde que puede sostener un lápiz. Estudiando ilustración y bellas artes en el Pratt Institute, Krystal se graduó con un BFA en Diseño de Comunicaciones en mayo 2014. Originalmente del Bronx, Krystal actualmente trabaja como ilustradora independiente basada en Brooklyn. Ella es la ilustradora de "Los coquíes aún cantan".