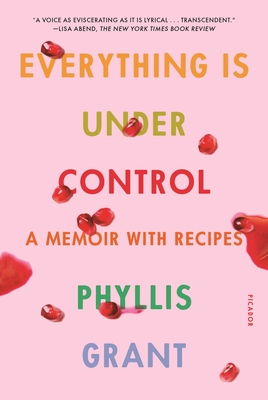 Everything Is Under Control
A Memoir with Recipes
Paperback

* Individual store prices may vary.
Other Editions of This Title:
Digital Audiobook (11/23/2020)
Hardcover (4/21/2020)
MP3 CD (11/24/2020)
Compact Disc (11/24/2020)
Description
One of Esquire's Best Cookbooks of 2020 and one of The Washington Post's Best Food Books of 2020

"In epigrammatic, nearly poetic diction, Grant . . . reminds us of how transformative the junctures where food and life collide can be." --The New York Times Book Review

"What a beautiful, rich, and poetic memoir this is . . . Like the best chefs, Phyllis Grant knows how to make a masterpiece from a few simple ingredients: truth, taste, poignancy, and love."—Elizabeth Gilbert, author of City of Girls and Eat, Pray, Love

Phyllis Grant's Everything Is Under Control is a memoir about appetite as it comes, goes, and refocuses its object of desire. Grant's story follows the sometimes smooth, sometimes jagged, always revealing contours of her life: from her days as a dancer struggling to find her place at Julliard, to her experiences in and out of four-star kitchens in New York City, to falling in love with her future husband and leaving the city after 9/11 for California, where her children are born. All the while, a sense of longing pulses in each stage as she moves through the headspace of a young woman longing to be sustained by a city into that of a mother now sustaining a family herself.

Written with the transparency of a diarist, Everything Is Under Control is an unputdownable series of vignettes followed by tried-and-true recipes from Grant's table—a heartrending yet unsentimental portrait of the highs and lows of young adulthood, motherhood, and a life in the kitchen.
Praise For Everything Is Under Control: A Memoir with Recipes…
"Culinary memoirs tend to follow templates . . . so to find one with a truly distinct perspective is thrilling. In epigrammatic, nearly poetic diction, Grant, a ballet dancer turned pastry chef turned damn fine writer, reminds us of how transformative the junctures where food and life collide can be . . . Grant's is a life recalled as we all recall them: in who we were with and what we ate. But distinguished by her keen attention to the sublime detail and a voice as eviscerating as it is lyrical (plus a handful of recipes tucked in at the end), those moments become transcendent." --Lisa Abend, The New York Times Book Review

"Slim and sensuous." --Maureen Corrigan, NPR's Fresh Air

"Without feeling contrived, the structure frames the writing somewhere between poetry and prose. It serves Grant's candid, spare and rhythmic style. Food may be the throughline that connects her stories, but it is her searing honesty — around misogynistic kitchen culture, postpartum depression and grief in many guises — that propels the reader beyond evocations of chocolate souffles and avocado bowls." --Bill Addison, Los Angeles Times

"No book moved me more than this memoir from chef and writer Phyllis Grant. Written in a form that's not prose and not poetry, but some amalgam in which Grant's observations are both elliptical and elusive, the memoir hints at things so large that words alone don't suffice . . . a brilliant testimony to taking the next step, even when your body and brain don't want to, even when everything around you feels like it's crumbling." --Tim Carman, The Washington Post

"The vignettes in this lean collection are powerful, presented with plenty of white space between chapters, a pause to savor what is told and what is left unsaid . . . Brimming with passion, tragedy and love, this slim volume delights, enlightens and satisfies." --Beth Dooley, San Francisco Chronicle

"[Phyllis] Grant is really good. Her book is more than special and unlike any memoir I've ever read—an epic, pulsing poem/diaristic memoir about restaurant work, cooking, motherhood, and more. Skip Netflix one night and read Grant's spare, dark vignettes. Then read her again." --Hunter Lewis, editor-in-chief, Food & Wine

"Grant captures the passions of her life . . . Everything is Under Control is a lesson in remaining light on your feet because just the opposite is so often the case." --Heller McAlpin, NPR.org

"The power is in the vignettes Grant writes about love and parenting, growing up and settling down, baby food and wedding cake and Vicodin—all of which ring dead-true even though you don't know Grant yourself. You'll steamroll through it. And then you'll start cooking." --Sarah Rense, Esquire

"I breezed through [Everything is Under Control] . . . poetic and spare and powerful." --Amanda Kludt, editor-in-chief, Eater

"A fast-paced, heart-smacking memoir." --Bon Appétit

"Grant's point of view is uniquely sensual and grounding. Think James Salter meets Ruth Reichel meets Marguerite Duras . . . She writes with grace and passion not only about cooking but feasting, family, falling in love and falling apart. She also writes extremely well about healing. When I finished this book, I felt more alive." --Joanna Hershon, New York Magazine's The Strategist

"[A] poetic food memoir that is as genuine as a phone call that accidentally lasts hours. In quick vignettes followed by recipes, Grant tells the story of how she went from Juilliard ballerina to pastry assistant to lauded chef, mom, and friend to many. Tear through it, and then tear into that chicken." --Garden & Gun

"Relating the adrenaline-surging hustle in restaurant kitchens, including nauseating moments of sexual harassment, Grant writes with bursting energy . . . Grant captures life with her husband and growing babies in similarly spare and gripping images, to enjoyably entrancing effect." --Booklist

"What a beautiful, rich, and poetic memoir this is. Phyllis Grant writes of longing, suffering, celebration, family, and food with such delicate power. Like the best chefs, she knows how to make a masterpiece from a few simple ingredients: truth, taste, poignancy, and love. This is a wonderful book." —Elizabeth Gilbert, author of City of Girls and Eat, Pray, Love

"Phyllis Grant has the voice of a poet and the sensuality of a cook. This very brave book makes you want to experience the world with equal intensity. As for the recipes ... completely irresistible." —Ruth Reichl, author of Save Me the Plums

"How do we locate ourselves in time? In our families? Within the intricacies of our own appetites? With raw candor and discipline, Phyllis Grant peels back the layers of her innermost experience and gives us a memoir as rich and nuanced, as delicate as life itself." —Dani Shapiro, author of Inheritance

"Everything Is Under Control is a beautiful paradox—the book moves expansively, generously across the decades, in prose as clean and economical as a chef's knife dicing an onion. The result is addictively readable and ultimately wise, true, and real." —Claire Dederer, author of Poser: My Life in Twenty-Three Yoga Poses

"Phyllis Grant writes sentences that send jolts through your body. This book is poetry. This book is truth. In structure and tone it's like nothing I have ever encountered. It's about the reality of how we live our lives. I devoured it in a few hours and when I was done, I was crying on the train home." —Jeff Gordinier, author of Hungry: Eating, Road-Tripping, and Risking It All with the Greatest Chef in the World

"Everything Is Under Control is a captivating memoir for the ages. Phyllis Grant writes with such grace, economy of language, lack of sentimentality, and a narrative tautness that infuses her kaleidoscopic story of sustenance and survival with utter humanity. I couldn't put it down." —Elissa Altman, author of Motherland

"I don't know what's more delicious: Phyllis' recipes or her stunningly beautiful prose. These stories will stick with you long after you're finished reading, but like her fudgey icebox brownies, you will want to devour this book again and again." —Molly Yeh, blogger and Food Network host
Picador, 9781250787361, 256pp.
Publication Date: April 6, 2021
About the Author
Phyllis Grant is an IACP finalist for Personal Essays/Memoir Writing and a three-time Saveur Blog Awards finalist for her blog, Dash and Bella. She has cooked in world-renowned restaurants, including Nobu, Michael's, and Bouley. Her essays and recipes have been published in a dozen anthologies and cookbooks, including Best Food Writing in both 2015and 2016. Her writing has been featured in O, The Oprah Magazine, The New York Times, Saveur, The Huffington Post,Time, San Francisco Chronicle, Food52, and Salon. She lives in Berkeley, California, with her husband and two children.