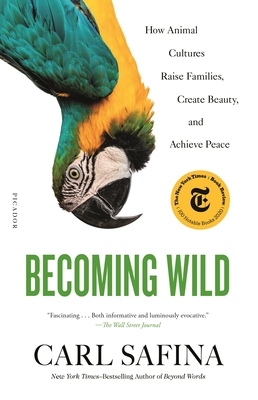 Becoming Wild
How Animal Cultures Raise Families, Create Beauty, and Achieve Peace
Paperback

* Individual store prices may vary.
Other Editions of This Title:
Digital Audiobook (4/8/2020)
Digital Audiobook (4/13/2020)
Library Binding, Large Print (12/16/2020)
Hardcover (4/14/2020)
MP3 CD (4/14/2020)
Compact Disc (4/14/2020)
MP3 CD (4/9/2020)
Compact Disc (4/9/2020)
Description
A NEW YORK TIMES NOTABLE BOOK OF 2020

"In this superbly articulate cri de coeur, Safina gives us a new way of looking at the natural world that is radically different."—The Washington Post

New York Times bestselling author Carl Safina brings readers close to three non-human cultures—what they do, why they do it, and how life is for them.

A New York Times Notable Books of 2020

Some believe that culture is strictly a human phenomenon. But this book reveals cultures of other-than-human beings in some of Earth's remaining wild places. It shows how if you're a sperm whale, a scarlet macaw, or a chimpanzee, you too come to understand yourself as an individual within a particular community that does things in specific ways, that has traditions. Alongside genes, culture is a second form of inheritance, passed through generations as pools of learned knowledge. As situations change, social learning—culture—allows behaviors to adjust much faster than genes can adapt.

Becoming Wild brings readers into intimate proximity with various nonhuman individuals in their free-living communities. It presents a revelatory account of how animals function beyond our usual view. Safina shows that for non-humans and humans alike, culture comprises the answers to the question, "How do we live here?" It unites individuals within a group identity. But cultural groups often seek to avoid, or even be hostile toward, other factions. By showing that this is true across species, Safina illuminates why human cultural tensions remain maddeningly intractable despite the arbitrariness of many of our differences. Becoming Wild takes readers behind the curtain of life on Earth, to witness from a new vantage point the most world-saving of perceptions: how we are all connected.
Praise For Becoming Wild: How Animal Cultures Raise Families, Create Beauty, and Achieve Peace…
NAMED A BEST BOOK OF THE YEAR BY THE NEW YORK TIMES, KIRKUS REVIEWS, AND CHRISTIAN SCIENCE MONITOR

"Fascinating . . . [Becoming Wild] gives the reader a sense of being near these creatures and experiencing some of the most seductive environments on Earth. . . . Safina's prose achieves the elusive goal of being both informative and luminously evocative."
—The Wall Street Journal

"Combining the knowledge of a seasoned scientist with the skills of a good storyteller, Safina invites us to leave our cultural worlds and enter animals' ones. . . . Becoming Wild deserves to be remembered."
—NPR

"[Safina] turns the human view of animal cultures on its head. . . . Becoming Wild demands that we wake up and realize that we are intrinsically linked to our other-than-human neighbors."
—The Telegraph (UK)

"[Safina] shows us something too often overlooked in research and in conservation: who animals are, and how they live. . . . [And] it's the stories of Safina's days with these animals that move us."
—The New York Times

"Engrossing. . . . In addition to fascinating dispatches from the ecological front lines [and] first-rate nature writing . . . Safina imparts a naturalist's sense of unending wonder."
—The Christian Science Monitor

"Engaging and eye-opening. . . . Safina's enthusiasm for the animal kingdom is contagious, and his clear writing makes his wide-reaching subject both approachable and tangible."
—Shelf Awareness (starred review)

"Safina's lovely account of his travels with researchers . . . reveals majestic, closely knit communities. . . . And few readers will doubt that these magnificent creatures need urgent attention. Enthralling."
—Kirkus Reviews (starred review)

"[A] bracing and enlightening book. . . . Safina's writing on the watery depths and its denizens is sublime . . . [challenging] us to be more acutely aware of species whose social lives have much to teach us."
—Science

"Full of rich observations . . . Becoming Wild offers readers a window into the complex and curious lives of the three species it depicts and invites [us] to observe the beauty and joy of each species's nuances."
—BookPage

"[A journey into] the wonder of life itself. . . . Becoming Wild is a warm and beckoning paean to our natural world."
—The East Hampton Star

"Safina writes with passion and a sense of humor . . . reminding readers to contemplate the natural world as they think about their own points of vulnerability and resilience."
—Washington Monthly

"An immersion in nature."
—AARP The Magazine

"Seminal. . . . By drawing attention to the importance of regional variation and acculturated behavior, Safina raises important issues for environmentalists."
—Natural History

"Eloquent. . . . This revelatory work sheds as much light on what it means to be human as it does on the nature of other species."
—Publishers Weekly

Praise for Carl Safina

"Dr. Safina is a terrific writer, majestic and puckish in equal measure, with a contagious enthusiasm. . . . He draws out haunting resonances between animal lives and our own. . . . Captivating."
—The New York Times

"[Safina] felicitously combines lambent writing with dazzling facts . . . illuminating our knowledge of significant and engaging subjects."
—The Washington Post

"Brilliant . . . Each of Safina's beautifully limned animal portraits is the weight of human influence and a challenge to exercise the power of empathy. . . . [Safina] is a font of research, his wonder contagious."
—Elle

"Safina's engaging writing takes readers along on his journey, so that we learn about these creatures as he does. . . . His adventures with researchers observing wild animals in the field are fascinating . . . entertaining, and informative."
—Slate
Picador, 9781250787613, 400pp.
Publication Date: April 6, 2021
About the Author
Carl Safina's work has been recognized with MacArthur, Pew, and Guggenheim Fellowships, and his writing has won Orion, Lannan, and National Academies literary awards and the John Burroughs, James Beard, and George Rabb medals. He has a PhD in ecology from Rutgers University.

Safina is the inaugural holder of the endowed chair for nature and humanity at Stony Brook University, where he co-chairs the steering committee of the Alan Alda Center for Communicating Science and is founding president of the not-for-profit Safina Center. He hosted the 10-part PBS series Saving the Ocean with Carl Safina. His writing appears in The New York Times, National Geographic, Audubon, Orion, and other periodicals and on the Web at National Geographic News and Views, Huffington Post, and CNN.com.

Carl's books include Voyage of the Turtle, Becoming Wild, and The View from Lazy Point.