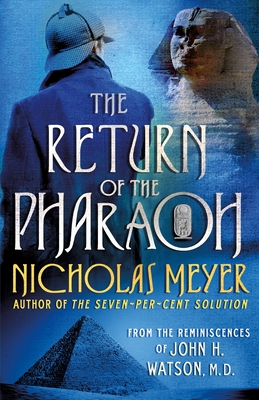 The Return of the Pharaoh
From the Reminiscences of John H. Watson, M.D.
Hardcover

* Individual store prices may vary.
Other Editions of This Title:
Digital Audiobook (11/8/2021)
Library Binding, Large Print (6/29/2022)
Paperback (11/22/2022)
Description
In Nicholas Meyer's The Return of the Pharaoh, Sherlock Holmes returns in an adventure that takes him to Egypt in search of a missing nobleman, a previously undiscovered pharaoh's tomb, and a conspiracy that threatens his very life.

With his international bestseller, The Seven Per Cent Solution, Nicholas Meyer brought to light a previously unpublished case of Sherlock Holmes that reinvigorated the world's interest in the first consulting detective. Now, many years later, Meyer is given exclusive access to Dr. Watson's unpublished journal, wherein he details a previously unknown case.

In 1910, Dr. John Watson travels to Egypt with his wife Juliet. Her tuberculosis has returned and her doctor recommends a stay at a sanitarium in a dry climate. But while his wife undergoes treatment, Dr. Watson bumps into an old friend--Sherlock Holmes, in disguise and on a case. An English Duke with a penchant for egyptology has disappeared, leading to enquiries from his wife and the Home Office.

Holmes has discovered that the missing duke has indeed vanished from his lavish rooms in Cairo and that he was on the trail of a previous undiscovered and unopened tomb. And that he's only the latest Egyptologist to die or disappear under odd circumstances. With the help of Howard Carter, Holmes and Watson are on the trail of something much bigger, more important, and more sinister than an errant lord.
Praise For The Return of the Pharaoh: From the Reminiscences of John H. Watson, M.D.…
"A witty, elegant puzzle." --Minneapolis Star-Tribune

"This is not only another great mystery to solve but a grand adventure." --Bookreporter

"Fast-paced...a fun and delightful addition to the canon." --Library Journal

"Reading a good Holmes and Watson story, whether the real thing or a pastiche, is like reuniting with old friends, and this is certainly a good one. Meyer's writing is impeccable. Top-drawer entertainment." --Booklist

"A rousing adventure." --Kirkus Reviews

"We are indeed fortunate that Nicholas Meyer keeps Sherlock Holmes and Dr. Watson alive and well, and writes them better than anybody else. Set in Egypt in 1910, in his witty and thoroughly delightful Return of the Pharaoh, the pair confront tomb robbers, and treacherous English aristocrats in Cairo, Luxor, and The Valley of the Kings. This latest escapade is as tight and suspenseful as any contemporary thriller." —Michael Elias, Author of You Can Go Home Now

"Once again Nicholas Meyer has brought Holmes and Watson vividly back to life, this time pitting them against an array of dangerous characters in a colorful, well-researched Egypt during the Edwardian era. A great read!" —Dennis Palumbo, author of the Daniel Rinaldi mysteries

"Nicholas Meyer's newest combines a thrilling adventure of Sherlock Holmes and Dr. Watson with profound observations of the changing age to which they must adapt. Meyer has now been divulging stories of the duo for 5 years longer than Watson himself did—please keep them coming, sir!" —Leslie S. Klinger, editor, New Annotated Sherlock Holmes

"Holmes and Watson belong to the Ages, to Conan Doyle, and to the astounding appropriation-artist-magician-storyteller Nicholas Meyer. No knock on the Ages or Conan Doyle, but only one of these three is still generating dangerously absorbing new adventures for breath-held fans like myself. I hope he never quits." --Jonathan Lethem, author of Motherless Brooklyn and The Fortress of Solitude

"There is no living novelist – – perhaps no novelist since Doyle – – to write Sherlock Holmes with such style, wit, and cleverness. The Return of the Pharaoh is another proud feather in Nicholas Meyer's deerstalker." --J. J. Abrams, producer/director of Star Wars, Star Trek, and Mission Impossible

"I've loved Nicholas Meyer's Holmes novels since boyhood and his latest takes me right back there. A dazzling blend of perfect period detail, Egyptology, murder, spies, treasure, mummies, spot on Holmesian banter and one of the best action sequences I've read in a long time makes for another incredibly satisfying read." --Paul Giamatti, actor

"Anyone who dares to write a Sherlock Holmes story must possess not only a thorough knowledge of the canon but also an inquisitive, devouring intelligence, not unlike the great detective's own. Nicholas Meyer established his credentials triumphantly in his classic novels The Seven-Per-Cent Solution and The West End Horror. His latest entry sends Holmes into spooky realms of Edwardian Egyptology — a sophisticated joy from start to finish." --Alex Ross, author of The Rest is Noise

"The Return of the Pharaoh entertains and delights in this fascinatingly rich and exciting terrain." --Juliana Maio, author of City of the Sun

"With his characteristic quick wit, Watsonian eloquence, and a lightly postmodern touch, Meyer's The Return of the Pharaoh extends what he began with The Seven Per-Cent Solution and subsequent Holmes novels, bringing literature's greatest detective and his world effortlessly to life in a way that thrills, astounds and utterly delights." --Matthew Spektor, author of American Dream Machine
Minotaur Books, 9781250788207, 272pp.
Publication Date: November 9, 2021
About the Author
NICHOLAS MEYER is the author three previous Sherlock Holmes novels, including The Seven-Per-Cent Solution, which was on the New York Times bestseller list for a year. He's a screenwriter and film director, responsible for The Day After, Time After Time, as well as Star Trek II: The Wrath of Khan, Star Trek IV: The Voyage Home, and Star Trek VI: The Undiscovered Country among many others. A native of New York City, he lives in Santa Monica, California.