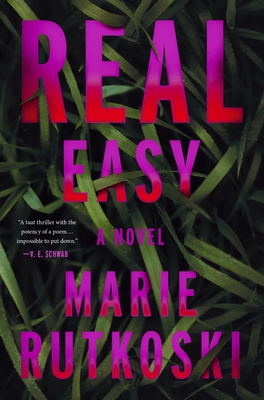 Real Easy
A Novel
Hardcover

* Individual store prices may vary.
Other Editions of This Title:
Digital Audiobook (1/17/2022)
Paperback (4/11/2023)
Description
Bringing to mind Gillian Flynn and Tana French but completely unique, Marie Rutkoski's Real Easy is a compulsive, tenacious, and unexpectedly hopeful thriller.

"[R]iveting...An adrenaline ride filled with grit and compassion."
—People, Book of the Week

It's 1999 and Samantha has danced for years at the Lovely Lady strip club. She's not used to mixing work and friendship—after all, between her jealous boyfriend and his young daughter, she has enough on her plate. But the newest dancer is so clueless that Samantha feels compelled to help her learn the hustle and drama of the club: how to sweet-talk the boss, fit in with the other women, and make good money. One night, when the new girl needs a ride home, Samantha agrees to drive: a simple decision that turns deadly.

Georgia, another dancer drawn into the ensuing murder and missing person investigation, gathers information for Holly, a grieving detective determined to solve the case. Georgia just wants to help, but her involvement makes her a target. As Holly and Georgia round up their suspects, the story's point of view shifts between dancers, detectives, children, club patrons—and the killer.

Drawing on her experience as a former dancer, Marie Rutkoski immerses us in the captivating world of the club, which comes alive with complicated people trying their best to protect themselves and those they love. Character-driven and masterfully plotted, Real Easy gets to the heart of the timeless question: How do women live their lives knowing that men can hurt them?
Praise For Real Easy: A Novel…
People's Book of the Week

Featured in The Sunday Times's "Best Crime Books of 2022 So Far"
The Times's "The best new thrillers for January 2022"
CrimeReads's "The Most Anticipated Crime Fiction of 2022"
Glamour (UK)'s "Top 30 books that everyone will be reading in 2022"
PopSugar's "35 Must-Read Thrillers and Mystery Books to Keep You Chasing Clues in 2022"
Book Marks's "The Best Reviewed Books of the Week," 1/21/22
SheerLuxe's "8 New Books To Read This Month"
BiblioLifestyle's Winter Reading Guide 2022

"[A] thoughtful, character-driven mystery…[Real Easy] inverts standard crime tropes and reminds readers that stripping is work, and that women deserve to move through that work without the constant threat of violence and death."
—Sarah Weinman, The New York Times Book Review

"[R]iveting…Rutkoski draws on her personal experience as a dancer, creating a club scene so visceral you practically inhale the cigar smoke. An adrenaline ride filled with grit and compassion."
—People

"[Rutkoski] writes vividly…This is a serial killer novel with a difference, avoiding sensationalism and focusing on the vulnerability of the victims."
—The Sunday Times

"[Rutkoski's] chief focus is on the interior lives of the women in the job…Real Easy takes its time and is more interested in psychology than in thrills, but always holds your gaze."
—The Times (UK)

"Real Easy…offer[s] a kaleidoscopic view of a morally precarious world where male desire is a whisker away from male violence. With a cast of fully realised characters—the cops have troubles of their own, and life at the club, with its overlay of sleazy glamour, is balanced by domestic vignettes and quotidian concerns—this is a familiar story told in a way that packs a real emotional punch."
—The Guardian

"Real Easy tackles the stigma around sex work head-on while uncovering the gritty details behind a complex murder and missing person investigation."
—Glamour (UK)

"There are no easy conclusions to be drawn from Real Easy…and not one moment fails to meet its potential. Readers will find themselves rolling back the tape in their minds to seek out the patterns in the clues…before the climactic ending's revelations. Rutkoski skillfully handles the complexity of a group of individuals whose stories are rarely told, let alone told with so much humanity imbued into every detail."
—BookPage, *starred review*

"Rutkoski's writing…emphasize[s] a larger point: that even in ugliness, loss, and tragedy, there is humanity. Though the killer is unmasked, the takeaway is much more universal—and satisfying—than just finding out whodunit: This is a story about flawed people just doing the best they can to live their lives and find love. Vulnerable yet steely, this thriller rises above the rest."
—Kirkus Reviews, *starred review*

"Rutkoski…paint[s] moving portraits of desperate lives on both sides of the law."
—Publishers Weekly, *starred review*

"Real Easy is a dark, utterly gripping, character-driven procedural thriller. Rutkoski effortlessly manages multiple viewpoints, storylines and motivations with the air of a seasoned crime writer…Rutkoski delivers not just suspense and mystery (though she deals that in spades), but skewering, searing observations on womanhood as it intersects with violence, race and power…With the psychological underpinnings of Paula Hawkins, the utterly brilliant examination of femininity and womanhood of Gillian Flynn, and something wholly her own, Rutkoski has emerged as a thrilling new voice in crime fiction, a rare gem whose ability to craft suspense is matched perfectly by her keen intellect and resonant themes."
—Bookreporter

"Rutkoski's writing is a pleasure here; she weaves well-calibrated suspense with gritty portrayals of dancers and detectives that hold strikingly parallel themes of loneliness, painful pasts, and heavy doses of distrust."
—Booklist, *starred review*

"Told through the perspective of nearly a dozen characters, the story starts with Samantha…Each vibrant new perspective twists the knife of mystery a little more."
—WBUR

"[A] tough, convincing portrait…A literary crime novel in the Gillian Flynn mould, with real heart and soul."
—Mail on Sunday

"Very possibly the best crime fiction book since Gillian Flynn's Sharp Objects, Real Easy is turn-your-phone-off-and-cancel-all-your-meetings gripping. But it is also so much more than that: every character is instantly alive and recognizable the moment they appear on the page; the writing is sustainedly beautiful and intelligent, at times lyrical, at others, sassy and crackling; and the psychological underpinnings are unerring, resonant, utterly convincing. This book is a winner, whichever way you turn it."
—Neel Mukherjee, Booker-finalist author of The Lives of Others and A State of Freedom

"With gorgeous prose, well-drawn characters, and crackling suspense, Real Easy is an unforgettable thriller that stuck with me long after the last page. Beneath the drum-tight plot is a brilliant examination of femininity, safety, and the roles women play. I couldn't put it down."
—Andrea Bartz, New York Times bestselling author of We Were Never Here

"This book blew me away. Real Easy is an electric thrill ride that takes a hard look at the high price women pay for men's desire. Rutkoski renders her characters with exquisite compassion and detail, even as the book accelerates toward an unforgettable conclusion. Gritty, glittery, and pulsing with life."
—Sara Sligar, author of Take Me Apart

"With a fully-realized world, a compelling mystery, fascinating characters, and beautiful prose, Marie Rutkoski's REAL EASY will capture readers and stay in their minds forever."
—Jill Santopolo, New York Times bestselling author of The Light We Lost

"Bold, compelling, brutal and brilliant. On the surface Real Easy is the kind of gritty, gripping mystery I just adore, yet it's also full of heart and hope and the most endearing characters."
—Chris Whitaker, New York Times bestselling author of We Begin at the End

"Rutkoski is that rare gem: a writer whose prose is as splendid as her plotting. The result is a taut thriller with the potency of a poem, a propulsive story at once brutal, elegant, and impossible to put down."
—V.E. Schwab, #1 New York Times bestselling author of The Invisible Life of Addie LaRue

"[I]t is Rutkoski's writing which elevates Real Easy above the pack…no word is wasted…Rutkoski manages the rare trick of balancing the heavier themes with a subtle optimism about the women's ability to endure their difficulties with humour and love."
—Crime Fiction Lover

"A bold, female-centric thriller."
—Crime Monthly

"[T]his is a book about women—their fears, their hopes, their secrets—and it is refreshing to read…the suspense is built well."
—Manhattan Book Review

"[R]eaders will find themselves immersed in the inner workings of the club and its employees."
—PopSugar

"A well-written, character-driven mystery."
—Red Carpet Crash
Henry Holt and Co., 9781250788245, 320pp.
Publication Date: January 18, 2022
About the Author
Born in Illinois, Marie Rutkoski is a graduate of the University of Iowa and Harvard University. She is a professor of English literature at Brooklyn College and a New York Times bestselling author of books for children and young adults. She lives in Brooklyn with her family.