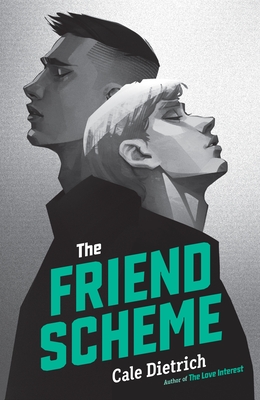 The Friend Scheme
Paperback

* Individual store prices may vary.
Other Editions of This Title:
Hardcover (7/28/2020)
Description
Part thriller, part romance, The Friend Scheme is another twisty #ownvoices YA novel from Cale Dietrich, author of The Love Interest.

Matt's father is a criminal with high hopes that his son will follow in his footsteps. His family is at war with another, and Matt's dad is caught in the crossfire. Matt and his older brother are expected to fight for their family. But deep down Matt has other ambitions—and attractions.

When he meets Jason, Matt believes he might be falling deeper than friendship for the first time. The boys keep their connection a secret, and soon Matt suspects that Jason is part of the family that tried to kill his father. The truth, however, is even more shattering, and Matt must decide if he can ever break free and own who he really is and who he is meant to love.
Praise For The Friend Scheme…
A Buzzfeed "Brand New LGBTQ YA Books To Devour This Summer" Selection

"When the closeted son of a mob boss meets the boy of his dreams in Florida, he's forced to juggle familial loyalty with the growing suspicion that his crush is part of a rival crime organization. ... a sympathetic love story that captures his protagonists' insecurities and interests." —Publishers Weekly

"Suspenseful and sexy, The Friend Scheme is a brilliant novel about not knowing if you should trust someone else, or even yourself, when you're in the closet." —L.C. Rosen, author of Camp

Praise for The Love Interest:

A 2018 ALA Rainbow List Selection

"Dietrich both flips and examines certain stereotypes in regards to gender and sexuality while also serving up some high stakes spy adventures." —Entertainment Weekly

"This sci-fi young adult novel is the answer to all of our cliché love triangle woes. Caden, the kindhearted boy-next-door, and Dylan, a brooding bad boy complete with dark poetry and a leather jacket, are in competition for the genius Juliet's heart. The winner gets the girl, and gets to live out his life in peace. If you're looking for something funny, action-packed, and romantic this summer, then this is your next read." —PBS Newshour

" There's a Hunger Games vibe here to be sure—a deadly teen-on-teen competition—and this is packed with similar questions of morality. High stakes, well-developed characters, and an LGBTQ slant on the classic spy story make it all the more intriguing. Stock up—this one has something for everyone." —Booklist, starred review

"In this subversive take on the quintessential YA love triangle, two guys—the clean-cut boy next door and the brooding bad boy—compete for a girl's affections. But nothing is as it seems: the guys are actually secret agents, trained to follow a script and fulfill specific romantic roles, and whoever doesn't win his target's love will be killed by his ruthless employer. ... Dietrich's debut is impressive, provocative, and a clever take on well-worn romantic tropes. . . while the thriller elements add tension and numerous surprises." —Publishers Weekly

"Caden is a spy. He's spent most of his life so far in an underground facility being groomed physically and mentally to become a Love Interest for someone influential. Now he's finally been chosen. Caden's been pegged as a Nice, the nerdy-boy-next-door type with perfect abs and ocean blue eyes...fans of spy fiction and LGBTQ titles will find the novel worth reading." —School Library Journal
Square Fish, 9781250791955, 352pp.
Publication Date: July 27, 2021
About the Author
Cale Dietrich is a YA devotee, lifelong gamer, and tragic pop punk enthusiast. He was born in Perth, grew up on the Gold Coast, and now lives in Brisbane, Australia. His debut novel, The Love Interest, was named a 2018 Rainbow List Selection. He can be found on Twitter.