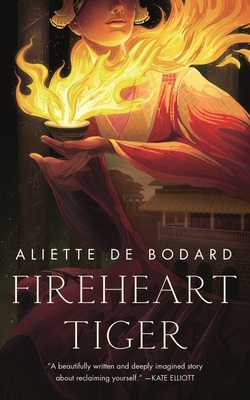 Fireheart Tiger
Paperback

* Individual store prices may vary.
Description
Award-winning author Aliette de Bodard returns with Fireheart Tiger, a powerful romantic fantasy that reads like The Goblin Emperor meets Howl's Moving Castle in a pre-colonial Vietnamese-esque world.

A British Science Fiction Award winner! A finalist for the Hugo, Nebula, Locus, and Ignyte Awards!

A Most Anticipated Pick for Buzzfeed | Mary Sue | Nerd Daily | FanFi Addict

Fire burns bright and has a long memory….

Quiet, thoughtful princess Thanh was sent away as a hostage to the powerful faraway country of Ephteria as a child. Now she's returned to her mother's imperial court, haunted not only by memories of her first romance, but by worrying magical echoes of a fire that devastated Ephteria's royal palace.

Thanh's new role as a diplomat places her once again in the path of her first love, the powerful and magnetic Eldris of Ephteria, who knows exactly what she wants: romance from Thanh and much more from Thanh's home. Eldris won't take no for an answer, on either front. But the fire that burned down one palace is tempting Thanh with the possibility of making her own dangerous decisions.

Can Thanh find the freedom to shape her country's fate—and her own?
Praise For Fireheart Tiger…
A British Science Fiction Award winner! A finalist for the Hugo, Nebula, Locus, and Ignyte Awards!

"A delicate novella with threads of imperial politics, magical beings, queer romance and the psychology of trauma. It's a bit of a miracle to feel as if you've read a six-book fantasy series in so few pages. This book is elegant and hypnotic as the flame of a candle, and I'll be thinking for some time about the shadows it throws into relief." - The New York Times Book Review, Olivia Waite

"A beautifully written and deeply imagined story about reclaiming yourself. Highly recommended." - Kate Elliott, New York Times bestselling author

"What a commanding story of power and diplomacy. I was so captivated by the way this story never once flinches away from a deep sense of emotional honesty." - Sarah Gailey, bestselling author of Magic For Liars and The Echo Wife

"A fascinating story filled with strong female characters and lush prose, the relationships woven around Thanh evolve into themes of reclaiming the self and recognizing that love can hide the truth about people... de Bodard crafts a story of love, power, and what burns within." - Library Journal, starred review

"This lush and beautiful sapphic novella explores themes of colonization in a Vietnamese-inspired fantasy setting." - Buzzfeed

"Fireheart Tiger is a heartfelt, vibrant story with lots of magic and betrayal, dealing with abusive relationships, filial piety, and colonisation, even as it bursts with a tender, romantic relationship that unfolds throughout." - Nerd Daily

"Gorgeous and moving, with a sense of scale and an intimate, personal engagement with compelling characters, Fireheart Tiger is a worthy addition to de Bodard's body of work." - Locus

"A high-stakes lesbian love triangle in [a] tightly plotted fantasy novella... an ideal pick for fantasy fans longing for non-European settings" - Publishers Weekly

"De Bodard, as she so often does, packs the world-building and emotional punch of an epic into a shockingly slim novella. This touching romance with the delicate negotiations of a small country's survival against an imperial adversary would be a lovely place to start with de Bodard's work, and fans will find more of what they've come to love about her stories.'' - Booklist

"Sapphic yearning collides with political machinations, ancient and fiery magic, and a transparently colonial threat. The vivid world building in FIREHEART TIGER perfectly frames a brightly burning core of desire & the desperate struggle towards self-awareness, making this perfect read for anyone looking for a short and satisfying dose of Sapphic romance, intense character growth, and immersive imagery." - Mariana N Calderon, Second Star to the Right Books
Tordotcom, 9781250793263, 112pp.
Publication Date: February 9, 2021
About the Author
Aliette de Bodard lives and works in Paris. She has won three Nebula Awards, a Locus Award, a British Fantasy Award and four British Science Fiction Association Awards, and was a double Hugo finalist for 2019 (Best Series and Best Novella). Her books include the Dominion of the Fallen trilogy, set in a turn-of-the-century Paris devastated by a magical war: The House of Shattered Wings, The House of Binding Thorns, and The House of Sundering Flames. She has also published a short story collection, Of Wars, and Memories, and Starlight.