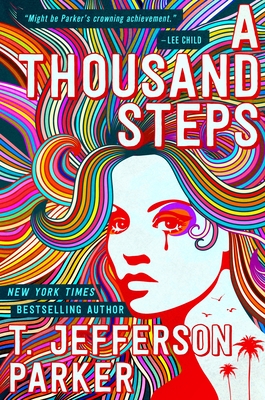 A Thousand Steps
Hardcover

* Individual store prices may vary.
Other Editions of This Title:
Digital Audiobook (1/10/2022)
CD-Audio (1/11/2022)
Description
A Thousand Steps is a beguiling thriller, an incisive coming-of-age story, and a vivid portrait of a turbulent time and place by three-time Edgar Award winner and New York Times bestselling author T. Jefferson Parker.

Laguna Beach, California, 1968. The Age of Aquarius is in full swing. Timothy Leary is a rock star. LSD is God. Folks from all over are flocking to Laguna, seeking peace, love, and enlightenment.

Matt Anthony is just trying get by.

Matt is sixteen, broke, and never sure where his next meal is coming from. Mom's a stoner, his deadbeat dad is a no-show, his brother's fighting in Nam . . . and his big sister Jazz has just gone missing. The cops figure she's just another runaway hippie chick, enjoying a summer of love, but Matt doesn't believe it. Not after another missing girl turns up dead on the beach.

All Matt really wants to do is get his driver's license and ask out the girl he's been crushing on since fourth grade, yet it's up to him to find his sister. But in a town where the cops don't trust the hippies and the hippies don't trust the cops, uncovering what's really happened to Jazz is going to force him to grow up fast.

If it's not already too late.
Praise For A Thousand Steps…
"Parker is one of the greats, and has been for years. ...Pick up A THOUSAND STEPS, and journey to a California that only Parker could deliver with such vibrancy and verve. In a story that will squeeze hearts and steal sleep, Parker uses his prodigious talents to bury his readers deep in that special time, to make them travelers in the past, white-knuckled and breathless for fear of missing a detail, a moment, the ride of a lifetime."--John Hart, New York Times bestselling author


"T. Jefferson Parker is the poet of American crime fiction. . . There's a damned good reason he has won three Edgar Awards." —C.J. Box, New York Times bestselling author of Blue Heaven

"A brave and daring writer." —Lisa See, New York Times bestselling author of Shanghai Girls

"Parker's muscular writing has dazzled for years. His characters are as authentic as the gripping situations he creates. . . He captivates and chokes the air out of the room. Masterful! There are few if any crime writers out there this good." —Ridley Pearson, New York Times bestselling author of the Chris Klick series

"Parker already has two or three titles on my all-time best-ever list. . . and now comes A Thousand Steps, which might be his crowning achievement. It's a great story and a nuanced look at the nation in 1968, and above all it proves no one inhabits character as completely and intensely—Matt Anthony is a changing boy in a changing time, and you won't ever forget him." —Lee Child, New York Times bestselling author of the Jack Reacher series

"Parker ranks as one of the top contemporary suspense writers." —Publishers Weekly

"A pro, that's what T. Jefferson Parker is. His plots are intricate, keenly crafted, clearly mapped . . ." —Los Angeles Times

"If there's a better mystery writer around . . . well, there isn't." —San Diego Union Tribune
Forge Books, 9781250793539, 368pp.
Publication Date: January 11, 2022
About the Author
T. Jefferson Parker is the author of numerous novels and short stories, the winner of three Edgar Awards (for Silent Joe, California Girl, and the short story "Skinhead Central"), and the recipient of a Los Angeles Times Book Prize for best mystery (Silent Joe). Before becoming a full-time novelist, he was an award-winning reporter. He lives in Fallbrook, California.