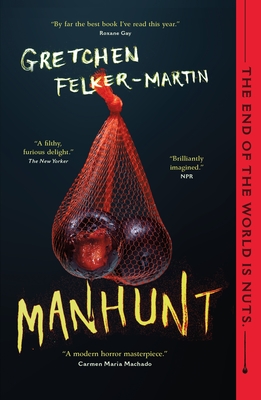 Manhunt
Paperback

* Individual store prices may vary.
Description
"A modern horror masterpiece." —Carmen Maria Machado, author of In the Dream House

Gretchen Felker-Martin's Manhunt is an explosive post-apocalyptic novel that follows trans women and trans men on a grotesque journey of survival.

"Disgustingly rendered and brilliantly imagined." —NPR

"Keeps up a relentless velocity while just being plain fun as hell."—Torrey Peters, author of Detransition, Baby

Beth and Fran spend their days traveling the ravaged New England coast, hunting feral men and harvesting their organs in a gruesome effort to ensure they'll never face the same fate.

Robbie lives by his gun and one hard-learned motto: other people aren't safe.

After a brutal accident entwines the three of them, this found family of survivors must navigate murderous TERFs, a sociopathic billionaire bunker brat, and awkward relationship dynamics—all while outrunning packs of feral men, and their own demons.

"A filthy, furious delight."—The New Yorker
Praise For Manhunt…
STARRED Reviews in Library Journal and Booklist!

"Disgustingly rendered and brilliantly imagined…. A fresh, stomach-turning take on gendered apocalypse." —NPR

"A filthy, furious delight; within its tense, gruesome premise live roundly human characters, with big, unwieldy emotions. It's a shockingly tender exploration of genders and bodies, of violence as a part of nature, of the way love is a tool of survival." —The New Yorker

"A grisly, gory, glorious work of splatterpunk social horror — and the perfect introduction to both subgenres." —Bustle

"Felker-Martin's horror chops are top-notch.... A ballsy postapocalyptic tale." —Publishers Weekly

"A sensual, tender, honest, and inspirational story of imperfect but well-meaning people banding together in an attempt to not only survive but thrive." —Library Journal, STARRED review

"An audacious dystopian story ... destined to be one of the year's most talked-about novels." —Electric Lit

"Highly recommended for those looking for particularly upsetting or disturbing horror fiction." —Booklist, STARRED review

"Reading this book was like tonguing a live wire; I loved every moment and I still haven't recovered. As erotic as it is devastating, as brilliant as it is visceral, Manhunt is a modern horror masterpiece." —Carmen Maria Machado, bestselling author of In the Dream House

"It's beautifully written, a barbed hook that will dig deep and split you open." —Cassandra Khaw, USA Today bestselling author of author of Nothing But Blackened Teeth

"An iconic masterpiece of modern fiction. Dark and vicious. Visceral and uniquely devastating....I loved every second of it." —Eric LaRocca, author of Things Have Gotten Worse Since Last We Spoke

"Felker-Martin can write: Manhunt expertly drops one political target after another, breaks your heart with nearly every character, and keeps up a relentless velocity— all while just being plain fun as hell." —Torrey Peters, author of Detransition, Baby

"Manhunt is a celebration of trans people and a literary blitzkrieg against TERFocracy. Timely and necessary, this is extreme horror that says something. Listen to it." —Gabino Iglesias, author of The Devil Takes You Home

"A unique, brain-searing nightmare that's full-on teeth and claws, and all heart too." —Hailey Piper, author of Queen of Teeth

"Taut, visceral, terrifying. A gripping tale of trans survival, rendered in Felker-Martin's exquisite, uncompromising prose. You can't turn the pages fast enough." —David Demchuk, author of Red X

"Every ten years or so, a horror novel comes along that pushes the genre to terrifying new heights. Manhunt is such a novel. An emotional buzzsaw of a book that left me shaken." —Brian Keene, bestselling author of The Rising and End of the Road

"Manhunt is a razor-sharp novel, and Felker-Martin is here to raise the bar for post-apocalyptic fiction. Prepare to take a bite that will stain your jaws red." —Meg Elison, author of The Book of the Unnamed Midwife

"Equal parts terrifying and transgressive, every page of this thrilling novel drips with blood, ichor, and other bodily fluids. Manhunt will grab you by the throat on page one and won't let go until the end." —Lincoln Michel, author of The Body Scout

"A must-read for fans of post-apocalyptic horror. Felker-Martin's prose is stellar, her characters are compelling, and her novel's pace is tremendous." —Lucy A. Snyder, Bram Stoker-Award winning author

"The feel-bad classic of the decade. A pitiless, nerve-shredding descent into Hell; as ruthless as it is perceptive ... Felker-Martin writes the best queer horror on the market." —April Daniels, author of the Nemesis trilogy

"What a refresher it is to read Manhunt, where trans characters don't just take center stage, but are imperfect and complex, and the horror around them and their reactions feel realistic and urgent. Manhunt is brutal and empathetic. This book is dripping with visceral imagery and vulnerability." —Archie Bongiovanni, author of A Quick & Easy Guide to They/Them Pronouns

"I hope that as many people as humanly possible read Manhunt. It gives you a deep gift of human understanding and empathy through nearly indescribable body horror and mortal terror." —Felix Biederman, New York Times bestselling author of The Chapo Guide to Revolution

"Out of the exuberantly gory splatterfest emerges a tender celebration of women and women's bodies, no matter how reviled and monsterized, in all their capacity for pleasure, resistance, and life." —Maya Deane, author of Wrath Goddess Sing

"Humane and pissed off and funny and real and acerbic and tragic. It does everything a book can do, but still has time to be a full-on horror novel with some of the most grueling sequences I've ever read, ever." —Adam Cesare, author of Clown in a Cornfield and Video Night

"Manhunt is a vital, angry re-evaluation of the zombie apocalypse narrative, putting the spotlight on characters usually left behind and shamefully ignored. Vicious and charming, absolutely not to be missed." —Trevor Henderson

"Manhunt is an intense, pulse-pounding thriller that is equal parts sapphic, sophisticated, and stylish. Felker-Martin's prose is volcanic and visceral." —David Gallaher, author of High Moon and Tom Clancy's Ghost Recon

"A raw horror-filled mouthful that will stretch your jaws to aching while you struggle feverishly to take yet another bite, and another, and another…A must-read, PERIOD." —Jordan Shiveley, author of Hot Singles In Your Area

"This is a debut that literally throws open the door and announces its arrival by making sure the room knows its intentions to stay. Manhunt is what the future of this genre looks like. Take note." —Grimdark Magazine

"A violent, blood-drenched corrective to a rash of ill-considered gender plague novels by cis authors." —Apartment Therapy

"I dub this the great TERF-pocalypse novel....I cannot underscore enough how much I love this novel." —CrimeReads

Tor Nightfire, 9781250794642, 304pp.
Publication Date: February 22, 2022
About the Author
GRETCHEN FELKER-MARTIN, author of Manhunt, is a Massachusetts-based horror author and film critic. You can follow her work on Twitter and read her fiction and film criticism on Patreon, Nylon Magazine, The Outline, and more.