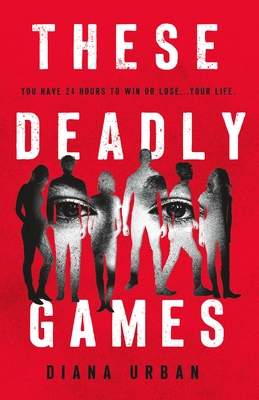 These Deadly Games
Hardcover

* Individual store prices may vary.
Description
"A propulsive mystery with high stakes and devious, masterful twists that will leave you guessing until the very last page. Diana Urban's latest had my jaw on the floor." —Jessica Goodman, bestselling author of They Wish They Were Us

Let's play a game.

You have 24 hours to win. If you break my rules, she dies. If you call the police, she dies. If you tell your parents or anyone else, she dies.

Are you ready?

When Crystal Donavan gets a message on a mysterious app with a picture of her little sister gagged and bound, she agrees to play the kidnapper's game. At first, they make her complete bizarre tasks: steal a test and stuff it in a locker, bake brownies, make a prank call.

But then Crystal realizes that each task is meant to hurt—and kill—her friends, one by one. But if she refuses to play, the kidnapper will kill her sister. Is someone trying to take her team out of the running for a gaming tournament? Or have they uncovered a secret from their past, and wants them to pay for what they did...

Author of All Your Twisted Secrets, Diana Urban's explosive sophomore novel, These Deadly Games, is a must-read, propulsive YA thriller with deadly stakes, stunning twists, and a shocking ending you'll never forget—perfect for fans of I Know What You Did Last Summer and One of Us Is Lying.
Praise For These Deadly Games…
BUZZFEED, "40 Highly Anticipated YA Books Releasing In The First Half of 2022"

GOODREADS, "The 68 Most Anticipated YA Novels of 2022"

THE NERD DAILY, "72 Upcoming YA Book Releases To Add To Your TBR"

SEVENTEEN, "The 10 Best Young Adult Books Arriving in 2022"

SHEREADS, "Best YA Thrillers Coming in 2022"

"Twists and turns abound." - Girls Life

"A chilling and engaging thriller." - Kirkus

"Meet the ultimate psychological thriller." - Seventeen

"A propulsive mystery with high stakes and devious, masterful twists that will leave you guessing until the very last page. Diana Urban's latest had my jaw on the floor." —Jessica Goodman, New York Times bestselling author of They'll Never Catch Us

"A heart-pounding race against the clock filled with unexpected twists, betrayal and danger, These Deadly Games asks the terrifying question: who would you be willing to hurt to save your sister's life? Filled with Diana Urban's trademark morally grey characters and fast-paced reveals, this book is a must-read for fans of race against the clock thrillers that leave you unable to tear your eyes from the page." —Sophie Gonzales, author of Only Mostly Devastated

"Ten points for twisted. Ten points for razor sharp. Bonus points for addictive. These Deadly Games is an expertly plotted, spine-chilling read that's wickedly suspenseful and shockingly relatable. Trust me, you've never played a game this devious, clever, or full of hairpin turn surprises. Urban elevates the YA thriller with her astute insights into friendship, guilt, and the secrets we compulsively keep..." —Rebecca Hanover, New York Times bestselling author of The Similars

"From nail-biting beginning to jaw-dropping end, These Deadly Games delivers an intense ride fraught with mystery and surprise. A tightly wound thriller that makes you second guess every character's motives, this book left me completely breathless by its final shocking twist." —Wendy Heard, author of She's Too Pretty to Burn

"Non-stop, addictive, and utterly compelling. These Deadly Games hooked me from minute one, and didn't let me go until its smart, twisty conclusion. When I wasn't reading it, I was thinking about it." —Amie Kaufman, New York Times bestselling author of Illuminae and Aurora Rising

"I read this so fast with my heart so fully in my throat it felt jarring to come back to the real world. These Deadly Games is a thrill of a ride that'll keep you guessing on the edge of your seat to the very end."—Emma Lord, New York Times bestselling author of You Have a Match

"Diana Urban has done it again! From the very first pages of THESE DEADLY GAMES, the tension begins to build, and Urban deftly navigates the puzzle-filled plot toward a truly satisfying conclusion I didn't see coming. Readers will race to the end, guessing along with Crystal as she faces one impossible challenge after another, in a race against time to save her sister. The stakes are enormous, the twists are shocking, and THESE DEADLY GAMES is as thrilling as it gets!" —Tom Ryan, award-winning author of Keep This to Yourself
Wednesday Books, 9781250797193, 416pp.
Publication Date: February 1, 2022
About the Author
Diana Urban is an author of dark, twisty thrillers, including All Your Twisted Secrets and These Deadly Games. When she's not torturing fictional characters, she works in digital marketing for startups. She lives with her husband and cat in Boston and enjoys reading, playing video games, fawning over cute animals, and looking at the beach from a safe distance.