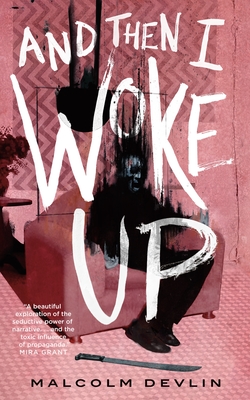 And Then I Woke Up
Paperback

* Individual store prices may vary.
Description
"Intelligent, compassionate and unsettling."—The New York Times

In the tradition of Mira Grant and Stephen Graham Jones, Malcolm Devlin's And Then I Woke Up is a creepy, layered, literary story about false narratives and their ability to divide us.

In a world reeling from an unusual plague, monsters lurk in the streets while terrified survivors arm themselves and roam the countryside in packs. Or perhaps something very different is happening. When a disease affects how reality is perceived, it's hard to be certain of anything…

Spence is one of the "cured" living at the Ironside rehabilitation facility. Haunted by guilt, he refuses to face the changed world until a new inmate challenges him to help her find her old crew. But if he can't tell the truth from the lies, how will he know if he has earned the redemption he dreams of? How will he know he hasn't just made things worse?
Praise For And Then I Woke Up…
"Intelligent, compassionate and unsettling, "And Then I Woke Up" is both an invitation to and a caution against allegory."—The New York Times

"Devlin does a superb job showing how his afflicted characters are compelled to accept outrageous beliefs that contradict the objective realities before them. The result is an unsettling cautionary tale for the age of alternative facts."—Publishers Weekly, starred review

"Speculative fiction's futuristic and fantastic worlds have always served as a mirror for present-day issues, and this is a fine example of the new wave of stories grappling with our current tumult."—Kirkus Reviews, starred review

"This unique take on classic horror stories will have wide appeal."—Library Journal

"Fans of Brian Keene, Adam Nevill, and Simon Strantzas will devour this apocalyptic pandemic tale, which will remind readers of a cross between Resident Evil and Fight Club."—Booklist

"A scathing portrait of the world we live in and a running commentary on what's story, what's truth, and what's not."—Stephen Graham Jones

"This is a beautiful exploration of the seductive power of narrative, the need to be a part of something, and the toxic influence of propaganda. Highly recommended from every angle."—Mira Grant

"The perfect story for the maddening times we find ourselves in. For every time we've said of a loved one who's gone astray, 'dear God, why can't they just wake up?'"—Alma Katsu

"A sly snake of a narrative that, with wonderful pacing and elegant writing, continuously sheds its skin that revealing ever new realities that weave together and inform each other."—Jeffrey Ford

"And Then I Woke Up brilliantly calls into questions not only our ability to recognize truth, but also our ethics, politics, and most fundamental perceptions of each other, all within a gripping story."—Nancy Kress

"And Then I Woke Up is a deft and moving novella about the ways in which with stories we make and unmake the world—and sometimes lose track of reality in the process."—Brian Evenson

"Brutal and affecting"—Kaaron Warren
Tordotcom, 9781250798077, 176pp.
Publication Date: April 12, 2022
About the Author
Malcolm Devlin's stories have appeared in Black Static, Interzone, The Shadow Booth and Shadows and Tall Trees. His first collection, You Will Grow Into Them, was published by Unsung Stories in 2017 and shortlisted for the British Fantasy and Saboteur Awards. He currently lives in Brisbane.