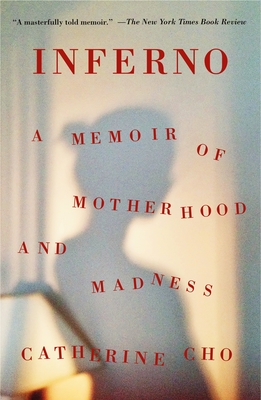 Inferno
A Memoir of Motherhood and Madness
Paperback

* Individual store prices may vary.
Other Editions of This Title:
Digital Audiobook (8/3/2020)
Hardcover (8/4/2020)
Description
A New York Times Book Review Editors' Choice

"Inferno is a disturbing and masterfully told memoir, but it's also an important one that pushes back against powerful taboos. . ."—The New York Times Book Review

"Explosive"—Good Morning America

When Catherine Cho and her husband set off from London to introduce their newborn son to family scattered across the United States, she could not have imagined what lay in store. Before the trip's end, she develops psychosis, a complete break from reality, which causes her to lose all sense of time and place, including what is real and not real. In desperation, her husband admits her to a nearby psychiatric hospital, where she begins the hard work of rebuilding her identity.

In this unwaveringly honest, insightful, and often shocking memoir Catherine reconstructs her sense of self, starting with her childhood as the daughter of Korean immigrants, moving through a traumatic past relationship, and on to the early years of her courtship with and marriage to her husband, James. She masterfully interweaves these parts of her past with a vivid, immediate recounting of the days she spent in the ward.

The result is a powerful exploration of psychosis and motherhood, at once intensely personal, yet holding within it a universal experience—of how we love, live, and understand ourselves in relation to each other.
Praise For Inferno: A Memoir of Motherhood and Madness…
"The intensity of the first-person perspective here gives this section the claustrophobic dread of a psychological thriller. . . .Inferno is a disturbing and masterfully told memoir, but it's also an important one that pushes back against powerful taboos. . . .Discussions of severe mental illness in mothers continue to induce discomfort and judgment in those who have never experienced it, and embarrassment and shame in those who have."
–The New York Times Book Review

"Inferno is a brilliantly frightening memoir about Cho's two weeks on the psychiatric ward, elegantly interwoven with tales from her past. . . .[Cho writes] herself into motherhood and into a form of sanity that does not leave behind the insights enabled by psychosis. "
–The Guardian

"Fascinating. . . .beautifully written. . . .This is a highly accomplished memoir. Cho deftly weaves the strands of her experience to create something striking and original."
–The Times

"A beautifully written account of how a new mother ends up in a psychiatric facility with postpartum psychosis, interwoven with reflections on the influence of her Korean parents."
–The Guardian, "50 Brilliant Books to Transport You This Summer"

"This debut memoir is an engrossing and frightening account of the author's post-partum psychosis and subsequent commitment to a psychiatric hospital; it's a candid story of motherhood, mental health and love."
–Ms. Magazine, "August 2020 Reads for the Rest of Us"

"Explosive"
–GMA.com, "New Must-Read Books for the Ultimate Escape in August"

"Cho's harrowing memoir recounts her experience of postpartum psychosis after the birth of her son, Cato. . . .Throughout, Cho meditates on the ways in which Korean culture has informed her ideas of motherhood and mental health, and her expectations around both. It's a vigorous and affecting read."
–Buzzfeed, "29 Summer Books You Won't Be Able to Put Down"

"Inferno is an exploration of how we understand ourselves and our identities."
–Bustle, "19 Book Releases to Look Forward to in 2020

"[Cho's] memoir discusses the route she had to take in order to put her life back together, beginning with bravely examining the dark parts of her past in order to understand herself again.
–PureWow, "10 Nonfiction Books We Can't Wait to Read in 2020"

"This piercing narrative about motherhood and a fraying human mind will slowly and creepily pull the reader in and leave a chill."
–Publishers Weekly (starred review)

"Sublime. . . .it's the resilient thread of devotion in [Cho's] life—to her husband, her family, the curious memory of her son—that laces through the pain and draws her back into the world. Cho's expression of her experience of madness is poetic, and like much good poetry, it points its finger to the lies in our so-called reality: that our health system is healthy; that our expectations of motherhood are rational."
–BookPage (starred review)

"Haunting and emotionally intense, this powerful memoir explores the hidden connections that tie families across generations, offering poignant meditations on the meaning of motherhood and identity. A compelling look at a mysterious mental illness"
–Kirkus

"Completely devastating. Completely heartbreaking. Written in luminous, spiralling prose."
–Daisy Johnson, author of Everything Under

"A fierce, brave, glittering book that charts with unflinching honesty the shift from one reality to another and the family ghosts that - without always knowing it - we all carry. I was drawn into Catherine's story but I was also drawn into her mother's, her grandmother's, and those too with whom she shared that time in a psychiatric unit. But most of all it offers hope. Even from that place of darkness and confusion."
–Rachel Joyce, author of The Unlikely Pilgrimage of Harold Fry

"Inferno does just as the title suggests, it throws you into the flames of the author's psychosis so that you are in there with her, fighting for your next breath. I've rarely read such a powerful account of madness. Gripping, chilling and ultimately hopeful, this is one not to miss."
–Lisa Jewell, author of The Family Upstairs and Then She Was Gone

"I was hooked from the very start, by the "dear reader" letter setting the scene for all that followed. It is at heart a love story, but one in which unimaginable, wonderfully depicted, mental torture intrudes. In sharing this pain, and exploring its cultural and other causes, Catherine Cho does a great service to the cause of breaking down stigma surrounding mental ill health. Above all though she has written a beautiful book."
–Alastair Campbell

"Utterly compelling and beautifully written, Inferno is one of the bravest and most beautiful books I have ever read. I devoured it in one sitting and loved every page."
–Alice Feeney, author of Sometimes I Lie

"This book is utterly brilliant: poetic, truthful, frightening, clever. I held my breath at both the power of the prose and the writer's unflinching honesty. Catherine Cho is most certainly a writer to watch."
–Christie Watson, author of The Language of Kindness

"A powerful and poignant book. The difficult and haunting brutality of both psychosis and relationships was so beautifully and honestly portrayed."
–Bev Thomas, author of A Good Enough Mother
Holt Paperbacks, 9781250798282, 256pp.
Publication Date: March 29, 2022
About the Author
Catherine Cho is a literary agent in the UK. Originally from the United States, she's lived in New York and Hong Kong, and she currently lives in London with her family. Inferno is her first book.