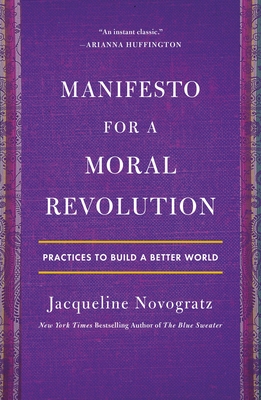 Manifesto for a Moral Revolution
Practices to Build a Better World
Paperback

* Individual store prices may vary.
Other Editions of This Title:
Hardcover (5/5/2020)
Description
"An instant classic." —Arianna Huffington
"Will inspire people from across the political spectrum." —Jonathan Haidt

Longlisted for the Porchlight Business Book of the Year Award, an essential shortlist of leadership ideas for everyone who wants to do good in this world, from Jacqueline Novogratz, author of the New York Times bestseller The Blue Sweater and founder and CEO of Acumen.

In 2001, when Jacqueline Novogratz founded Acumen, a global community of socially and environmentally responsible partners dedicated to changing the way the world tackles poverty, few had heard of impact investing—Acumen's practice of "doing well by doing good." Nineteen years later, there's been a seismic shift in how corporate boards and other stakeholders evaluate businesses: impact investment is not only morally defensible but now also economically advantageous, even necessary.

Still, it isn't easy to reach a success that includes profits as well as mutually favorable relationships with workers and the communities in which they live. So how can today's leaders, who often kick off their enterprises with high hopes and short timetables, navigate the challenges of poverty and war, of egos and impatience, which have stymied generations of investors who came before?

Drawing on inspiring stories from change-makers around the world and on memories of her own most difficult experiences, Jacqueline divulges the most common leadership mistakes and the mind-sets needed to rise above them. The culmination of thirty years of work developing sustainable solutions for the problems of the poor, Manifesto for a Moral Revolution offers the perspectives necessary for all those—whether ascending the corporate ladder or bringing solar light to rural villages—who seek to leave this world better off than they found it.
Praise For Manifesto for a Moral Revolution: Practices to Build a Better World…
"Wise and optimistic, [Novogratz] provides a benevolent tonic for those looking to rise above the troubled waters of the age and embrace the 'beautiful struggle' of rebuilding our broken world. An inspiringly hopeful book."
—Kirkus Reviews

"An urgent manifesto about what it means to stand with the poor, to see through clear eyes, and most of all, to do work worth doing. Jacqueline Novogratz helps each of us understand that we're capable of so much, if we only cared enough."
—Seth Godin, New York Times bestselling author of Linchpin and This is Marketing

"Everyone who wants to have an impact on the world — from entrepreneurs, philanthropists and CEOs, to volunteers, teachers and advocates — would be wise to keep a copy of this new book by Jacqueline Novogratz at hand. The original yet basic strategic ideas she shares in this instant classic can be the difference between just hoping for change and actually creating it. Don't listen to the naysayers — just read this book."
—Arianna Huffington, Founder & CEO, Thrive Global

"Manifesto for a Moral Revolution is a timely, personal and focused reminder that our orientation to the work is as important as the work itself. For the many who want to do good but have not quite thought about the mindsets that will allow them to do such good, this book is necessary."
—DeRay McKesson, activist, organizer, podcaster, and author of On the Other Side of Freedom: The Case for Hope

"When we look at the world's problems, it's easy to be discouraged—and maybe even conclude that positive change is futile. There's a remedy for this discouragement: Jacqueline Novogratz's Manifesto for a Moral Revolution. Positive change isn't just possible; it is happening all around us. Novogratz introduces the quiet warriors for a better world, and shows how each of us can be part of the moral revolution, starting today."
—Arthur C Brooks, author of Love Your Enemies, president emeritus, American Enterprise Institute & Professor of Practice, Harvard Kennedy School and Senior Fellow, Harvard Business School

"Don't let the words 'manifesto' and 'revolution' fool you; this book is all about love, humility, and patience. With gorgeous writing, arresting stories, and deep insights into complex systems, Novogratz shows the power of listening—not just to the poor but to everyone who can help you see new possibilities. In the process she offers a way to blend capitalism and social justice that will inspire people from across the political spectrum, and which is, I think, the moral revolution we most need."
—Jonathan Haidt, New York Times bestselling author of The Righteous Mind and co-author of The Coddling of the American Mind
St. Martin's Griffin, 9781250798770, 272pp.
Publication Date: May 4, 2021
About the Author
Jacqueline Novogratz is the founder and CEO of Acumen. She has been named one of the Top 100 Global Thinkers by Foreign Policy, one of the 25 Smartest People of the Decade by the Daily Beast, and one of the World's 100 Greatest Living Business Minds by Forbes, which also honored her with the Forbes 400 Lifetime Achievement Award for Social Entrepreneurship. In addition to Acumen, she is a sought after speaker and sits on a number of philanthropic boards. She lives in New York with her husband.