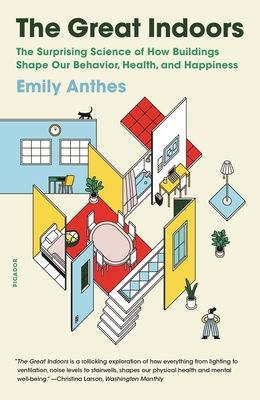 The Great Indoors
The Surprising Science of How Buildings Shape Our Behavior, Health, and Happiness
Paperback

* Individual store prices may vary.
Other Editions of This Title:
Digital Audiobook (6/22/2020)
MP3 CD (6/23/2020)
Hardcover (6/23/2020)
Compact Disc (6/23/2020)
Description
An Architectural Record Notable Book

A fascinating, thought-provoking journey into our built environment

Modern humans are an indoor species. We spend 90 percent of our time inside, shuttling between homes and offices, schools and stores, restaurants and gyms. And yet, in many ways, the indoor world remains unexplored territory. For all the time we spend inside buildings, we rarely stop to consider: How do these spaces affect our mental and physical well-being? Our thoughts, feelings, and behaviors? Our productivity, performance, and relationships?

In this wide-ranging, character-driven book, science journalist Emily Anthes takes us on an adventure into the buildings in which we spend our days, exploring the profound, and sometimes unexpected, ways that they shape our lives. Drawing on cutting-edge research, she probes the pain-killing power of a well-placed window and examines how the right office layout can expand our social networks. She investigates how room temperature regulates our cognitive performance, how the microbes hiding in our homes influence our immune systems, and how cafeteria design affects what—and how much—we eat.

Along the way, Anthes takes readers into an operating room designed to minimize medical errors, a school designed to boost students' physical fitness, and a prison designed to support inmates' psychological needs. And she previews the homes of the future, from the high-tech houses that could monitor our health to the 3D-printed structures that might allow us to live on the Moon.

The Great Indoors provides a fresh perspective on our most familiar surroundings and a new understanding of the power of architecture and design. It's an argument for thoughtful interventions into the built environment and a story about how to build a better world—one room at a time.
Praise For The Great Indoors: The Surprising Science of How Buildings Shape Our Behavior, Health, and Happiness…
"An engaging survey of the science of buildings and a reported account of the quest to improve life by deliberate design . . . Anthes astutely distinguishes between design's anticipated potential and demonstrated benefit . . . A compelling, science-based argument for the wisdom of intelligent design." —David A. Shaywitz, The Wall Street Journal

"[Anthes] gamely reports on smart offices and smart homes and floating cities and proposed villages on the moon and the new field of "indoor ecology" (the study of subjects like the mites to be found in your pillow) . . . The recommendations of that research? 'Open a window. Get a dog.'" —Jill Lepore, The New Yorker

"After months spent inside, The Great Indoors is uncannily relevant . . . [The] cool facts come fast and furious . . . The New York City subway, for example, is smothered in microbes associated with bare feet . . . Another WTF moment: Pillowcases and toilet-seat surfaces are apparently "strikingly similar" from a microbiological perspective." —Molly Young, Vulture

"The Great Indoors is a rollicking exploration of how everything from lighting to ventilation, noise levels to stairwells, shapes our physical health and mental well-being." —Christina Larson, Washington Monthly

"Anthes has taken on a wide-ranging topic, which she has turned into an accessible and delightful read . . . The Great Indoors is perfectly paced and well-researched, packed with compelling stories." —Christie Aschwanden, Undark

"If you're bored by the idea of spending yet more time locked down in your home, let science writer Emily Anthes convince you that it's at least an interesting place to be. Her new book, The Great Indoors, explores all manner of things that happen between walls, from the microscopic creatures that live in shower heads to the reasons it's healthy for bedrooms to have windows." —Shannon Palus, Slate

"Anthes encourages readers to reconsider the places where they spend most of their time and to ask themselves whether those places serve their needs. At a point when we are spending even more time than usual indoors, all of humanity could likely benefit from confronting such questions." —Barbara Brown, Science

"[The Great Indoors] is one timely read for 2020, arriving at a moment when we're all spending time at home more than ever, while increasingly assessing how to create healthier spaces . . . This book rebooted my perspective of the home with a more holistic and inclusive understanding of the microcosm of factors and influences, both seen and unseen, residing indoors." —Gregory Han, Design Milk

"[F]ascinating and well worth pondering. A sharp, eye-opening assessment of urgent architectural needs being fulfilled." —Kirkus Reviews

"[Emily Anthes] explores cutting-edge innovations in architecture and interior design in her enjoyable and educational work of pop science . . . This thoughtful work will prompt readers to more carefully consider the spaces they commonly inhabit but may rarely think about." —Publishers Weekly

"What an eye-opening journey into a world we so often take for granted: our indoor spaces. From the tiniest indoor occupants (did you know just how many microscopic critters share your home?) to the largest (us), The Great Indoors is a study of how the elements of design can work to enhance our wellbeing and sense of self, from our homes, to our offices, to our schools, hospitals, and prisons. As we spend more and more of our lives inside, The Great Indoors is a perfect guide to this next frontier." Maria Konnikova, New York Times–bestselling author of The Confidence Game

"Many of us spend our days inside, but we don't realize how profoundly our lives are shaped by the places that contain us. Emily Anthes takes us on an astonishing and witty tour of indoor science, from schools and prisons, to workplaces and our future space colonies. Along the way, she reveals how much our health and well-being depend on little details, like the position of a window or the arrangement of food in a lunch room. But ultimately Anthes is asking the big questions, like how we want to organize our lives, and what it takes to rebuild our world for the better. A delightful, well-informed book that will utterly transform the way the way you see the complicated world that lurks behind every door." —Annalee Newitz, author of Autonomous and Scatter, Adapt, and Remember: How Humans Will Survive a Mass Extinction

"The Great Indoors is that rare book that remains both honest and optimistic about the problems we face, from pandemic disease to social isolation, and—even better—is ambitious enough to identify real potential for change surrounding us in the architecture of our daily lives. Inspiring." —Geoff Manaugh, New York Times–bestselling author of A Burglar's Guide to the City

"A trip into the great indoors with Emily Anthes is a journey into fascination, dismay, and the occasional jolt of pure wonder." —Deborah Blum, author of The Poison Squad: One Chemist's Single-Minded Crusade for Food Safety at the Turn of the 20th Century
Picador, 9781250798817, 304pp.
Publication Date: June 1, 2021
About the Author
EMILY ANTHES is a freelance science journalist. Her work has appeared in Seed, Scientific American Mind, Discover, Slate, Good, New York, and the Boston Globe. She has a master's degree in science writing from MIT and a bachelor's degree in the history of science and medicine from Yale, where she also studied creative writing. She is the author of Frankenstein's Cat: Cuddling Up to Biotech's Brave New Beasts. She lives in Brooklyn, New York.