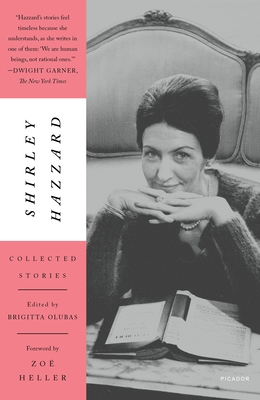 Collected Stories
Paperback

* Individual store prices may vary.
Other Editions of This Title:
Digital Audiobook (11/2/2020)
Hardcover (11/3/2020)
Description
Collected Stories includes both volumes of the National Book Award–winning author Shirley Hazzard's short-story collections—Cliffs of Fall and People in Glass Houses—alongside uncollected works and two previously unpublished stories

Shirley Hazzard's Collected Stories is a work of staggering breadth and accomplishment. Taken together, these twenty-eight short stories are masterworks in telescoping focus, ranging from quotidian struggles between beauty and pragmatism to satirical send-ups of international bureaucracy, from the Italian countryside to suburban Connecticut. Hazzard's heroes are high-minded romantics who attempt to fit their feelings into the twentieth-century world of office jobs and dreary marriages. After all, as she writes in "The Picnic," "It was tempting to confine oneself to what one could cope with. And one couldn't cope with love." And yet it is the comedy, the tragedy, and the splendor of love, the pursuit and the absence of it, that animates Hazzard's stories and provides the truth and beauty that her protagonists seek.

Hazzard once said, "The idea that somebody has expressed something, in a supreme way, that it can be expressed; this is, I think, an enormous feature of literature." Her stories themselves are a supreme evocation of writing at its very best: probing, uncompromising, and deeply felt.
Praise For Collected Stories…
"Hazzard manages to convey that there's much more beyond the platitudes we tell ourselves, that human emotions — love, pain, jealousy, grief — are never as neat and manageable as we tell ourselves . . . Hazzard understood the human condition in all its contradiction, all its messiness, like few others. "Collected Stories" is certainly essential for admirers of the author, but it's also a wonderful read for anyone who loves fiction that delights and enlightens, challenges and rewards." —Michael Schaub, The Boston Globe

"This new volume offers fans of Hazzard's much-loved, prize-winning novels, "The Transit of Venus" (1980) and "The Great Fire" (2003), a chance to look back at her development as a writer. And what an exquisitely polished writer she was, at once serious and bitingly funny, a master of both the plush, well-rounded sentence and the oblique takedown . . . To dismiss these revelatory, human stories as fusty relics would be merciless — and unaccountable." —Heller McAlpin, The Los Angeles Times

"Hazzard's stories are shrewd, formal and epigrammatic. One feels smarter and more pulled together after reading them . . . Hazzard's stories feel timeless because she understands, as she writes in one of them: 'We are human beings, not rational ones.'" —Dwight Garner, The New York Times Book Review

"In Collected Stories, we see Hazzard practicing the floor routines of her later novels, sticking all the landings if not always having yet worked out the full choreography. The erudite similes and lethally precise adjectives are there, as are the astute observations about domestic phenomena. The sentences of shocking wisdom appear freakishly often . . . The intellectual thrill of her work arises from her ability to describe the small, constituent particles of emotional matter we typically consider irreducible." —Alice Gregory, The New Yorker

"To read the rigorous formalism of Shirley Hazzard . . . is to discover the apostate's pleasure upon returning to the faith. Her works—whole, cruelly exacting, consoling in their grace and precision if not their ultimate outcomes—are monuments to fiction's disappearing pieties . . . She is the master of the offhand, psychologically acute detail that reveals a character's diminished circumstances, be they moral, sexual, or material." —Dustin Illingworth, The Nation

"This definitive collection of Hazzard's short stories is a welcome reminder of her remarkable talent . . . Hazzard's stories . . . built her early reputation. This impressive collection confirms their enduring stature." —Dinah Birch, The Times Literary Supplement

"Hazzard, who died in 2016, is best known as the author of two magnificent, intricate novels, The Transit of Venus (1980) and The Great Fire (2003). The stories collected here offer a perfect introduction to her astringent sensibility . . . Sharply intelligent, nuanced, precise, and subtly hilarious." —Kirkus Reviews (starred review)
Picador, 9781250800329, 368pp.
Publication Date: November 2, 2021
About the Author
Shirley Hazzard (1931-2016) was born in Australia, and in early years traveled the world with her parents due to their diplomatic postings. At sixteen, living in Hong Kong, she was engaged by British Intelligence, where, in 1947-48, she was involved in monitoring the civil war in China. Thereafter, she lived in New Zealand and in Europe; in the United States, where she worked for the United Nations Secretariat in New York; and in Italy. In 1963, she married the writer Francis Steegmuller, who died in 1994.

Ms. Hazzard's novels are The Evening of the Holiday (1966), The Bay of Noon (1970), The Transit of Venus (1981) and The Great Fire (2003). She is also the author of two collections of short fiction, Cliffs of Fall and Other Stories (1963) and People in Glass Houses (1967). Her nonfiction works include Defeat of an Ideal (1973), Countenance of Truth (1990), and the memoir Greene on Capri (2000). She lived in New York, with sojourns in Italy.
Brigitta Olubas
is a professor of English at the University of New South Wales, Sydney. She recently edited
We Need Silence to Find Out What We Think: Selected Essays
by Shirley Hazzard and Hazzard's
Collected Stories
.
Zoë Heller
was born in London and lives in New York City. She was a columnist for London's
Daily Telegraph
, she has contributed to such publications as
Vanity Fair, The New Yorker, The Independent, The Sunday Times
(London), and
The New Republic
. She is the author of the novels
What Was She Thinking? (Notes on a Scandal),
The Believers
, and
Everything You Know
.
What Was She Thinking?
was shortlisted for the Man Booker Prize.