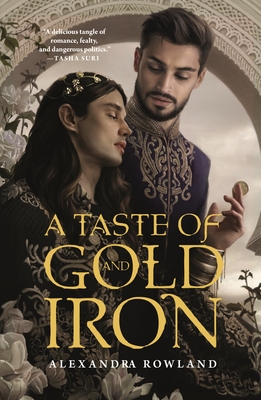 A Taste of Gold and Iron
Hardcover

* Individual store prices may vary.
Other Editions of This Title:
Digital Audiobook (8/29/2022)
Paperback (5/30/2023)
September 2022 Indie Next List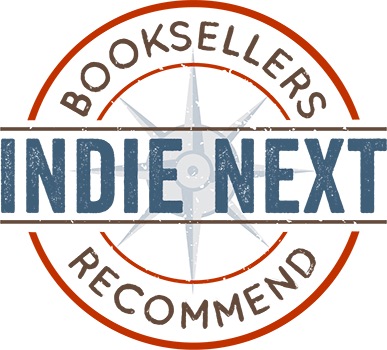 "A sizzling romance that had me on the edge of my seat! Kadou and Evemer are compelling and their world is full of delightful intrigue. Themes of fealty, forgiveness, and the true value of things make this an unforgettable adventure."
— Katie Elms, Bookbug, Kalamazoo, MI
View the List
Description
Now an Indie Next pick! A Most Anticipated Pick for BookRiot | FanFi Addict | The Nerd Daily | io9 | We Are Bookish | Buzzfeed

"A delicious tangle of romance, fealty, and dangerous politics."—Tasha Suri

The Goblin Emperor meets "Magnificent Century" in Alexandra Rowland's A Taste of Gold and Iron, where a queer central romance unfolds in a fantasy world reminiscent of the Ottoman Empire.

Kadou, the shy prince of Arasht, finds himself at odds with one of the most powerful ambassadors at court—the body-father of the queen's new child—in an altercation which results in his humiliation.

To prove his loyalty to the queen, his sister, Kadou takes responsibility for the investigation of a break-in at one of their guilds, with the help of his newly appointed bodyguard, the coldly handsome Evemer, who seems to tolerate him at best. In Arasht, where princes can touch-taste precious metals with their fingers and myth runs side by side with history, counterfeiting is heresy, and the conspiracy they discover could cripple the kingdom's financial standing and bring about its ruin.
Praise For A Taste of Gold and Iron…
"Rowland delivers a breathtakingly intimate narrative in this gorgeous fantasy, in which the political intrigue of a kingdom serves as backdrop to a romance between the softest of hearts. . . . In exploring what monarchs owe their people, and what individuals owe each other, this achingly tender fantasy wows."—Publishers Weekly (starred review)

"A beautifully detailed world, the power to touch-taste metal, political schemes, and a slow-burn romance wrap together in a lush fantasy. Rowland's latest continues to showcase their captivating prose, immersive details, and complicated characters."—Library Journal (starred review)

"The matriarchal defaults and three-gender system present in Arasti society place the novel squarely among the ranks of contemporary queer fantasy... An engaging fantasy/romance set in a large, lush, and inclusive world."—Kirkus Reviews (starred review)

"This slow-burn romantic fantasy with a heavy dose of political intrigue is rich in world-building and emotional angst.... A queernormative fantasy world."—Buzzfeed

"A delicious tangle of romance, fealty, and dangerous politics."—Tasha Suri, author of The Jasmine Throne

"I loved spending time with Kadou. A Taste of Gold and Iron is a beautiful love story with a warm, genuine, and hugely relatable portrayal of living with anxiety at its center, and I rooted for the main character all the way."—Everina Maxwell, author of Winter's Orbit

"Witty, clever, and often extremely funny, Rowland's tale of a prince who doesn't want power but has it anyway—and must survive all the risks that brings with it—somehow manages to be both soft and hard-edged, clever and kind. And sexy! Very much that too."—Jenn Lyons, author of The Ruin of Kings

"A Taste of Gold and Iron is a slow-burn romance flush with sexy, complicated relationships and founded on the ethics of duty and love. As indulgent and satisfying as your favorite fanfiction."—Tessa Gratton, author of The Queens of Innis Lear

"Drama, intense politics, and sexual tension . . . . Witty . . . While it is a romantic fantasy novel, it's also a political thriller, heist, and family saga at once. More importantly, as with any good romantic novel, I was shaking the book asking when the characters would kiss already. It was well worth the wait when they finally did."—Locus

"The politics and ethics of power and fealty are a big theme in this book and the Kadou/Evemer dynamic hinges less on class than oaths, obedience and a hair washing scene that would make Charles Boyle sweat."—Geeky Inc

"Kadou's coping with anxiety and personal growth are a joy to watch as he fully embraces his talents and comes out of his shell with the help of Evemer, his bodyguard. The slow-burn romance between them is beautifully done and adds a thrilling element to the story that readers will savor."—Booklist

"For readers who enjoy forced proximity and bodyguard romances, A Taste of Gold and Iron offers both, wrapped in a delightful package of espionage and royal duty.... Rowland also impresses in their nuanced depiction of anxiety."—Bookpage

"Strikes the perfect balance of political intrigue and romance. . . . A beautiful, compelling navigation of power and consent, loyalty and love, trust and hope."—Shelf Awareness

"Intrigue and betrayals abound as Kadou not only carries out his mission in an effort to save the kingdom, but also journeys within himself to discover a purpose and courage. A Taste of Gold and Iron is set in an atmosphere where gender-fluidity is not only accepted, but is an unremarkable part of everyday life. It is both a gripping mystery and an exploration of human nature as the characters grow and change."—Affaire de Coeur

"Rowland writes fascinating characters in realistic feeling worlds, and I really need to read more of their work. If you love political fantasy or adored Winters Orbit, then I highly suggest checking this book out."—Lace and Dagger Books

"A sweet, pacy and gleefully self-aware queer fantasy romance romp, complete with AO3 content tag bingo and a seasoning of economic malpractice." —Nerds of a Feather, Flock Together

"If you've been searching for a queer fantasy romance, look no further than A Taste of Gold and Iron. Not only is there a great balance between characters and magic, but also perfect for fans of body guard and royalty romance!"—Utopia State of Mind

"At chapter two, I'd say I was hooked, from there on, this book was emotionally unputdownable. . . . The mental turmoil and emotional insights were so captivating! I highly recommend."—Myth and Magic
Tordotcom, 9781250800381, 512pp.
Publication Date: August 30, 2022
About the Author
Alexandra Rowland is the author of A Conspiracy Of Truths, A Choir Of Lies, and Finding Faeries, as well as a cohost of the four-time-Hugo-Award-nominated podcast Be the Serpent, all sternly supervised by their feline quality control manager. They hold a degree in world literature, mythology, and folklore from Truman State University.