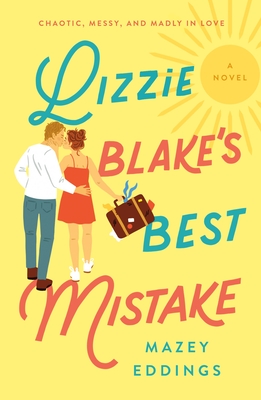 Lizzie Blake's Best Mistake
A Novel
Paperback

* Individual store prices may vary.
Description
Mazey Eddings, author of the "witty, fast-paced rom-com"* A Brush with Love, mixes passion and humor to create a luscious love story between two people stumbling through life and learning to open their hearts in Lizzie Blake's Best Mistake.

Lizzie has made endless mistakes. Kitchen fires, pyramid schemes, bangs (of the hair and human variety), you name it, she's done it… and made a mess of it too. One mistake she's never made is letting anyone get closer to her than a single hook-up. But after losing yet another bakery job due to her uncontrolled ADHD, she breaks her cardinal rule and has a two-night-stand that changes everything.

Once burned, twice shy, Rake has given up on relationships. And feelings. And any form of intimacy for that matter. Yet something about charming, chaotic Lizzie has him lowering his guard. For two nights, that is. Then it's back home to Australia and far away from the pesky feelings Lizzie pulls from him. But when Lizzie tells him she's got an unexpected bun in the oven, he'll do whatever it takes to be a part of his child's life… except be emotionally vulnerable, obviously. He's never going to make that mistake again.

Through a series of mishaps, totally "platonic" single bed sharing, and an underground erotic baking scheme, Lizzie and Rake learn that even the biggest mistakes can have the most beautiful consequences.

*USA Today bestselling author Evie Dunmore
Praise For Lizzie Blake's Best Mistake: A Novel…
"Eddings writes with compassion about Lizzie's difficulties keeping on top of things, and her sex-positive attitude toward Lizzie's love life is a win for feminism." —Kirkus Reviews, starred review

"Lizzie Blake's Best Mistake is phenomenal. Laugh-out-loud funny, filled with joy, as deliciously swoony as it is downright steamy, this is such a compassionate, affirming portrayal of neurodivergence, found family, and falling wildly in love. I couldn't adore it more." —Chloe Liese, author of Two Wrongs Make a Right

Praise for A Brush with Love

"Eddings' debut is equal parts hilarious and heart-wrenching...A poignant debut that will put a smile on your face." —Kirkus Reviews

"An adorable love story. A Brush with Love blends sweetness, breathless romance, and moments of striking vulnerability." --Helen Hoang, USA Today bestselling author of The Kiss Quotient

"A Brush with Love reads the way young love feels. Mazey Eddings stole my heart with this laugh out loud funny, almost unbearably cute debut (and she made me care about dentistry)." —Rosie Danan, bestselling author of The Intimacy Experiment

"I'm obsessed with this book, and I fully intend to never stop yelling about it. With a shimmering voice and razor-sharp wit, Mazey Eddings has crafted a contemporary romance masterpiece that made me want to hug my dentist. There is an extraordinary amount of empathy in these pages: Harper and Dan are so lovably flawed, and Harper's mental health journey landed right in the center of my heart. The most intoxicating slow burn I've read in ages." —Rachel Lynn Solomon, author of The Ex Talk

"Harper and Dan have my whole heart. I love everything about this book, from their adorable meet cute to their unconventional first date, to the two of them working through their very real--and therefore not always pretty--issues. Dan is a soft, swoony hero, Harper is a relatable heroine who struggles with anxiety, and every page of the way I was rooting so hard for them to find their happily ever after. A Brush with Love is funny and cute while also exploring serious topics, powerfully underscoring the truth that relationships require work, and that happy endings are for everyone." —Sarah Hogle, author of You Deserve Each Other

"Tenderly written and oh-so-sexy, A Brush with Love brims with emotional depth, whip-smart banter, and sizzling chemistry. This OwnVoices romantic comedy completely stole my heart." —Chloe Liese, author of Only When It's Us
St. Martin's Griffin, 9781250806000, 336pp.
Publication Date: September 6, 2022
About the Author
MAZEY EDDINGS is a neurodiverse author, dentist, and (most importantly) stage mom to her cats, Yaya and Zadie. She can most often be found reading romance novels under her weighted blanket and asking her boyfriend to bring her snacks. She's made it her personal mission in life to destigmatize mental health issues and write love stories for every brain. With roots in Ohio and North Carolina, she now calls Philadelphia home. A Brush with Love is her first novel.