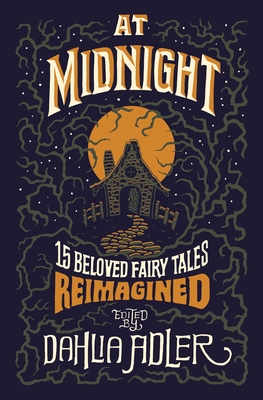 At Midnight
15 Beloved Fairy Tales Reimagined
Hardcover

* Individual store prices may vary.
Description
A dazzling collection of original and retold fairy tales from fifteen acclaimed and bestselling YA writers

Fairy tales have been spun for thousands of years and remain among our most treasured stories. Weaving fresh tales with unexpected reimaginings, At Midnight brings together a diverse group of celebrated YA writers to breathe new life into a storied tradition. You'll discover . . .

Dahlia Adler reimagining "Rumpelstiltskin,"
Tracy Deonn, "The Nightingale,"
H. E. Edgmon, "Snow White,"
Hafsah Faizal, "Little Red Riding Hood,"
Stacey Lee, "The Little Matchstick Girl,"
Roselle Lim, "Hansel and Gretel,"
Darcie Little Badger, "Puss in Boots,"
Malinda Lo, "Frau Trude,"
Alex London, "Cinderella."
Anna-Marie McLemore, "The Nutcracker,"
Rebecca Podos, "The Robber Bridegroom,"
Rory Power, "Sleeping Beauty,"
Meredith Russo, "The Little Mermaid,"
Gita Trelease, "Fitcher's Bird,"
and an all-new fairy tale by Melissa Albert.
Praise For At Midnight: 15 Beloved Fairy Tales Reimagined…
"This simultaneously whimsical, adventurous, and bone-chilling genre-spanning collection smartly riffs on the referenced source material to explore contemporary values." —Publishers Weekly, starred review

"This young adult anthology brings on acclaimed authors including Melissa Albert, Tracy Deonn, Malinda Lo, Darcie Little Badger, and many more to retell fairy tales in clever new fashions that tap into that familiar magic." —Lit Hub

"Each story has a unique twist and writing style that makes it hard for readers to put down this compilation. . . . Adler's compilation of short stories is extremely refreshing and inclusive with wonderful writing. The included 15 tales will delight and surprise readers with their fresh takes on classics." —SLJ, starred review

"This super entertaining collection of 15 reimagined fairytales . . . is inclusive, diverse, and so much fun. An excellent gift for any fairytale-lovers." —BuzzFeed, Best Book of the Month

"This anthology does not shy away from uniqueness, boldness, or diversity—elements embraced by each of these stellar writers in their own beautiful way." —Booklist

"Look, all you really need to know is that this is an anthology put together by Dahlia Adler. Her YA short story collections are always incredible. This time she takes on fairy tales, not just retelling them with updated characters but completely reimagining them with diverse settings, characters, and identities." —Tor.com, Best Book of the Month

"The stories draw upon perennially intriguing themes, presenting tales in genres from fantasy and historical fiction to horror in a collection sure to please a broad range of readers. Timely and timeless." —Kirkus Reviews

"If you love fairy tales, pick up this collection. From Rumpelstiltskin and Snow White to The Nutcracker and The Robber Bridegroom, these fresh new retellings will charm and enchant you." —BookBub.com

"Some of the tales are as satisfyingly sharp as the first bite of a poisoned apple; others offer softness and hard-won optimism, reminding readers that just as fairy tales can lead to dangerous woods, they can also offer a path that leads home." —The Bulletin

"This could easily become a modern-day classic. 5 stars." —YABooksCentral.com

Praise for HIS HIDEOUS HEART

IndieBound bestseller
Junior Library Guild selection

"A superb collection [that] brims over with fierce delight and uncanny invention; the stories here vary in their effect nearly as much as Poe's do. And if you haven't read Poe before, His Hideous Heart works equally well as an introduction, a tribute and a loving critique." —The New York Times Book Review

"Presenting 13 reinterpretations of Poe's works alongside the originals, this enticing anthology offers an accessible, multifaceted reading experience for fans old and new...A refreshing assortment of diverse voices and contemporary themes ensures there's something for everyone." —Publishers Weekly, starred review

"A genre-bending collection of 13 twists on Edgar Allan Poe's works does Poe proud with this creepy and atmospheric set of stories. Diversity in race, gender identity, and sexuality is well-represented. Poe's ghost happily haunts this fresh, delightfully dark collection." —Kirkus Reviews, starred review (Best Book of the Year)

"While we love Edgar Allan Poe—the original sadboi and Halloween's unofficial literary mascot—we have to admit that his 150-year-old stories could use a 2019-worthy glow-up. The YA story collection His Hideous Heart takes that challenge and runs with it. Each of the anthology's contributors revamp or totally reinvent 13 of Poe's best-known stories and poems, imbuing most of them with a much-needed dose of feminism, LGBTQ representation, and racial diversity." —HelloGiggles.com


Praise for THAT WAY MADNESS LIES

"From comedy to tragedy to sonnet, from texts to storms to prom, this collection is a knockout." —BuzzFeed

"The stories stand capably on their own merits, but will be enriched by familiarity with—or better yet, reading alongside—Shakespeare's original plays and sonnets. Budding writers may even be inspired to put their own spins on the Bard of Avon's timeless tales." —BookPage

"Thoughtfully curated by Adler, this sumptuous anthology reframes Shakespeare's work, linking themes to contemporary concerns while bringing a critical eye to the originals' cultural assumptions. With its range of narrative styles and diverse protagonists, this collection offers much to savor." —Publishers Weekly
Flatiron Books, 9781250806024, 464pp.
Publication Date: November 22, 2022
About the Author
DAHLIA ADLER is an editor by day, a freelance writer by night, and a Young Adult author at every spare moment in between. She is the founder of LGBTQReads, editor of several anthologies, and author of many novels, including Cool for the Summer and Home Field Advantage. She lives in New York with her family and an obscene number of books.