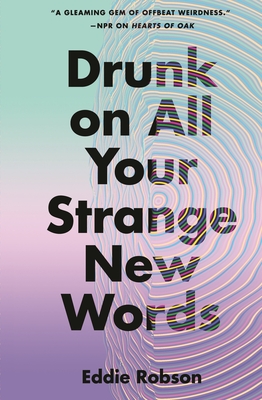 Drunk on All Your Strange New Words
Paperback

* Individual store prices may vary.
Other Editions of This Title:
Digital Audiobook (6/27/2022)
Hardcover (6/28/2022)
Description
Eddie Robson's Drunk on All Your Strange New Words is a locked room mystery in a near future world of politics and alien diplomacy.

Lydia works as translator for the Logi cultural attaché to Earth. They work well together, even if the act of translating his thoughts into English makes her somewhat wobbly on her feet.

She's not the agency's best translator, but what else is she going to do? She has no qualifications, and no discernible talent in any other field.

So when tragedy strikes, and Lydia finds herself at the center of an intergalactic incident, her future employment prospects look dire—that is, if she can keep herself out of jail!

But Lydia soon discovers that help can appear from the most unexpected source…
Praise For Drunk on All Your Strange New Words…
Oprah's #1 Science Fiction Book of 2022!

A Polygon Most Anticipated Summer Read!

A Goodreads Most Anticipated Summer Read!

A CrimeReads Most Anticipated Selection!

"Perfect for anyone looking for a fun, thought-provoking and unintimidating foray into sci-fi, this book will have readers smiling on every page, drunk on Robson's clever words." —BookPage

"With a darkly tongue-in-cheek comedy and soft science-fiction premise, Drunk on All Your Strange New Words is a conspiracy theory gift wrapped up as an exploration of our own culture's obsession with ourselves. As Robson develops the mystery, honing in on the whodunnit at the center of the book, he also expands outwards, translating small truths about our own world through Lydia's filters. And, in some cases, without any filters at all." —iO9

"Eddie Robson is an exciting new fixture in British SFF, with a perspective that's charming, humane and witty. He's going to be around a long time. Read him now before you have to start lying about having done so." —Paul Cornell

"A hell of a lot of fun for fans of locked room mysteries and near future sci-fi." —Gareth L. Powell

"Drunk on all Your Strange New Words is a twisted murder investigation through a post-contact future full of world-building in fascinating detail." —Django Wexler

"The truth in this story is both far simpler and far more interesting than the many lies people would like to believe, and Lydia is just the right kind of inquisitive character to keep the narrative entertaining." —Booklist

"A memorable exploration of the power of language and technology in a post first-contact world... thoughtful, fast-paced sci-fi." —Publishers Weekly

"The book packs in oodles of dry wit and droll self-mockery, the sort of profound and lacerating laughter that Robson's countrymen Douglas Adams and Terry Pratchett perfected." —NPR on Hearts of Oak

"Drunk on All Your Strange New Words... offers something fresh and engaging for fans of many genres." —Toronto Star
Tordotcom, 9781250807359, 288pp.
Publication Date: June 13, 2023
About the Author
Eddie Robson is a British comedy and science fiction writer best known for his sitcom Welcome to Our Village, Please Invade Carefully and his work on a variety of spin-offs from the BBC Television series Doctor Who. He has written books, comics, short stories and for television and theatre, and has worked as a freelance journalist for various science fiction magazines.

Eddie is the author of Hearts of Oak.