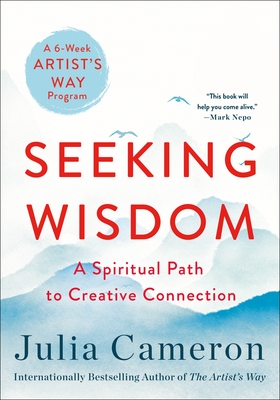 Seeking Wisdom
A Spiritual Path to Creative Connection (A Six-Week Artist's Way Program)
Paperback

* Individual store prices may vary.
Other Editions of This Title:
Digital Audiobook (1/10/2022)
Hardcover (1/11/2022)
Description
Julia Cameron returns to the spiritual roots of the Artist's Way in this 6-week Program

Author Julia Cameron changed the way the world thinks about creativity when she first published The Artist's Way: A Spiritual Path to Higher Creativity thirty years ago. Over five million copies later, Cameron now turns her attention to creative prayer, which she believes is a key facet of the creative life. In Seeking Wisdom, a 6 Week Artist's Way Program, readers, too, will learn to pray.

Tracing her own creative journey, Cameron reveals that prayer led her forward at a time of personal crisis. Unexpectedly, prayer became an indispensable support to her artistic life. The tools she created to save herself in her darkest hour became the tools she would share with the world through The Artist's Way. Seeking Wisdom details the origin of these tools, and by Cameron's example, the central role that prayer plays in sustaining a life as an artist.

In this volume, Cameron shares a mindful collection of prayer practices that open our creative souls. This path takes us beyond traditional religious rituals, welcoming readers regardless of their beliefs and backgrounds. As you journey through each week of the program you'll explore prayers of petition, gratitude, creativity, and more. Along the way, the three beloved tools of The Artist's Way—Morning Pages, Artist Dates, and Walks—are refreshed and reintroduced, to provide a proven, grounded framework for growth and development.

Additionally, Cameron introduces a fourth tool, Writing Out Guidance. She believes this powerful practice will greatly aid aspiring artists.

Seeking Wisdom issues an invitation to step further into exciting creative practice.
Praise For Seeking Wisdom: A Spiritual Path to Creative Connection (A Six-Week Artist's Way Program)…
Praise for Seeking Wisdom:

In Seeking Wisdom, the prolific Julia Cameron continues her work as a masterful guide, offering a path of creative recovery by asking us to personalize our sense of God through our own intimate practice of prayer. Both grounded and innovative, this book casts writing as praying on the page to everything larger than us. Bring your whole self to the journey of this book and you will touch the eternal link between creativity and spirituality. This book will help you come alive. It will help you play your instrument and sing your song.

—Mark Nepo, author of The Book of Soul and Finding Inner Courage

"Julia Cameron's new book, Seeking Wisdom, carries on the author's tradition of magically changing lives, hearts, habits and attitudes. Julia writes about her own life and about writing and living and in this six-week guide to contemplation, prayer and seeking the living presence, Julia does again what she has done since writing the Artist's Way—she leads us into the real questions and answers that lie in our path and points to contemplation of the Higher Power in our creative inner lives and points us to the spiritual approach--prayer, work, writing, and living. A master of her craft of giving to others what her inner guides have taught her, I promise you will come away from reading her new book, as I did, with renewed creative zest and energy, as well as insight into your own spiritual possibilities as a creative person. Get this book—Seeking Wisdom; it holds magical wisdom and genuine truth."

—Judy Collins, Singer, Songwriter, Author

"Julia Cameron's Seeking Wisdom: A Spiritual Path to Creative Connection is a must-read for those who struggle finding a connection with a Higher Power, and creatives who want a more-robust experience of their art. If you're an artist—and we're all artists—who wants a more dynamic creative experience, you want to purchase and use this book today."

—New York Journal of Books



Praise for The Listening Path:

"...the potential rewards are boundless."—Vogue

"Cameron delivers an accessible, insightful addition to her The Artist's Way workbooks... Cameron's fans will love this straightforward program."—Publishers Weekly

"Longtime creativity expert Cameron turns to the essential art of listening. Cameron writes beautifully and sincerely.... A much-needed primer on opening ourselves to listening to others at a time when that is so badly needed."—Booklist Starred Review

"Designed for a world in which attention is our collective deficiency, The Listening Path focuses on tuning out cluttering noise and redirecting attention constructively to release creative blocks...If this all sounds too woo-woo for you . . . then you probably need it."—BookPage

"Julia Cameron brought a new approach to creativity to the world with her extraordinary book, The Artist's Way. Now, in The Listening Path, she takes us into a completely different dimension of creativity: the ability to listen at deeper and deeper levels. As a lifelong student of the art of listening, I can tell you there is nothing quite like this book. I encourage you to read The Listening Path and make use of its life changing gifts."
—Gay Hendricks, Ph.D. New York Times bestselling author of The Big Leap and Conscious Luck

"Julia Cameron has done it again. In The Listening Path, she gently guides us to become more in tune with ourselves, our world, each other, and beyond—bringing more clarity, connection and joy into our lives. Whether you're a seasoned creator or just getting started, The Listening Path will guide you to access the treasure trove of wisdom that lives within, and in the world around you."
—Amber Rae, author of Choose Wonder Over Worry
St. Martin's Essentials, 9781250809377, 240pp.
Publication Date: January 11, 2022
About the Author
Hailed by the New York Times as "The Queen of Change," JULIA CAMERON is credited with starting a movement in 1992 that has brought creativity into the mainstream conversation—in the arts, in business, and in everyday life. She is the best-selling author of more than forty books, fiction and nonfiction; a poet, songwriter, filmmaker and playwright. Commonly referred to as "The Godmother" or "High Priestess" of creativity, her tools are based in practice, not theory, and she considers herself "the floor sample of her own toolkit." The Artist's Way has been translated into forty languages and sold over five million copies to date.