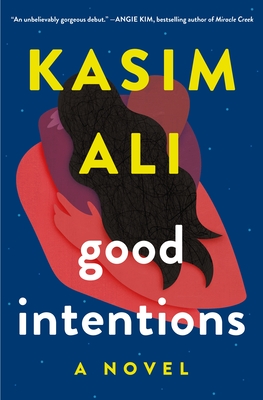 Good Intentions
A Novel
Hardcover

* Individual store prices may vary.
Description
The Big Sick meets Nick Hornby in Kasim Ali's debut novel about a young man who has hidden a romance from his parents, unable to choose between familial obligation and the future he truly wants.

If love really is a choice, how do you decide where your loyalties lie?

It's the countdown to midnight on New Year's Eve and Nur is steeling himself to tell his parents that he's seeing someone. A young British Pakistani man, Nur has spent years omitting details about his personal life to maintain his image as the golden eldest child. And it's come at a cost.

Once, Nur was a restless college student, struggling to fit in. At a house party, he meets Yasmina, a beautiful and self-possessed aspiring journalist. They start a conversation—first awkward, then absorbing—that grabs Nur's attention like never before. And as their relationship develops, so too does Nur's self-destruction. He falls deeper into traps of his own making, attempting to please both Yasmina and his family until he must finally be honest and reveal the truth he's kept hidden: Yasmina isn't Pakistani, she's Black, and he loves her.

Deftly transporting readers between that first night and the years beyond, Good Intentions exposes with unblinking authenticity the complexities of immigrant families and racial prejudice. It is a crackling, wryly clever depiction of standing on the precipice of adulthood, attempting to piece together who it is you're meant to be.
Praise For Good Intentions: A Novel…
"Compelling, emotionally honest, and unafraid of the gray areas of race, faith, sexuality, and love. Kasim Ali's debut Good Intentions shows how complicated relationships can be, even with the best of intentions."
—Lillian Li, author of Number One Chinese Restaurant

"A sensitive, smooth-toned, and absorbingly honest novel that makes us question our inner worlds at a time when this kind of self-examination might be the thing that saves us."
—Diana Evans, author of Ordinary People

"Good Intentions is a magnificent and messy love story that broke my heart. Bittersweet and tender, Ali writes about modern day relationships with such compassion. This is a novel for anyone who has ever known what it is to be conflicted in falling in love, feeling the expectations of our families but also ourselves."
—Huma Qureshi, author of How We Met

"I found Good Intentions moving, modern, and utterly engaging. What a talent."
—Rhik Samadder, author of I Never Said I Love You

Henry Holt and Co., 9781250809605, 288pp.
Publication Date: March 8, 2022
About the Author
Kasim Ali works at Penguin Random House, and has previously been shortlisted for Hachette's Mo Siewcherran Prize and longlisted for the 4th Estate BAME Short Story Prize, and has contributed to The Good Journal. He comes from Birmingham and lives in London.