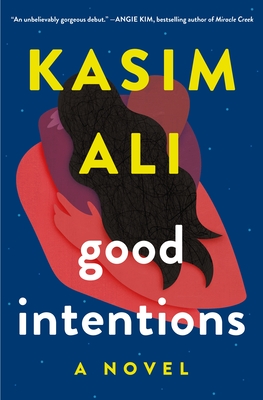 Good Intentions
A Novel
Hardcover

* Individual store prices may vary.
Other Editions of This Title:
Digital Audiobook (3/7/2022)
Paperback (3/14/2023)
Description
"Absorbing, compelling, and beautifully written. Its ending brought me close to tears." —Beth O'Leary, bestselling author of The Flatshare

For fans of The Big Sick and Nick Hornby—a magnetic debut novel about a young man who has hidden a romance from his parents, unable to choose between familial obligation and the future he truly wants.

If love really is a choice, how do you decide where your loyalties lie?

It's the countdown to the New Year, and Nur is steeling himself to tell his parents that he's seeing someone. A young British Pakistani man, Nur has spent years omitting details about his personal life to maintain his image as the golden child. And it's come at a cost.

Once, Nur was a restless college student, struggling to fit in. At a party, he meets Yasmina, a beautiful and self-possessed aspiring journalist. They start a conversation—first awkward, then absorbing. And as their relationship develops, so too does Nur's self-destruction. He falls deeper into traps of his own making, attempting to please both Yasmina and his family until he must finally reveal the truth: Yasmina is Black, and he loves her.

Deftly transporting readers between that first night and the years beyond, Kasim Ali's Good Intentions exposes with unblinking authenticity the complexities of immigrant families and racial prejudice. It is a crackling, wryly clever depiction of standing on the precipice of adulthood, piecing together who it is you're meant to be.
Praise For Good Intentions: A Novel…
"One of the most eagerly awaited debuts of 2022 . . . Exploring race, romance, and mental health problems with disarming candor . . . [Good Intentions] is a rather clever novel about vulnerability and victimhood that subtly subverts the reader's expectations."
—The Times (UK)

"A love story full of hard choices and tensions, family obligations and racial prejudices. Not to be missed by fans of Modern Love."
—Vogue India

"Alluring . . . [A] thoughtful portrait of young people weighing the bonds of tradition with personal identity. Readers will root for this imperfect love until the end."
—Publishers Weekly

"There is something of a Sally Rooney vibe to this story about twentysomethings navigating adult waters (the snappy dialogue, the conflicted emotions, the relationship dramas) . . . This timely, savvy novel is recommended."
—Library Journal

"Kasim Ali not only lays bare the sweetness and nerves of first love, but also levels an unflinching gaze on the prejudices and racism within minority communities. . . . Beautifully written, this will appeal to fans of Caleb Azumah Nelson, Candice Carty-Williams, and Sally Rooney."
—The Skinny (UK)

"As Ali tackles the difficulty of racism within ethnic groups tied to assumptions of solidarity, he succinctly delineates memorable characters and complex interactions . . . In all, [Good Intentions is] a vitally important exploration of deep-rooted prejudice, and the disconnect between understanding and the genuine practice of inclusiveness."
—Booklist

"Compelling. In the tradition of Spike Lee's film School Daze, Ali's novel explores the ways that racism may do its insidious damaged even among those who are traditionally not its targets and victims."
—Kirkus Reviews

"Good Intentions is a heartbreaking story of a young man caught between worlds—between youth and adulthood, between family and passion, between ambition and survival. Kasim Ali builds a quiet yet unbearable tension while examining the complexities of racial prejudice. An unbelievably gorgeous debut."
—Angie Kim, bestselling author of Miracle Creek

"Good Intentions is so absorbing, compelling, and beautifully written. Its ending brought me close to tears—what an incredibly assured debut. I can't wait to see what Kasim Ali writes next."
—Beth O'Leary, bestselling author of The Flatshare

"Compelling, emotionally honest, and unafraid of the gray areas of race, faith, sexuality, and love. Kasim Ali's debut Good Intentions shows how complicated relationships can be, even with the best of intentions."
—Lillian Li, author of Number One Chinese Restaurant

"No taboo is off-limits in Kasim Ali's bold and thought-provoking debut. Good Intentions is a necessary addition to literature."
—Lizzie Damilola Blackburn, author of Yinka, Where is Your Husband?

"Good Intentions is a magnificent and messy love story that broke my heart. Bittersweet and tender, Ali writes about modern day relationships with such compassion. This is a novel for anyone who has ever known what it is to be conflicted in falling in love, feeling the expectations of our families but also ourselves."
—Huma Qureshi, author of How We Met

"A sensitive, smooth-toned, and absorbingly honest novel that makes us question our inner worlds at a time when this kind of self-examination might be the thing that saves us."
—Diana Evans, author of Ordinary People

"I found Good Intentions moving, modern, and utterly engaging. What a talent."
—Rhik Samadder, author of I Never Said I Love You

"A frank, moving, and truly compelling tale of the complexities of modern romance, and how family, friendships, society, and our own internalized prejudices can impact upon it. Good Intentions is a beautiful and honest story that I'd defy anyone not to be pulled in by, from a fantastic new talent in contemporary fiction."
—Sareeta Domingo, author of If I Don't Have You
Henry Holt and Co., 9781250809605, 288pp.
Publication Date: March 8, 2022
About the Author
Kasim Ali works at Penguin Random House, and has previously been shortlisted for Hachette's Mo Siewcherran Prize and longlisted for the 4th Estate BAME Short Story Prize, and has contributed to The Good Journal. Good Intentions is his debut novel.
He comes from Birmingham and lives in London.