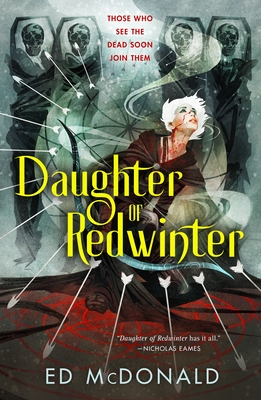 Daughter of Redwinter (The Redwinter Chronicles #1)
Hardcover

* Individual store prices may vary.
Other Editions of This Title:
Digital Audiobook (6/27/2022)
Description
Those who see the dead soon join them.

From the author of the critically-acclaimed Blackwing trilogy comes Ed McDonald's Daughter of Redwinter, the first of a brilliant fantasy series about how one choice can change a universe.

Raine can see—and speak—to the dead, a gift that comes with a death sentence. All her life she has hidden, lied, and run to save her skin, and she's made some spectacularly bad choices along the way.

But it is a rare act of kindness—rescuing an injured woman in the snow—that becomes the most dangerous decision Raine has ever made.

Because the woman is fleeing from Redwinter, the fortress-monastery of the Draoihn, warrior magicians who answer to no king, and who will stop at nothing to reclaim what she's stolen. A battle, a betrayal, and a horrific revelation force Raine to enter the citadel and live among the Draoihn. She soon finds that her secret ability could be the key to saving an entire nation.

Though she might have to die to make it happen . . .
Praise For Daughter of Redwinter (The Redwinter Chronicles #1)…
Praise for Daughter of Redwinter:

"A complex backdrop of culture, magic and characters... Go buy it."—Robin Hobb

"Uncommonly vivid and vigorous sword and sorcery… McDonald makes familiar story and character beats come alive with imagination and energy."—Publishers Weekly, starred review

"Daughter of Redwinter has it all: enigmatic characters, shady politics, secret cults, ancient evils, and a young woman grappling with her own shattered identity while navigating a world in which no one is quite what they seem."—Nicholas Eames, author of Kings of the Wyld

"McDonald's medieval fantasy world feels lived-in, with a robust history, an intricate magic system, and a host of fascinating characters, but Raine herself—vulnerable but fierce, direct, and almost ruthlessly practical—is the heart of this memorable story."—Booklist

Praise for Ed Mcdonald and Blackwing:

"Original world-building and unforgettable characters."—Brian Staveley, author of The Empire's Ruin

"Mixes the inventiveness of China Miéville with the fast-paced heroics of David Gemmell."— Anthony Ryan, New York Times bestselling author of the Raven's Shadow series

"Potent, gritty, bloody, and splendid."—Faith Hunter, New York Times bestselling author of the Jane Yellowrock series

"Dark, twisty and excellent."—Mark Lawrence, bestselling author of Prince of Thorns

"A bloody, gritty fantasy novel that manages not to sacrifice its heart. Fans of Glen Cook's The Black Company or Joe Abercrombie's The First Law series will be very happy with this one."—Django Wexler, author of Ashes of the Sun

"An astonishingly accomplished debut—McDonald is definitely one to watch."—Peter McLean, author of Priest of Bones
Tor Books, 9781250811714, 352pp.
Publication Date: June 28, 2022
About the Author
Ed McDonald is the author of the Raven's Mark and Redwinter Chronicles series of novels. He studied Ancient History and Archaeology at the University of Birmingham, and Medieval History at Birkbeck College, University of London. Ed is passionate about fantasy tabletop roleplay games and has studied medieval swordsmanship since 2013. He currently lives with his partner, author Catriona Ward, in London, England.