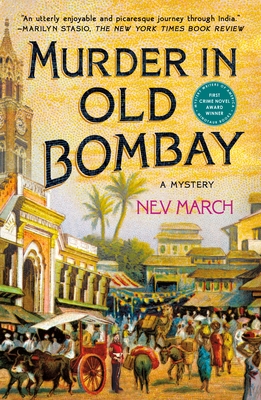 Murder in Old Bombay
A Mystery (Captain Jim and Lady Diana Mysteries #1)
Paperback

* Individual store prices may vary.
Other Editions of This Title:
Digital Audiobook (11/9/2020)
Hardcover (11/10/2020)
Library Binding, Large Print (5/28/2021)
Description
Nominated for an Edgar Award for Best First Novel!

In 19th century Bombay, Captain Jim Agnihotri channels his idol, Sherlock Holmes, in Nev March's Minotaur Books/Mystery Writers of America First Crime Novel Award-winning debut.

In 1892, Bombay is the center of British India. Nearby, Captain Jim Agnihotri lies in Poona military hospital recovering from a skirmish on the wild northern frontier, with little to do but re-read the tales of his idol, Sherlock Holmes, and browse the daily papers. The case that catches Captain Jim's attention is being called the crime of the century: Two women fell from the busy university's clock tower in broad daylight. Moved by Adi, the widower of one of the victims — his certainty that his wife and sister did not commit suicide — Captain Jim approaches the Parsee family and is hired to investigate what happened that terrible afternoon.

But in a land of divided loyalties, asking questions is dangerous. Captain Jim's investigation disturbs the shadows that seem to follow the Framji family and triggers an ominous chain of events. And when lively Lady Diana Framji joins the hunt for her sisters' attackers, Captain Jim's heart isn't safe, either.

Based on a true story, and set against the vibrant backdrop of colonial India, Nev March's Minotaur Books/Mystery Writers of America First Crime Novel Award-winning lyrical debut, Murder in Old Bombay, brings this tumultuous historical age to life.
Praise For Murder in Old Bombay: A Mystery (Captain Jim and Lady Diana Mysteries #1)…
ONE OF POPSUGAR'S 10 CHILLING THRILLER AND MYSTERY BOOKS OF THE MONTH
ONE OF WE ARE BOOKISH'S MOST ANTICIPATED BOOKS OF THE MONTH
ONE OF CRIMEREADS' BEST TRADITIONAL MYSTERIES OF THE YEAR
ONE OF MYSTERY SCENE'S FAVE RAVES OF THE YEAR
ONE OF AUTH AGATHA'S TOP TEN OF THE YEAR

"[Protagonist] Jim [Agnihotri] is an instantly likeable character whose good heart and endearing ways make him an ideal narrator.... His sleuthing takes him on an utterly enjoyable and picaresque journey through India on which he encounters beggars and brigands, adventure and danger – and finds romance." — Marilyn Stasio, The New York Times Book Review

"Murder in Old Bombay delivers a gripping look at India's history, resplendent with meticulous research and depicting its social structure enhanced with realistic characters who put the past in context with modern times." — South Florida Sun Sentinel

"[E]xciting, romantic, and emotional, and evokes the vivid colors, sounds, and smells of India during British rule.... Murder in Old Bombay is a beautifully written novel that will be difficult to forget." — Ellery Queen Magazine

"[A] beautifully told, exciting, adventure/romance with a well-crafted mystery at its center." — Mystery Scene Magazine, One of the Fave Raves of the Year

"Based on true events, March's crisply written debut combines fascinating historic details with a clever puzzle." — Kirkus Reviews

"March fills the story with finely developed characters, particularly Agnihotri, who proves a zealous investigator. She also presents an authentic view of India under British rule while exploring the challenges faced by a character of mixed race. The heartfelt ending leaves plenty of room for a sequel. Readers won't be surprised this won the Minotaur Books/Mystery Writers of America First Crime Novel Award." — Publishers Weekly

"Bravo to Nev March for capturing late 19th century Indian history so beautifully in Murder in Old Bombay. Compelling characters, striking settings and the intricacies of social stratification shine in this talented author's hands. I eagerly await more historic Bombay adventures narrated by sharp-eyed, open-hearted Jim Agnihotri." — Sujata Massey

"Nev March's Murder in Old Bombay is a tale of intrigue, duplicity and, as the title suggests, murder. . . . March deftly uses James' biracial background to depict the societal structure of India during the British Raj and, by extrapolation, to indict other societies in which race and caste are sources of discrimination." — BookPage

"A lively adventure through colonial-era Bombay . . . March has an uncanny talent for conjuring up the hidden corners and personalities of late 19th century Bombay. — CrimeReads

"Based on an actual event, the story paints a wonderful revealing background of colonial India with all its environments and visual beauty. Nev March does a fine job with the background as well as the characters which she portrays against the lushness, the beauty, riches, but also the sordid parts of India of the 1890s." — Mystery and Suspense Magazine

"This award-winning lyrical narrative is a delightful multilayered treat." — India Currents

"Riveting. . . A fascinating story of intrigue, love, despair, hope and murder that we sincerely hope will turn into a mystery series with Captain Agnihotri at the helm." —Khaas Baat

"An insightful account of life in India on the cusp of the 20th century. Highly recommended." — Historical Novel Society

"March has created a likable, honorable sleuth whose humble origins and instinctive kindness make spending time with him a pleasure." — Jaclyn Fulwood, blogger at Infinite Reads, for Shelf Awareness
Minotaur Books, 9781250813824, 400pp.
Publication Date: April 12, 2022
About the Author
NEV MARCH is the winner of the Minotaur Books/Mystery Writers of America First Crime Novel Award for her award-winning, Edgar finalist debut, Murder in Old Bombay. Leaving a long career in business analysis in 2015, she returned to her passion, writing fiction. She is a member of the Mystery Writers of America and the Crime Writers of Color. A Parsee Zoroastrian herself, Nev lives with her husband and sons in New Jersey.