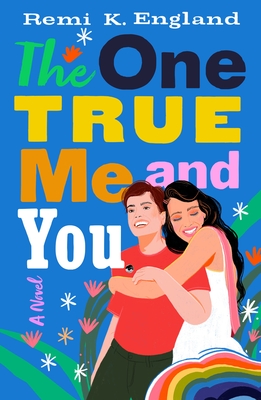 The One True Me and You
A Novel
Hardcover

* Individual store prices may vary.
Other Editions of This Title:
Digital Audiobook (2/28/2022)
Paperback (6/1/2024)
Description
Most Anticipated by: Buzzfeed * Lambda Literary * LGBTQ Reads * Bustle * Book Riot * Autostraddle * The Nerd Daily * Epic Reads * Frolic

"A breezy, snappy story about fandom, friendships, and being true to yourself."—TJ Klune

One small fandom convention. One teen beauty pageant.
One meet cute waiting to happen.

Up and coming fanfic author Kaylee Beaumont is internally screaming at the chance to finally meet her fandom friends in real life and spend a weekend at GreatCon. She also has a side quest for the weekend:

· Try out they/them pronouns to see how it feels
· Wear more masculine-presenting cosplay
· Kiss a girl for the first time

It's…a lot, and Kay mostly wants to lie face down on the hotel floor. Especially when her hometown bully, Miss North Carolina, shows up in the very same hotel. But there's this con-sponsored publishing contest, and the chance to meet her fandom idols…and then, there's Teagan.

Pageant queen Teagan Miller (Miss Virginia) has her eye on the much-needed prize: the $25,000 scholarship awarded to the winner of the Miss Cosmic Teen USA pageant. She also has secrets:

· She loves the dresses but hates the tiaras
· She's a giant nerd for everything GreatCon
· She's gay af

If Teagan can just keep herself wrapped up tight for one more weekend, she can claim the scholarship and go off to college out and proud. If she's caught, she could lose everything she's worked for. If her rival, Miss North Carolina, has anything to do with it, that's exactly how it'll go down.

When Teagan and Kay bump into one another the first night, sparks fly. Their connection is intense—as is their shared enemy. If they're spotted, the safe space of the con will be shattered, and all their secrets will follow them home. The risks are great…but could the reward of embracing their true selves be worth it?

A big-hearted, joyful romance and a love letter to all things geek, Remi K. England's The One True Me and You is a *witness me* celebration of standing up for, and being, yourself.

"A love letter to the support of online communities, to the friendships that define you, and to the ongoing, lifelong challenge to define yourself."—Emma Lord

"This geeky rom-com is fan-tastic and i-con-ic." -Buzzfeed

"Wonderfully explores the alienation and confusion felt by many LGBTQ+ teens without verging into hopelessness...heartwarming and immensely relatable." —Kirkus Reviews


Praise For The One True Me and You: A Novel…
"The One True Me and You is a love letter to every queer nerd who found themselves in fanfic. Hilarious, joyful, and deeply relatable, Remi K. England gives us the OTP we deserve. Hop in nerds, we're going to GreatCon!" - Ashley Poston, national best-selling author of Geekerella

"The One True Me and You is a breezy, snappy story about fandom, friendships, and being true to yourself, even if that might be a little scary. This story is lovingly queer, and shows the differences that set us apart should be celebrated rather than denigrated. England writes with heart and I, for one, can't wait to see what they do next." - TJ Klune, New York Times bestselling author of The House in the Cerulean Sea

"A must-read for anyone who has ever found home in a fandom! I haven't felt this delightfully 'seen' since Rainbow Rowell's FANGIRL. This book is a love letter to the support of online communities, to the friendships that define you, and to the ongoing, lifelong challenge to define yourself. Kay and Teagan are here to take your little shipper heart and jump rope with it in the best, most satisfying way." - Emma Lord, New York Times bestselling author of Tweet Cute and You Have a Match

"The One True Me and You positively fizzes with joy, hope, affirmation, and the feeling of anticipation that comes with being on the edge of something new and fabulous. A fun fandom romance guaranteed to put a smile on your face." - Dahlia Adler, author of Cool for the Summer

"Full of love and hope, and geeky to its core, THE ONE TRUE ME AND YOU is an incredible story of self-discovery and acceptance. England has crafted a story so relatable and real, it should be on everyone's must-read list." - Jennifer Dugan, author of Some Girls Do and Hot Dog Girl

"A smart, funny, joyously queer love letter to fandoms, first loves, and the freedom to be yourself. With their characteristic wit and insight, Remi K. England has created characters you'll root for from page one and presented a poignant and thought-provoking window into the complex worlds of fandom and beauty pageants. I devoured THE ONE TRUE ME AND YOU in an afternoon and then started re-reading immediately. Grab a cup of tea (hand blended loose leaf, of course), your favorite fanfic, and prepare to fall in love with Teagan and Kay." - Jamie Pacton, author of THE LIFE AND (MEDIEVAL) TIMES OF KIT SWEETLY and LUCKY GIRL

"Prepare to fall hard for Teagan and Kay and their swoon-worthy romance that captures all the heart flutters of first time falling in love. What is so beautiful and special about their journey though is that as much as they fall in love with each other, they also each fall in love with themselves, coming to love and embrace their own uniqueness and self-worth. This empowering, uplifting, inclusive story will have readers cheering for the strong friendships that surround Teagan and Kay and for the deep feelings they inspire in each other. The fandom setting squaring off against pageant life provided the perfect backdrop for a romance readers are going to love every bit as much as I did." - Annabeth Albert, author of Conventionally Yours

"The One True Me and You is a powerful celebration of fandom as a home for everyone and a loving tribute to the breadth of the queer community. Funny, crackling with chemistry, and painfully relatable, this is a book that honors all the ways we express ourselves." - Britta Lundin, author of Ship It, and writer on CW's Riverdale

"The One True Me and You isn't just a love letter to fandom; it's a love letter to fan communities. This heartwarming story is about finding your people, finding yourself, and finding spaces that will not only accept you but also celebrate everything you are, whether that's geeky, queer, a pageant queen, or all of the above. Not to mention, Kay and Teagan are an OTP for the ages." - Jasper Sanchez, author of The (Un)popular Vote

"A sweetly romantic and deliciously queer story about building the courage to embrace your individuality, and love yourself all the way through." - Caleb Roehrig, author of The Fell of Dark

"Two different worlds—and hearts—collide, and the result is pure fandom fun." -- Nancy Werlin, author of Zoe Rosenthal is Not Lawful Good

"Worlds collide and sparks fly in this delightfully nerdy queer rom com. With strong, loveable characters and a heartfelt story about friendship, community, and finding the courage be yourself, this is a feel-good book that's hard to put down." – Robin Stevenson, author of When You Get the Chance

"The One True Me and You is exactly what I needed to fill the con-shaped hole in my heart!" - Sam Maggs, bestselling author of The Unstoppable Wasp: Built on Hope

"An insightful and delightful read, THE ONE TRUE ME AND YOU takes the reader on a journey of self-discovery, romance, and plenty of fandom/pageant related fun. Highly recommend for fans of WHEN YOU GET THE CHANCE, THE (UN)POPULAR VOTE, and THE BOOKWORM CRUSH." - Young Adult Books Central

"Fast-paced, geeky and wonderfully queer, The One True Me and You is perfect for anyone who loves fandom culture, the opposites attract trope and stories that make you feel hopeful for a more inclusive, accepting and kind future." - The Nerd Daily #ReadwithPride

"A gracefully written, immensely satisfying historical romance readers will treasure." - Booklist

Wednesday Books, 9781250814869, 272pp.
Publication Date: March 1, 2022
About the Author
Remi K. England (they/them) grew up on the Space Coast of Florida watching shuttle launches from the backyard. These days, they call rural Virginia home, where there are many more cows but a tragic lack of rockets. In between marathon writing sessions, Remi can be found drowning in fandom, rolling critical hits at the gaming table, digging in the garden, or feeding their video game addiction. They probably love Star Wars more than you do. Remi is the author of The Disasters (2018), Spellhacker (2020), and other forthcoming novels under the name M. K. England.