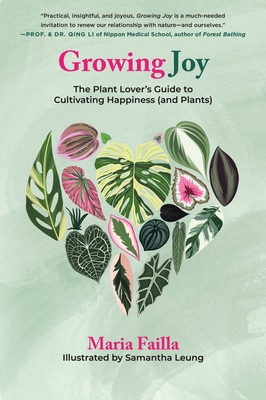 Growing Joy
The Plant Lover's Guide to Cultivating Happiness (and Plants)
Paperback

* Individual store prices may vary.
Description
Planty practices to grow your way to happier, more peaceful life

Discover the power of plants to help you disconnect from the stress and anxiety of modern life and grow more joy in your world. Filled with practices to help plant lovers step away from their screens and cultivate delight and peace of mind with plants, Growing Joy is your guide to transforming plant care into self-care.

In easy to read, light-hearted chapters, author Maria Failla, host of the beloved podcast Bloom and Grow Radio, explores the science behind our love of plants and shares how that humble aloe plant on your windowsill can unlock a world of wellness and delight. With ideas and tips both big and small—from simply making a habit of looking at a plant before looking at a screen in the morning to creating a plant-infused restorative retreat in your home—Growing Joy will help you create a meaningful wellness practice rooted in nature and connection. And of course, there's some plant care tips in there too to make sure both you and your green friends thrive!

Whether you're a plant parent pro or the anxious owner of a single, not-dead-yet succulent, Growing Joy will help you reconnect with yourself, bring more smiles to your face and peace in your heart, and inspire a lifelong relationship with plants that will keep you blooming and growing.
Praise For Growing Joy: The Plant Lover's Guide to Cultivating Happiness (and Plants)…
"Practical, insightful, and joyous, Growing Joy is a much-needed invitation to renew our relationship with nature—and oursevles—while finding peace in the process."
—Prof & Dr. Qing Li of Nippon Medical School, author of Forest Bathing

"Growing Joy is a delightful guide to both plant care and self care, exploring the love of Nature through meaningful practices. Maria's encouraging voice will surely cultivate growth in your plant life—and real life!"
—Darryl Cheng, author of The New Plant Parent

"I love, Love, LOVE this delightful book! Reading a few pages on any day makes me feel instantly grounded and more joyful. And my plants will forever benefit from all I've learned. Thank you, Plant Lady Maria! You and this book are magical."
—Linda Sivertsen, award-winning author of Generation Green and Beautiful Writers book & podcast

"Growing Joy is the breath of fresh air every entrepreneur needs, from greening up your work space to using plants as a tool to disconnect with screens and reconnect with yourself, Failla has a fresh take on how we can use plants to bring more calm to our day-to-day lives."
—Pat Flynn, CEO of Flynndustries, Host of the Smart Passive Income Podcast

"Growing Joy inspires you to dig deep into the emotional side of making meaningful botanical connections and cultivating a more peaceful lifestyle through plants. As always, Maria offers up a sunny dose of planty joy!"
—Leslie F. Halleck, CPH, Author of Gardening Under Lights, Plant Parenting, and Tiny Plants

"Filled with tips and thoughtful practices to help us connect to nature and ourselves; Growing Joy will not only lead you to take better care of yourself, but of your plants as well, while finding joy in the journey." —Danae Horst, Founder of Folia Collective and author of Houseplants For All

"FINALLY… it's the self-care book every screen-obsessed, stressed-out-all-the-time Millenial needs! Maria brilliantly brings the most age-old concepts to light in an easily digestible way, inspiring anyone and everyone to find the green in their own thumbs and joy in their hearts"—Lucie Fink, Video Producer, Lifestyle Host, and YouTube host

"With grace, grit and a green thumb, Maria stops to smell the roses with us through her intimate and indispensable guide on becoming a better plant person—and all around human—in this life."—Jackie Alemany, Washington Post anchor
St. Martin's Essentials, 9781250814890, 272pp.
Publication Date: June 28, 2022
About the Author
MARIA FAILLA is a New York based "plant killer turned happy plant lady" on a mission to make the world a kinder and greener place by helping everyone successfully care for houseplants. A former Broadway performer, Maria now uses her voice to help her community of thousands of "plant friends" care for plants successfully, grow their indoor jungles, and cultivate more joy in their lives through the Bloom and Grow Radio Podcast, Youtube Channel and Garden Party Community Platform. Maria's passion for plants has been featured by Access Live, Good Morning America, Refinery 29, Apartment Therapy, The Washington Post and TimeOut New York. Plants, and the lessons that have come from caring for them, have been the single most impactful wellness tool in Maria's life, and she hopes Growing Joy helps empower others to experience the incredible shifts that come from reconnecting with nature and yourself and to stay curious and always growing.

SAMANTHA LEUNG is an artist and designer based out of Seattle, Washington. She is a self-taught Plant Lady that believes in the kindness and joy that comes with caring for and gifting plants. She designs botanical-inspired accessories and homewares for her business, HEMLEVA, which she started in 2013. You can currently find Samantha's designs in over 400 shops all over the world. Samantha and her products have been featured in Refinery29, Apartment Therapy, Style Me Pretty, Adobe, Shops by Instagram, Elle Magazine, Design Sponge, "The Mindy Project" & more! In her free time, Samantha enjoys baking, reading, traveling, and dreaming up what's next for HEMLEVA.