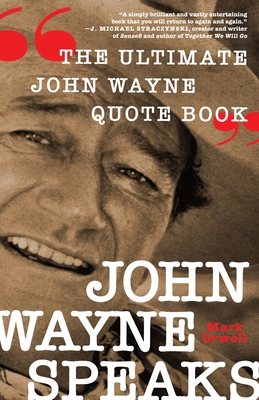 John Wayne Speaks
The Ultimate John Wayne Quote Book
Hardcover

* Individual store prices may vary.
Description
With more than 1,100 impeccably sourced quotes from throughout John Wayne's 172-film career, John Wayne Speaks: The Ultimate John Wayne Quote Book provides what has often been missing from other Duke Wayne reference books: accuracy, context, and comprehensiveness.

These quotations offer a deep dive into Wayne's films and acting persona—the iconic American man of action whose sense of values and decency are a veneer covering a boiling pot of determination, courage, outrage, and even violence. The quotes in John Wayne Speaks are at once inspirational, humorous, touching, and revealing.

Author and veteran journalist Mark Orwoll has created an overlay of categories into which each quote fits, making the manuscript easy for readers to find the type of quote—or even the exact quote, footnoted to identify its film—they may be searching for. But John Wayne Speaks is more than just a collection of the actor's movie lines. Orwoll has researched and written an in-depth introduction to Wayne's film career to put the quotes in a broader context. Movie-lovers will also appreciate the author's opinionated capsule reviews and production notes from Wayne's complete filmography.

John Wayne Speaks is the quote book that every fan of the Duke needs and a delightful addition to any cinephile's library.
Praise For John Wayne Speaks: The Ultimate John Wayne Quote Book…
"You may think you know who John Wayne was, but until you've read this book, and seen just how many ways the man overlapped with the roles, and the words forged the man, his views and his career, you will never really know who he was. A simply brilliant and vastly entertaining book that you will return to again and again." —J. Michael Straczynski, creator/writer, Sense8 and Together We Will Go

"A delightful treasure trove of movie quotes from the Duke that are sure to entertain his legion of fans. A finely researched and well done compilation." —Michael R. Pitts, author, Western Movies: A Guide to 5,105 Feature Films and Poverty Row Studios, 1929-1940

"John Wayne's film characters weren't much for fancy speeches. They tended to be laconic, strong willed and self-assured. They wasted no words and when they spoke, their comments often stuck in memory. John Wayne Speaks collects comments and retorts by the cops, cowboys and other characters he played. In Wayne's world, a man assayed his words before speaking and dropped no fool's gold into the conversation."
—David Luhrssen, author of World War II on Film

"A treat for movie buffs! Mark Orwoll's entertaining, comprehensive and informative collection of quotes perfectly captures the enduring screen image that was the iconic legend John Wayne." —Gene Freese, The Western Films of Robert Mitchum

"Wow! I thought I knew all the best John Wayne quotes. I have never been so happy to be so wrong."
—Bob Boze Bell, Executive Editor, True West Magazine

"A virtual Bible of the actor's most memorable movie lines, the book is a thorough delight..." —Brian Downes, executive director, John Wayne Birthplace & Museum
St. Martin's Griffin, 9781250815835, 304pp.
Publication Date: November 9, 2021
About the Author
MARK ORWOLL is a journalist and author with more than four decades of experience in newspapers, magazines, and digital publishing. He has written for Town & Country, Condé Nast Traveler, The Saturday Evening Post, AARP, Robb Report, Frommer's Travel, and dozens of other national magazines and websites. He grew up in the West, and currently lives in New York.