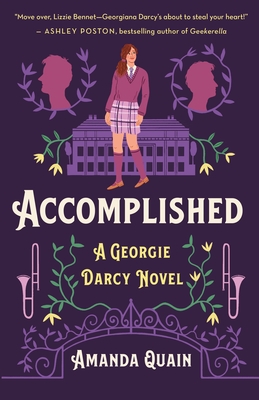 Accomplished
A Georgie Darcy Novel
Hardcover

* Individual store prices may vary.
Other Editions of This Title:
Digital Audiobook (7/25/2022)
Paperback (7/25/2023)
Description
Georgiana Darcy gets the Pride & Prejudice retelling she deserves in Amanda Quain's Accomplished, a sparkling contemporary YA featuring a healthy dose of marching band romance, endless banter, and Charles Bingley as a ripped frat boy.

It is a truth universally acknowledged that Georgiana Darcy should have been expelled after The Incident with Wickham Foster last year – at least if you ask any of her Pemberley Academy classmates. She may have escaped expulsion because of her family name, but she didn't escape the disappointment of her big brother Fitz, the scorn of the entire school, or, it turns out, Wickham's influence.

But she's back for her junior year, and she needs to prove to everyone – Fitz, Wickham, her former friends, and maybe even herself – that she's more than just an embarrassment to the family name. How hard can it be to become the Perfect Darcy? All she has to do is:

- Rebuild her reputation with the marching band (even if it kills her)
- Forget about Wickham and his lies (no matter how tempting they still are), and
- Distract Fitz Darcy — helicopter-sibling extraordinaire — by getting him to fall in love with his classmate, Lizzie Bennet (this one might be difficult…)

Sure, it's a complicated plan, but so is being a Darcy. With the help of her fellow bandmate, Avery, matchmaking ideas lifted straight from her favorite fanfics, and a whole lot of pancakes, Georgie is going to see every one of her plans through. But when the weight of being the Perfect Darcy comes crashing down, Georgie will have to find her own way before she loses everything permanently—including the one guy who sees her for who she really is.
Praise For Accomplished: A Georgie Darcy Novel…
"In Quain's witty debut...hard-earned character development and dynamic relationships are keenly explored. Quain uses the source material's infrastructure to establish the narrative's stakes and emotional gravity while skillfully setting it apart from its Austenian roots." --Publishers Weekly

"[Georgie's] reckoning with her own racial and class privilege is refreshing, and her complicated but loving relationship with her brother is a shining point...for fans of boarding school dramas and rom-coms, this fits the bill." --School Library Journal

"Move over, Lizzie Bennet—Georgiana Darcy's about to steal your heart!" —Ashley Poston, bestselling author of Geekerella

"An incredible debut and hilariously heartwarming addition to the Pride & Prejudice canon." --Jennifer Dugan, author of Hot Dog Girl

"A heroine in possession of her own side of the story must be in want of an iconic, fresh and funny retelling...Accomplished has bewitched us." —Emily Wibberley and Austin Siegemund-Broka, authors of If I'm Being Honest

"Accomplished is what I imagine it would look like if all my favorite Austen heroines united together and raised some hell in 2022." --Erin Hahn, author of Never Saw You Coming

"Sharp, funny, and full of heart…I officially have a new favorite Darcy." --Nina Moreno, author of Don't Date Rosa Santos

"A masterpiece of a debut. I was hooked from the first line and laughed all the way to the happily-ever-after. You've never read Austen like this!" --Tiffany Schmidt, author of the Bookish Boyfriends series and I'm Dreaming of a Wyatt Christmas

"Hilarious and poignant, readers will come for the clever wit and romance of an Austen retelling and stay for a timeless and utterly relatable coming-of-age story." –Jennifer Iacopelli, author of Break the Fall

"[A] clever and heartfelt spin on Pride & Prejudice, which gives Georgie Darcy a chance to shine and have a happily ever after in her own right!" –Kristina Forest, author of I Wanna Be Where You Are

"A delightful gem of a book...In between all the winks to P&P, Accomplished also offers a smart rumination on privilege; a nod to fanfics and author life; and, a swoony slow burn romance. Highly recommended for P&P fans looking for a fresh (hilarious) take on the original and for YA contemporary readers who want to romp in a world that feels both familiar and original all at once." --Jamie Pacton, Author of Lucky Girl and The Life and (Medieval) Times of Kit Sweetly

"Move over Fitzwilliam, there's a new Darcy in town! Wholly original, fiercely feminist, and with a romance that's totally fic-worthy, Accomplished is the Pride & Prejudice retelling you've been waiting for. Georgie Darcy has something to say — and you'll hang on her every word." —Stephanie Kate Strohm, author of Love a la Mode and Prince in Disguise

"Georgie is a character you can root for. She's smart, funny and real. Quain's writing is perfect for fans of the OG Jane Austen, but also Emery Lord, Sarah Dessen, and Emma Mills...Highly recommend." --Rachel Simon, youth services librarian, Newton Free Library (Newton, MA)
Wednesday Books, 9781250817815, 320pp.
Publication Date: July 26, 2022
About the Author
AMANDA QUAIN is a writer, indie bookseller, and general life enthusiast. When she's not shouting about her favorite new books, she loves theatre, baking, rock climbing, marching band, and the overall pursuit of adventure. If forced to choose, Amanda's favorite Austen hero is Edward Ferrars, though she'll always have a soft spot for Mr. Bingley. She lives in Pittsburgh, Pennsylvania with her husband and their cat. She is the author of Accomplished and The Ghosts are a Metaphor.