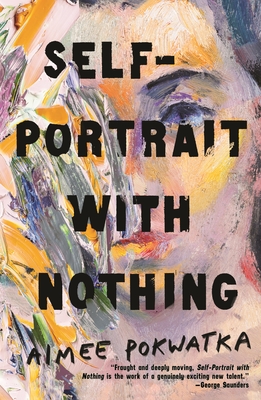 Self-Portrait with Nothing
Hardcover

* Individual store prices may vary.
Description
"Fraught and deeply moving, Self-Portrait with Nothing is the work of a genuinely exciting new talent." —Booker Prize winner, George Saunders

If a picture paints a thousand worlds...

Abandoned as an infant on the local veterinarian's front porch, Pepper Rafferty was raised by two loving mothers, and now at thirty-six is married to the stable, supportive Ike. She's never told anyone that at fifteen she discovered the identity of her biological mother.

That's because her birth mother is Ula Frost, a reclusive painter famous for the outrageous claims that her portraits summon their subjects' doppelgangers from parallel universes.

Researching the rumors, Pepper couldn't help but wonder:
Was there a parallel universe in which she was more confident, more accomplished, better able to accept love?
A universe in which Ula decided she was worth keeping?
A universe in which Ula's rejection didn't still hurt too much to share?

Sometimes living our best life means embracing the imperfect one we already have…
Praise For Self-Portrait with Nothing…
"A thrillingly inventive, highly original debut that manages to be both a compelling mystery story and a dazzling meditation on existence. Pokwatka's particular gift is her ability to see a strange concept through to its conclusion." —Booker and World Fantasy Award winner, George Saunders

"Self-Portrait with Nothing is a thoughtful, beautiful contemplation on identity and how we build ourselves from all the bones we're given, both by the people who love us and by the people who leave us. How is this a first novel? Gorgeously drawn characters in a new and compelling setting, this is a beautiful book that deserves to be read." —New York Times Bestseller, Seanan McGuire
Tordotcom, 9781250820846, 304pp.
Publication Date: October 18, 2022
About the Author
Aimee Pokwatka grew up in Wheeling, West Virginia. She studied anthropology at the University of North Carolina at Greensboro, and received her MFA in creative writing from Syracuse University. Her work has been published in Fairy Tale Review, Outlook Springs, Hunger Mountain, and elsewhere. She lives in New York with her family.