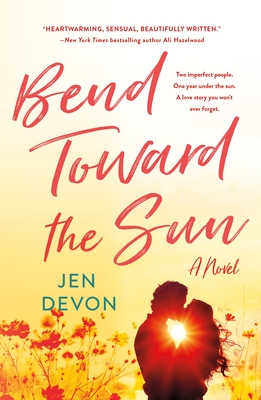 Bend Toward the Sun
A Novel
Paperback

* Individual store prices may vary.
Description
Jen Devon's Bend Toward the Sun is a gorgeous, emotional love story about taking unexpected paths, accepting loss, and finding strength in the transformative power of love.

"Heart-warming, sensual, beautifully written."—Ali Hazelwood, New York Times bestselling author of The Love Hypothesis

Two imperfect people. One year under the sun. A love story you won't ever forget.

Rowan McKinnon doesn't believe in love. With a botany PhD, two best friends who embrace her social quirkiness, and some occasional no-strings sex, she has everything she needs. But she hides deep wounds from the past—from an emotionally negligent mother, and a fiancé who treated her like a pawn in a game. When an academic setback leads Rowan to take on the restoration of a winery's abandoned vineyard, she relishes the opportunity to restore the grapes to their former glory.

She does not expect to meet a man like Harrison Brady.

An obstetrician profoundly struggling after losing a patient, Harry no longer believes he is capable of keeping people safe. Reeling, Harry leaves Los Angeles to emotionally recover at his parents' new vineyard in Pennsylvania.

He does not expect to meet a woman like Rowan McKinnon.

As their combative banter gives way to a simmering tension, sunlight begins to crack through the darkness smothering Harry's soul. He's compelled to explore the undeniable pull between them. And after a lifetime of protecting herself from feeling anything, for anyone, Rowan tries to keep things casual.

But even she can't ignore their explosive connection.

"A lushly drawn portrait of two people with a magnetic, soul-deep connection."—New York Times bestselling author Rachel Lynn Solomon

"A gorgeous love story full of lyrical writing and raw emotion."—New York Times bestselling author Jennifer Probst
Praise For Bend Toward the Sun: A Novel…
"All my favorite tropes in a heart-warming, sensual, beautifully written package. Jen Devon has given us a steamy romance about humans' ability to grow and heal, and about the power of love. I cannot wait to laugh, cry, lose myself in her future books." - Ali Hazelwood, New York Times bestselling author of The Love Hypothesis

"This is a book to be savored. Bend Toward the Sun is a lushly drawn portrait of two people with a magnetic, soul-deep connection, wrapped up in a gorgeous story of hope and healing. It's the kind of romance that made me fall in love with the genre all over again—and I never wanted it to end. Consider me a Jen Devon fan for life." - Rachel Lynn Solomon, New York Times bestselling author

"Devon's debut, Bend Toward the Sun, is a gorgeous love story full of lyrical writing and raw emotion. I fell in love with these two broken characters who begin to heal one another. Definitely an author to watch!" -Jennifer Probst, New York Times & USA Today Bestselling Author, of Our Italian Summer

"Sometimes a book comes along that contains everything you want: romance, tenderness, humor, passion, and a hint of sadness that makes the other emotions feel earned. BEND TOWARD THE SUN hits all the perfect notes." - Trish Doller, author of Float Plan

"An achingly beautiful romance between two broken people struggling to heal each other's hearts and a neglected vineyard over a season. Soul satisfying, sensual, and unforgettable." - Libby Hubscher, author of Meet Me in Paradise

"Intoxicatingly sensual and undeniably sexy, Bend Toward the Sun stole my heart from page one and never let go. With tender explorations of passion, mental health, and belonging, this book has a permanent place in my heart and on my bookshelf." - Mazey Eddings, author of A Brush with Love

"Sweeping and lush, Bend Toward the Sun is one of my favorite kinds of books, where the setting is just as integral to the story as the main characters. Getting to know the warm, lovable Brady family feels like a hug, and I am thoroughly annoyed I can't visit their vineyard in real life. Harry and Rowen's road to happily-ever-after as they each battle their own demons is deeply emotional and hard-won." – Anita Kelly, author of Love & Other Disasters

"A smart and riveting love story about two imperfect people who may just be perfect for each other, Bend Toward the Sun is a delicious debut. Jen Devon knows her way around the human heart." -Camille Pagán, bestselling author of Everything Must Go

"A breathtaking, beautiful debut! Rich with emotion and unforgettable characters in a lush setting so vividly described that you'll long to visit!"
- Priscilla Oliveras, USA Today bestselling author of Anchored Hearts

"Bend Toward the Sun is an inspiring tale of love that sweeps you into a world you'll never want to leave, with achingly beautiful scenery and characters who take root in your heart." - Brooke Burroughs, author of The Marriage Code

"Jen Devon has crafted a masterpiece that is as soul nourishing as it is romantic. An emotional story about two people with undeniable chemistry, yet opposing views on love, Bend Toward the Sun is unapologetically vulnerable and beautifully complex. This book will make your heart ache and give you hope in the way only the best romances can." - Sonia Hartl, author of Heartbreak For Hire

"Hands down, one of the best contemporary romances I've read in years." – Elizabeth Everett, author of A Lady's Formula for Love and A Perfect Equation

"Devon breaks hearts and puts them back together again...[a] tear-jerking debut." -PW

"Devon's debut happens to be not just one of the best of contemporary romance, but one of the best books of the year." - Paste Magazine


St. Martin's Griffin, 9781250822000, 384pp.
Publication Date: August 9, 2022
About the Author
Jen Devon wrote her first romance when she was eight. Now she writes vivid, cinematic love stories about imperfect people finding their perfect match. A former biology academic and lecturer, she currently works in the tech industry and dreams of writing full-time. She's an avid gardener, photographer, and boardgamer, a thrift store enthusiast and unapologetic nerd. She's a mom of six (three kids, three rescue mutts) and lives in central Ohio with her engineer husband. Bend Toward the Sun is her first book.