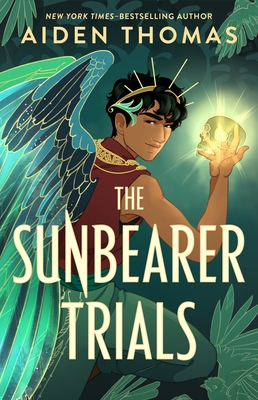 The Sunbearer Trials (The Sunbearer Duology)
Hardcover

* Individual store prices may vary.
Description
Welcome to The Sunbearer Trials, where teen semidioses compete in a series of challenges with the highest of stakes, in this electric new Mexican-inspired fantasy from Aiden Thomas, the New York Times bestselling author of Cemetery Boys.

"Only the most powerful and honorable semidioses get chosen. I'm just a Jade. I'm not a real hero."

As each new decade begins, the sun's power must be replenished so that Sol can keep traveling along the sky and keep the evil Obsidian gods at bay. Ten semidioses between the ages of thirteen and eighteen are selected by Sol themself as the most worthy to compete in the Sunbearer Trials. The winner carries light and life to all the temples of Reino del Sol, but the loser has the greatest honor of all—they will be sacrificed to Sol, their body forming the new Sun Stones that will protect the people of Reino del Sol for the next ten years.

Teo, a 17-year-old Jade semidios and the trans son of Quetzal, goddess of birds, has never worried about the Trials…or rather, he's only worried for others. His best friend Niya—daughter of Tierra, the god of earth—is one of the strongest heroes of their generation and is much too likely to be chosen this year. He also can't help but worry (reluctantly, and under protest) for Aurelio, a powerful Gold semidios and Teo's friend-turned-rival who is a shoo-in for the Trials. Teo wouldn't mind taking Aurelio down a notch or two, but a one-in-ten chance of death is a bit too close for Teo's taste.

But then, for the first time in over a century, Sol chooses a semidios who isn't a Gold. In fact, they choose two: Xio, the 13-year-old child of Mala Suerte, god of bad luck, and…Teo. Now they must compete in five mysterious trials, against opponents who are both more powerful and better trained, for fame, glory, and their own survival.
Praise For The Sunbearer Trials (The Sunbearer Duology)…
Praise for Cemetery Boys:

"Detailed, heart-rending, and immensely romantic. Cemetery Boys is necessary: for trans kids, for queer kids, for those in the Latinx community who need to see themselves on the page. Don't miss this book." —Mark Oshiro, author of Anger is a Gift

"The novel perfectly balances the vibrant, energetic Latinx culture while delving into heavy topics like LGBTQ+ acceptance, deportation, colonization, and racism within authoritative establishments." —TeenVogue.com

"A romantic mystery as poignant as it is spellbinding, weaved in a mosaic of culture, acceptance, and identity, where intricately crafted characters are the pieces and love—platonic, romantic, familial, and communal—is the glue." —Publishers Weekly, starred review
Feiwel & Friends, 9781250822130, 352pp.
Publication Date: September 6, 2022
About the Author
Aiden Thomas, author of Cemetery Boys, received their MFA in Creative Writing from Mills College. Born in Oakland, California, Aiden often haunted Mountain View Cemetery like a second home during their misspent youth. As a queer, trans Latinx, Aiden advocates strongly for diverse representation in all media. Aiden is notorious among their friends for always being surprised by twist endings to books/movies and organizing their bookshelves by color. When not writing, Aiden enjoys exploring the outdoors with their dog, Ronan. Their cat, Figaro, prefers to support their indoor hobbies, like reading and drinking too much coffee.