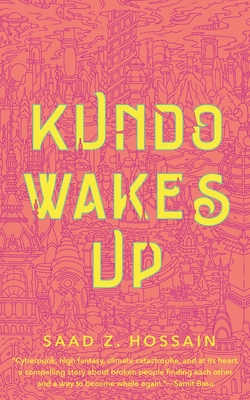 Kundo Wakes Up
Paperback

* Individual store prices may vary.
Description
Saad Z. Hossain's Kundo Wakes Up is a companion to the Ignyte and Locus Award-Nominated novella The Gurkha and the Lord of Tuesday.

Hundreds of miles away from the techno-utopia of Kathmandu, the all-powerful, all-seeing AI known as Karma has gone silent, leaving the dying city of Chittagong—along with all its remaining residents—to continue its inexorable fall into the sea.

Kundo, once a famous artist with the Karma points to prove it, goes searching for his missing wife, only to uncover more inexplicable disappearances. And so Kundo and a group of motley companions embark on a tumultuous journey through an overwhelming maze made up of Chittagong's neighborhoods, the hidden backrooms of video game parlors, and the depths of cyberspace, culminating in the realm of the djinn themselves, in search of love, redemption, and a good meal.
Praise For Kundo Wakes Up…
"Cyberpunk, high fantasy, climate catastrophe and, at its heart, a compelling story about broken people finding each other and a way to become whole again."—Samit Basu

"Hossain showcases the values of cyberpunk, where even cities become corporations to disenfranchise the majority of the world's population. But even at its darkest, the novel provides hope that people will fight, survive, and thrive."—Booklist

"Hossain blends futuristic technology and Arabic mythology in this rabbit hole of a mystery. . . . Gaming enthusiasts and ancient mythology fans alike should snap this up."—Publishers Weekly

"Readers searching for stories of artificial worlds and climate fiction will love Hossain's latest."—Library Journal

"Kundo Wakes Up [is] Hossain's most mature and unified book to date."—Locus


Praise for The Gurkha and the Lord of Tuesday

"Hossain spins satire out of myth and science fiction in the near-future postapocalyptic paradise of Kathmandu. . . . Compact and quippy, this is a whirlwind story that cleverly blends genres and finds humor and pathos in human failure."—Publishers Weekly

"In the space of this slim novel are elements of buddy comedy, thriller, sci-fi, fantasy, and philosophy . . . . [An] entertainingly madcap story that asks what it means to be a citizen and what equality really looks like."—Kirkus

"Saad Z. Hossain continues to blow through the flimsy walls of genre like a whirlwind with The Gurkha and the Lord of Tuesday, sweeping science-fiction, fantasy, myth, and satire into the wildly imaginative vortex of his ever-expanding fictional universe of alternate djinn-history and futures. Hossain's wit and wry compassion create a vision of humanity's hurtling path through time and space as both farcical and epic, leaving a blazing trail of casualties and wonders."—Indrapramit Das
Tordotcom, 9781250823922, 208pp.
Publication Date: March 15, 2022
About the Author
Saad Z. Hossain writes in a niche genre of fantasy, science fiction and black comedy which, on the balance of it, very few people actually want to read. Practical evidence aside, he has powered on in this direction. He studied English Lit and Commerce at the University of Virginia, a combination of studies completely impractical in real life. Due to the stunning unpopularity of his writing he has been forced to work in various industries. This includes digging holes, making rope, throwing parties and failing to run a restaurant. Needless to say, working for a living is highly overrated. He lives in Dhaka, the most ridiculously crowded city in the world, teaming with humans, wildlife, and djinn.

His novels include Escape from Baghdad! and Djinn City. His short stories have appeared in anthologies A Djinn Falls in Love, The Best Science Fiction and Fantasy of the Year, Vol 12, and the Apex Book of World SF Vol 4.