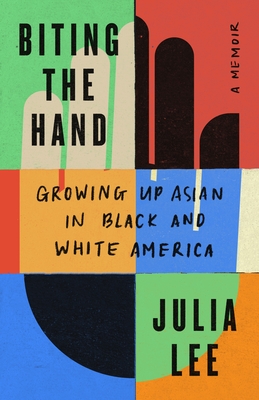 Biting the Hand
Growing Up Asian in Black and White America
Hardcover

* Individual store prices may vary.
Description
In the vein of Eloquent Rage and Minor Feelings—a passionate, no-holds-barred memoir about the Asian American experience in a nation defined by racial stratification

When Julia Lee was fifteen, her hometown went up in smoke during the 1992 Los Angeles riots. The daughter of Korean immigrant store owners in a predominantly Black neighborhood, Julia was taught to be grateful for the privilege afforded to her. However, the acquittal of four white police officers in the beating of Rodney King, following the murder of Latasha Harlins by a Korean shopkeeper, forced Julia to question her racial identity and complicity. She was neither Black nor white. So who was she?

This question would follow Julia for years to come, resurfacing as she traded in her tumultuous childhood for the white upper echelon of elite academia. It was only when she began a PhD in English that she found answers—not in the Brontës or Austen, as Julia had planned, but rather in the brilliant prose of writers like James Baldwin and Toni Morrison. Their works gave Julia the vocabulary and, more important, the permission to critically examine her own tortured position as an Asian American, setting off a powerful journey of racial reckoning, atonement, and self-discovery that has shaped her adult life.

With prose by turns scathing and heart-wrenching, Julia Lee lays bare the complex disorientation and shame that stems from this country's imposed racial hierarchy to argue that Asian Americans must leverage their liminality for lasting social change alongside Black and brown communities.
Praise For Biting the Hand: Growing Up Asian in Black and White America…
"A memoir that brims with wit, intelligence, vulnerability, and delicious rage. Biting the Hand is the fiery manifesto of an 'angry little Asian girl' that delivers on so many levels. Whip-smart and iconoclastic, Lee takes her readers along on her journey through America and academia, coast to coast, as she grows up and obliterates all the stereotypes into which she has been forced: woman, Korean, American, conformist, and rebel. Sifting through the remnants, a powerful mosaic of her experience emerges in which she fuses and transcends all these identities. Lee's fight is ultimately against oppressive systems of power (as many as she can smash), but at every turn she presents us with deeply personal stories of her own struggles and epiphanies. Biting the Hand is a perfect distillation of scholarship, lived experience, and revolutionary call for the liberation of all peoples."
—Phuc Tran, author of Sigh, Gone
Henry Holt and Co., 9781250824677, 256pp.
Publication Date: April 18, 2023
About the Author
Julia Lee is a Korean American writer, scholar, and teacher. She is the author of Our Gang: A Racial History of "The Little Rascals" and The American Slave Narrative and the Victorian Novel, as well as the novel By the Book, which was published under the pen name Julia Sonneborn. She is an associate professor of English at Loyola Marymount University, where she teaches African American and Caribbean literature. She lives with her family in Los Angeles.