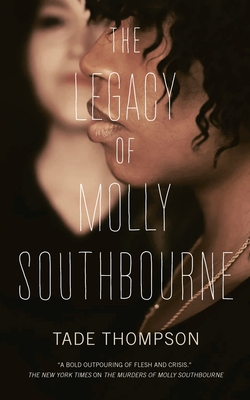 The Legacy of Molly Southbourne (The Molly Southbourne Trilogy #3)
Paperback

* Individual store prices may vary.
Description
From Arthur C. Clarke Award-winner Tade Thompson, The Legacy of Molly Southbourne continues his chilling series.

Whenever Molly Southbourne bled, a murderer was born. Deadly copies, drawn to destroy their creator, bound by a legacy of death. With the original Molly Southbourne gone, her remnants drew together, seeking safety and a chance for peace. The last Molly and her sisters built a home together, and thought they could escape the murder that marked their past.

But secrets squirm in Molly Southbourne's blood—secrets born in a Soviet lab and carried back across the Iron Curtain to infiltrate the West. What remains of the Cold War spy machine wants those secrets back, and to get them they're willing to unearth the dead and destroy the fragile peace surrounding the last copies of Molly Southbourne.

The Legacy of Molly Southbourne brings the story to a bloody end.
Praise For The Legacy of Molly Southbourne (The Molly Southbourne Trilogy #3)…
"The Molly Southbourne trilogy ends in as much blood and heartbreak as it started. Themes of redemption and found family slide the last puzzle pieces into place in this exciting and haunting series." —Library Journal, Starred Review

"A crisp, gritty tale at the intersection of horror, sci-fi, and crime fiction. Hard-hitting and adrenaline-stimulating...series readers and lovers of strong female characters will be pleased." —Publishers Weekly

"Thompson sews things up nicely...readers won't want to put this one down." —Booklist



Praise for The Murders of Molly Southbourne:

"The Murders of Molly Southbourne is so strange and well-written and well-conceived. I read it in one sitting and yet it follows me around wherever I go. I loved it." —Paul Tremblay, author of Disappearance at Devil's Rock

"A bold outpouring of flesh and crisis at once horrifying and familiar." —The New York Times

"Inventive, chilling, and professionally rendered." —Elizabeth Bear, author of Karen Memory

"This premise fleshes out the strangeness and the grace of the human condition as well as anything I've read." —Stephen Graham Jones, author of Mongrels and Mapping the Interior

"Tade Thompson's writing is as inexorable as a march to the executioner's block, layered with cold dread and an exquisite understanding of body horror." —Cassandra Khaw, author of the Persons Non Grata series

"The Murders of Molly Southbourne is bloody, quiet, haunting, and sharp—a book worth savoring." —Max Gladstone, author of the Craft Sequence

"This bloody exploration of identity and self in a changed world will stay with readers long after they finish the last page." —Publishers Weekly

"A bloody, intriguing puzzle of a novella." —Kirkus

"An enormously vivid, enormously peculiar novel... compellingly written." —Locus

"Excellent, bloody, unsettling." —The Book Smugglers

"The Murders of Molly Southbourne reaches deep into the heart of existence and drags our fears into the sunlight. An excellent, terrifying read." —Fran Wilde, award-winning author of Updraft, Cloudbound, and Horizon

"Tade Thompson weaves a subtle, surreal tale of life, death, love and damnation around an absolutely unforgettable heroine. Molly will terrify you, even as she breaks your heart." —Stephanie Saulter, author of the (R)Evolution books

"By turns disturbing, fascinating and heartbreaking, and mesmerizing from first to last." —Simon Bestwick, author of the Black Road series and The Feast Of All Souls

"Viciously real. Chillingly absurd. There's a visceral, bloody logic to Tade Thompson's tale of self murder." —Jon Courtenay Grimwood, author of The Fallen Blade

"A story to make your skin crawl and your veins feel full of dark secrets." —Sophia McDougall, author of the Romanitas trilogy, Mars Evacuees and Space Hostages

"A darkly compelling, offbeat tale punctuated by memorable characters and an endlessly fascinating mystery. The dark imagination of Tade Thompson is a wondrous thing to behold." —Maurice Broaddus, author of Buffalo Soldier

"A novella that showcases the emotional depth of this writer, Tade Thompson's The Murders of Molly Southbourne is utterly compelling, dark and disturbing." —Kaaron Warren, author of Slights
Tordotcom, 9781250824707, 160pp.
Publication Date: May 17, 2022
About the Author
TADE THOMPSON is the author of the MOLLY SOUTHBOURNE BOOKS, the ROSEWATER novels, MAKING WOLF and FAR FROM THE LIGHT OF HEAVEN. He has won the Arthur C Clarke Award, the Nommo Award, the Prix Julia-Verlange and been a finalist for the John W. Campbell award, the Locus awards, the Shirley Jackson Award and the Hugo Awards among others. He was born in south London but considers himself a citizen of the world. He lives and works on the south coast of England.