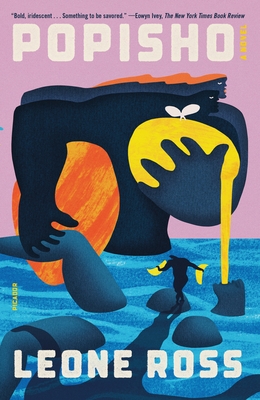 Popisho
A Novel
Paperback

* Individual store prices may vary.
Other Editions of This Title:
Digital Audiobook (4/19/2021)
Hardcover (4/20/2021)
Description
"Bold, iridescent . . . Dazzling and shocking . . . Ross's lyrical, rhythmic writing is something to be savored . . . [Her] voice sings out loud and pure." —Eowyn Ivey, The New York Times Book Review

An uproarious, sensual novel, Leone Ross's Popisho conjures a world where magic is everywhere, food is fate, politics are broken, and love awaits.

Everyone in Popisho was born with a little something-something, boy, a little something extra. The local name was cors. Magic, but more than magic. A gift, nah? Yes. From the gods: a thing so inexpressibly your own.

Somewhere far away—or maybe right nearby—lies an archipelago called Popisho. A place of stunning beauty and incorrigible mischief, destiny and mystery, it is also a place in need of change.

Xavier Redchoose is the macaenus of his generation, anointed by the gods to make each resident one perfect meal when the time is right. Anise, his long-lost love, is on a march toward reckoning with her healing powers. The governor's daughter, Sonteine, still hasn't come into her cors, but her corrupt father is demanding the macaenus make a feast for her wedding. Meanwhile, graffiti messages from an unknown source are asking hard questions. A storm is brewing. Before it comes, before the end of the day, this wildly imaginative narrative will take us across the islands, through their history, and into the lives of unforgettable characters.

Leone Ross's Popisho is a masterful delight: a playful love story, a portrait of community, a boldly sensual meditation on desire and addiction, and a critique of the legacies of corruption and colonialism. Inspired by the author's Jamaican homeland, inflected with rhythms and textures of an amalgam of languages, it is a dazzling, major work of fiction.
Praise For Popisho: A Novel…
A New York Times Book Review Editors' Choice
A Most Anticipated Book of 2021: The Guardian, The Millions, Paperback Paris, Cosmopolitan UK, Alma

"I deeply admire Popisho— and also, not so secretly, bitterly envy it . . . "
—Marlon James, author of Black Leopard, Red Wolf

"An impressive act of world building: Enchantingly, [Ross] weaves together a story of second-chance love, a lush ode to food and community, and a humanistic reminder that societies must examine their biases. The resulting work somehow manages to be breezily deep—a rare combination."
—Jane Yong Kim, The Atlantic

"[Written] throughout with such juice and verve . . . Popisho will please and excite anyone who appreciates literary ambition and risk-taking."
—Wendy Smith, The Washington Post

"[A] sumptuous novel."
—Keziah Weir, Vanity Fair

"Mesmerizing . . . a madcap, freewheeling ride through surreal and supernatural territory."
—Michael Donkor, The Guardian

"You must read [Popisho], easily one of the most gorgeous and lavishly sprawling books of 2021 . . . In recent years, a clutch of incandescently talented writers . . . have reminded us that fantasy is one of the oldest and most imaginative branches of human storytelling. Ross has her own 'cors,' a gift for creating an unforgettable world, and with this book, she takes her rightful place at that table of writers."
—Nilanjana Roy, Financial Times

"A glorious shout of a novel, a sensual, saturated blend of romance, magical realism and erotic comedy . . . For all the exuberance and bigheartedness of [Popisho], it is also a novel of subtle seriousness, asking how we can make peace with profound loss and sadness."
—Alex Clark, The Guardian

"[Popisho] carves out a place in the canon of memorable works of magical realism alongside Midnight's Children and One Hundred Years of Solitude, but it's also totally itself, a raunchy, sly, colorful exploration of individual and collective identity. A novel that suffuses the senses."
—Kirkus, starred review

"Wondrous . . . Passing reminders of the works of Gabriel Garcia Márquez and Alice Walker serve to establish Ross firmly in the global storytelling tradition of bold and beautiful narratives . . . A stirring literary experience."
—Booklist, starred review

"The language of Popisho is a feast itself—richly descriptive, earthy, colorful, and unrestrained . . . An unforgettable work of magical realism."
—Library Journal, starred review

"An enthralling and vivid portrait of a people and a place, brimming with love, politics, grief, addiction, sex, varicolored humor and some impossible flora and fauna . . . Popisho is a wonder-filled and entertaining reflection on death, freedom, community and recovery."
—Shannon Hanks-Mackey, Shelf Awareness

"Intensely absorbing, this dazzling tale charts two lovers on the imaginary Caribbean archipelago of Popisho who must find their way back to each other over a single day. Vividly conjured, [it] brings to life a colourful cast of characters facing life-changing decisions across the island . . . Love, second chances and fate, with razor-sharp postcolonial satire, this love story has already drawn comparisons to Gabriel Garcia Márquez, Toni Morrison and Arundhati Roy."
—Cosmopolitan UK

"Set on a magical archipelago, a big, carnivalesque novel that takes on desire, addiction and postcolonialism, but is also a celebration of food, love and joy."
—The Guardian

"This is an ode to the soul, to food, to Caribbean myth and to magic."
—Refinery 29 UK

"A vibrant story of sensual characters and awe-inspiring, sometimes hilarious magic . . . [With] joyous imagining of a peoples' power . . . this fresh take on magical realism delivers the goods."
—Publishers Weekly

"Noisy, sexy, profusely inventive, Ross's storytelling crashes over the reader like an invigorating ocean wave."
—Anthony Cummins, The Daily Mail

"Popisho is fire and magic. Leone Ross's ruthless humor immerses us in a dense, rich place where stories twist and worlds collide in audacious ways."
—Ingrid Persaud, author of Love After Love

"Popisho mixes lush, descriptive prose with the unrepentant wildness of folktales. Hands that can heal, palms that glow silver, body parts that abruptly fall off even though their owners keep living abound here. The fierceness of this novel in its imagery, in its ideas about women, the way it spoke to so many concerns of now, drew me in, but the caramel of the relationships, the way Leone Ross writes about intimacy, kept me enthralled."
—Megan Giddings, author of Lakewood

"I feel like I have been waiting my whole life to read a novel this expansive, this generous, this full of magic and massive personality. Leone Ross is a marvel of a writer, and this book absolutely bespelled me."
—Amber Sparks, author of And I Do Not Forgive You

"A novel this big in heart and imagination, this beautiful in prose, takes time. And my goodness it's worth it. This is a stunning novel."
—Kei Miller, author of Augustown
Picador, 9781250829634, 480pp.
Publication Date: February 1, 2022
About the Author
Leone Ross is a fiction writer and academic. She was born in England and grew up in Jamaica. Her first novel, All the Blood Is Red, was long-listed for the Orange Prize, and her second novel Orange Laughter was chosen as a BBC Radio 4's Women's Hour Watershed Fiction favorite. Her first short story collection, Come Let Us Sing Anyway, was nominated for the Edge Hill Short Story Prize and Jhalak Prize. Ross has taught creative writing in London for 20 years and worked as journalist throughout the 90s. She lives in London, but intends to retire near water.