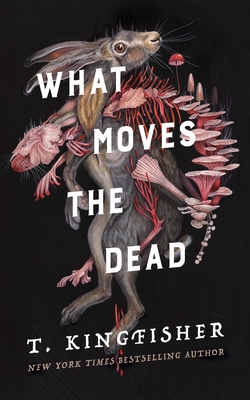 What Moves the Dead
Hardcover

* Individual store prices may vary.
Description
From T. Kingfisher, the award-winning author of The Twisted Ones, comes What Moves the Dead, a gripping and atmospheric retelling of Edgar Allan Poe's classic "The Fall of the House of Usher."

When Alex Easton, a retired soldier, receives word that their childhood friend Madeline Usher is dying, they race to the ancestral home of the Ushers in the remote countryside of Ruritania.

What they find there is a nightmare of fungal growths and possessed wildlife, surrounding a dark, pulsing lake. Madeline sleepwalks and speaks in strange voices at night, and her brother Roderick is consumed with a mysterious malady of the nerves.

Aided by a redoubtable British mycologist and a baffled American doctor, Alex must unravel the secret of the House of Usher before it consumes them all.
Praise For What Moves the Dead…
"What Moves the Dead is everything a classic horror novel should be. T. Kingfisher spins biting wit, charm and terror into a tale that will make your skin crawl. Poe would be proud!"—Brom

"A deeply, unsettling examination of what sometimes goes on behind polite smiles and courteous speech."—Cassandra Khaw, author of Nothing But Blackened Teeth

"T. Kingfisher dissects the heart of Poe's most famous tale and finds a wholly new mythology beating inside it. Written with a lush, Gothic flare, What Moves the Dead chills and delights like the trippiest of Hammer productions. Pure fun."—Andy Davidson, author of The Boatman's Daughter

"T. Kingfisher proves once again to be a rising star of the literary horror genre with no signs of having any plans to fall back into the gravity of our mundane ball of dirt any time soon. . . What Moves the Dead is a must-read, period."—Jordan Shiveley, author of the upcoming Hot Singles In Your Area

"A gothic delight!"—Lucy A. Snyder, author of Sister, Maiden, Monster

"The distilled terror of T. Kingfisher's What Moves the Dead insinuates itself into the reader's nervous system from the very first sentence and quickly overtakes their sense of self control. I was powerless against this novella's pestilential pull and had to finish it in one sitting... or maybe it finished me. Now it's under my skin and I can't trust the touch of anything anymore."—Clay McLeod Chapman
Tor Nightfire, 9781250830753, 176pp.
Publication Date: July 12, 2022
About the Author
T. KINGFISHER (she/her) writes fantasy, horror, and occasional oddities, including "The Twisted Ones" and "Swordheart." Under a pen name, she also writes children's books. She lives in North Carolina.