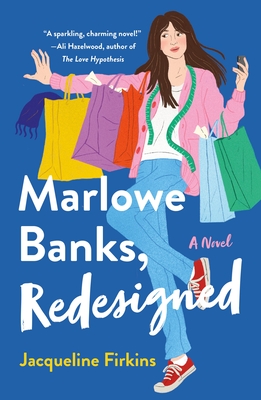 Marlowe Banks, Redesigned
Paperback

* Individual store prices may vary.
Description
In Marlowe Banks, Redesigned, Jacqueline Firkins wonderfully captures the messiness of failure, forgiveness, and embracing a second chance on life and love.

Marlowe Banks's life has come apart at the seams. Her engagement ended abruptly. Her latest costume design was shredded by critics. Her student loans are overdue. Her parents have never been more disappointed. Desperate to hide from her failures, Marlowe flees New York City to embrace invisibility in Los Angeles as a menial Production Assistant on a popular TV show. While sorting socks and taking care of her boss' spoiled Weimaraner, no one can confront her poor artistic choices or the end of her engagement, the end her ex refuses to accept.

When a costume mix-up requires Marlowe to step into in a scene, the camera catches a heated look between her and Angus Gordon, the show's arrogant bad boy, thrusting Marlowe into the spotlight. As the pair is forced together on set, Marlowe learns she's not the only one hiding. Walls come down for both of them, revealing a life Marlowe isn't sure she's ready for, and when her past comes calling, she has to decide if she's going to stay invisible or if it's time for a redesign.
Praise For Marlowe Banks, Redesigned…
"Reading this book feels like spending time with a dear friend. A smart, sexy treasure of a romance stitched together with warmth, flair, and compassion. Jacqueline Firkins is an author to watch."
–Rachel Lynn Solomon, author of The Ex Talk

"Marlowe Banks, Redesigned is ready for its close-up. It's delightfully fun, thoughtfully charming, and poignantly honest. The cast of characters are genuine and diverse, the love story raw and sweet, while the themes of friendship, expectations, and perception versus reality are relatable. I truly enjoyed this book."
–Sophie Sullivan, author of How to Love Your Neighbor

"As comforting as the perfect pair of jeans, this sweet, funny, and sexy book is filled with memorable characters and a swoony slow burn romance. I loved the glimpse into the world of Hollywood TV sets and costume designers. Marlowe and Angus's connection seemed so real, despite the Tinseltown setting, and it was so satisfying to see their connection grow. This book is such a delight!"
—Farah Heron, author of Kamila Knows Best and Tahira in Bloom

"Firkins delivers on every front – sweet, smart, and utterly satisfying, Marlowe Banks, Redesigned is a treat for romance readers everywhere."
—Elizabeth Everett, author of A Perfect Equation

"With sparkling banter, incisive humor, and an authoritative glimpse of television's controlled behind-the-scenes chaos, Marlowe Banks, Redesigned is a slow-burn love story about taking chances, and the exhilarating feeling of finally being truly seen. The chemistry between the leads is tangible, and the supporting cast is relatable and real. I loved it—five shining Hollywood stars!"
—Jen Devon, author of Bend Toward The Sun
St. Martin's Griffin, 9781250836502, 352pp.
Publication Date: October 25, 2022
About the Author
Jacqueline Firkins is a writer, costume designer, and lover of beautiful things. She's on the fulltime faculty in the Department of Theatre & Film at the University of British Columbia where she also takes any writing class they'll let her into. When not obsessing about where to put the buttons or the commas, she can be found running by the ocean, eating excessive amounts of gluten, listening to earnest love songs, and pretending her dog understands every word she says.